Unity Among the People Part 2
by John Lowe
(Laurens SC, USA)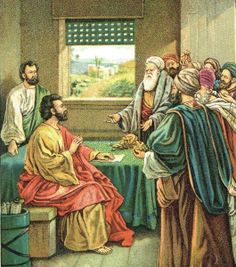 44 And all that believed were together, and had all things common;

And all that believed were together,
"All that believed" are all those that believed that Jesus was the Messiah; that was the distinguishing feature of their religion and how they were known to others. The assertion that they "were together" means they "agreed together," which is how the Arabic version renders it: all these believers were of one mind and judgment, as to doctrines, and they agreed in their views and principles of religion; and they were of one heart and soul, were friendly and responsive to each other, and were mutually assisting one another in secular life, as well as in their spiritual life.


"Were together" does not mean that they lived in the same house, since it is not reasonable to think that the three thousand believers (Acts 2:41), and the 120 spoken of in Acts 1:15, were all together at one time, or in one place, in Jerusalem, but they were united as a community, or engaged in the same thing. They were undoubtedly often together in the same place, or in several places, for prayer and praise, and to celebrate the "Lord's Table." One of the best means for strengthening the faith of young converts is for them to meet together often for prayer, conversation, and praise.


and had all things common;
Perhaps this has not been well understood. At all the public religious feasts in Jerusalem, there was a sort of community of goods. No man at such times rented houses or beds in Jerusalem, instead, all were provided to visitors free-gratis by the owners. The same may be understood of their ovens, cauldrons, tables, spits, and other utensils. Also, water was provided for them at the public expense. Therefore a sort of community of goods was no strange thing at Jerusalem, at such times as these. It appears, however, that this community of goods went much farther, because they "had all things common" which means all their property or possessions (See Acts 4:32-37; Acts 5:1-10.). No man called anything, in particular, his own; and whatever he had, his brother was welcome to it, and might freely take it, and use it, as if it was his own. We are told in Acts 2.45 that the new converts "…sold their possessions and goods, and parted them to all men, as every man had need." The apostles, while they were with the Savior, evidently considered all their possessions common property, and Judas was made their treasurer. They regarded themselves as one family with common needs, and therefore there was no benefit in their possessing extensive property by themselves. Yet even then it is likely that some of them kept part of their property rather than devote it to the common use. It is clear that the Savior did not command them to place their possessions into a common reserve, nor did the apostles instruct others to do so: "While it remained, was it not thine own? and after it was sold was it not in thine own power?" (Acts 5:4). It was, therefore, entirely voluntary, and was evidently designed for the special circumstances of the early Christians. Many of them came from outside Judea. They were from Parthia, and Media, and Arabia, and Rome, and Africa, etc. Also, it is probable that they remained longer in Jerusalem than they had originally planned; and it is not at all improbable that they would now be denied the usual hospitality of the Jews, and excluded from their customary kindness, because they had embraced Jesus of Nazareth, who had been just recently put to death. Under these circumstances, it was natural and appropriate for them to share their property while they remained together.


In order to correctly understand this community of believers, we need to know that this type of communal relationship is found only in the Church at Jerusalem. No trace of its existence exists anywhere else in scripture; on the contrary, Paul speaks constantly of the rich and poor (See 1 Ti 6:17; Ga 2:10; 2 Co 8:13, 15, 9:6, 7; 1Co 16:2; Jas 2:1-5, 4:13.). But even at Jerusalem this bright vision of a paradise on earth was soon troubled by the earthly dissensions recorded in Acts 6; and the Christian community received a timely lesson that good things in themselves are not always practical in an evil world, where sluggish virtues must contend with bodily desires and hypocrisy.


45 And sold their possessions and goods, and parted them to all men, as every man had need.

And sold their possessions and goods,
"And sold their possessions and goods" means they sold their houses and lands, their fields and vineyards, that is, what may have amounted to all their possessions, or as much as necessary in order to acquire the means of providing for the needs of each other. The word translated "possessions" refers to their fixed property, such as lands, houses, vineyards, etc. The word rendered "goods," refers to their personal or movable "property."


and parted them to all men,
They shared only with those of the Community of Christians, not to others who were not part of that community.


as every man had need.
Notice that this was not an equal division where everyone gets the same amount, but the donations were doled out "As every man had need" which indicates that the rich sold their properties, and gave the proceeds to the apostles who divided the proceeds among the poor, or gave them enough of the proceeds to meet their present needs. This was done only by the Jews; who, when they embraced the Gospel of Christ, were warned that their former Jewish brethren would confiscate or destroy all they possessed; and therefore they sold their estates beforehand, and gave the profits to the apostles to be distributed by them according to the particular needs of individual believers. It was necessary that they do this at this time, both for the support of the Gospel in Judea, and for the carrying and spreading of it among the Gentiles, as well as supporting the poorer members of the community. But, we must bear in mind that this does not set a precedent or example for any generation afterward; nor has any such thing ever been proposed to the Christian churches, or encouraged by any of the apostles.


46 And they, continuing daily with one accord in the temple, and breaking bread from house to house, did eat their meat with gladness and singleness of heart,

And they, continuing daily with one accord in the temple,
It is supprising that at this early age of the Church's existence Christians did not consider themselves separated from their Jewish brethren, or from the Old Testament institutions; that Christianity was just Judaism perfected; the gospel the full blossoming of the Law. The first Christian Jews, therefore, did not think of themselves as leaving the religion of their fathers, but rather hoped that their whole nation would in a short time acknowledge Jesus to be the Christ. Christian institutions, therefore— the prayers, the breaking of bread, the prophesying and speaking in tongues, and the apostolic teachings - were supplemental to the temple service, not antagonistic to it; and the church took the place of the synagogue rather than the temple.

"And they continued daily with one accord in the temple" indicates the overriding importance of religion in their lives. Every day they went up to the temple, at the time of prayer, or whenever any religious service was to be performed; this was their constant practice, and they all did it. Since they were meeting in the Temple they were observing the hours of Jewish worship. This does not mean that they were constantly in the temple, but only at the customary hours of prayer—at nine o'clock in the morning, and at three o'clock in the afternoon.


It is not to be supposed that they continued to offer any of the sacrifices prescribed by the law.


and breaking bread from house to house,
"House to house" means At home. It represents the private Christian place of meeting, as contrasted with the temple. The meaning is not that every disciple broke bread in his own house, but that they broke bread at the house where the Christian assemblies were held, whether one or more were present. We have already seen the Church gathered together "in an upper room" (Acts 1:13), in "one place," in "a house" (Acts 2:1, 2), and "together" (v. 44); and in Acts 4:31 we read: "And when they had prayed, the place was shaken where they were assembled together; and they were all filled with the Holy Ghost, and they spake the word of God with boldness. And we know that since the synagogue was "the house of prayer," or "the house of assemblage," the Christian place of meeting was called "the Lord's house," from which we get the word "church." It was not unusual for the early Christians to take their food with them when they met for worship. The thing that linked them together was the love-feast, which formed an important part of the common life, of the early Christians. The whole description is a beautiful picture of Christian unity, piety, love, and joy.


This clause has several other interpretations that I shall mention. "Breaking bread from house to house" either means (1) administering the Lord's supper in private houses, which is how the Jews kept their Passover, sometimes administering it at one house, and sometimes at another; or (2) because there was so many of them, one house could not hold them all, so they divided themselves into smaller groups; and some met, and had the ordinance administered to them in one house, and some in another: or (3) this may refer only to their common meals, which they ate together at one another's houses with great love and friendship.


The term "breaking bread" may have come from the condition of Jewish bread, which was thin, hard, and dry, and was never cut with the knife as ours is, but was simply broken with the hands.