Walk a Mile in My Shoes
by Loy Clements
(Springhill, LA. U.S.A.)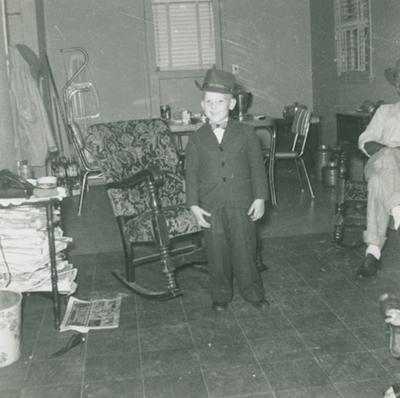 A young missionary ready to go 1954
Ephesians 6:10-20


Introduction: In 55 years of the ministry of helps, I have walked behind some of the greatest ministries on the earth today. Men and women who may not be well known; but they are true disciples of Christ. Since the word disciples means to be a disciplined learner, I have discovered that the most dedicated Christians are those who are also the most committed to prayer and the Word.

Acts 6:4 "But we will give ourselves to prayer and the ministry of the Word." To all of my friends that come to preachology.com, my prayer is that you will be motivated by the Holy Spirit to let these words fill your hearts and empower you for action. I believe this is Mark's desire also.

So I am going to ask you one and all. Walk in my shoes! In my shoes there is the wilderness of missions, soul-winning, and commitment to world evangelism.

I. Missions

You may be wondering what is the difference between missions and world evangelism. Well, in my world missions is when I personally go to the unknown Gentiles of the world. It can be across the street, or it can be on the other side of the world.

I once spent seven months in Louisiana State Hospital for the Insane in Pineville, LA. This hospital, and the patients there, were my mission field for that time. You see my friend, missions are a time of personal growth, and carrying your cross in places most Christian pew sitters would refuse to go.

With many of these wonderful disciples of Christ together we have worked side by side in some of the most horrible housing projects known to man. Most dangerous streets in America, and at one prison we have visited was known as the most violent prison in the U.S., and now it is known as a house of God. A big thanks to the warden God sent to the state of Louisiana.

I remember a good friend of mine was preaching a great message on the love of God; when all of a sudden all the city police, sheriff's department, and state troopers came into the housing projects with sirens blowing, guns drawn. A young man I had just witnessed to was shot down in cold blood, just seconds after I walked away from him.

I am saying, when you choose to answer God who is prompting you to go for the Him, you put your very life on the line. "But, fear not for the Lord will send angels to protect you, as you abide in His secret place."

Some folks think missions means to throw a couple of bucks in the offering on the first Sunday of every month. If you ever want to experience true adventure, take your vacation and go with someone to the mission field. Don't be a coward! Go to the world, and proclaim the goodness of God to them.

III. Be a Soul Winner

Now to honestly be a soul winner, you must start at home. Paul and Silas told the jailer that if he would believe on the Lord Jesus Christ, he along with all of his family would be saved. One thing that breaks God's heart is when He has saved someone, and they live their lives as stupid, foolish people by letting their family members go to hell.

As a preacher friend of mine says, God gets on me and I get on you. Dr. J. G. Tharpe, my pastor at Baptist Tabernacle in Shreveport, LA. lived for soul-winning. If you ever heard Brother Jimmy preach, then you heard about soul-winning.
We had skits, we had plays, all teaching others how to be that witness Jesus said we were to be.

I remember one where I played the part of a pastor that had to do a funeral of a man that died lost and going to hell. When it came time for me to stand next to the coffin I just about froze. I did not want to stand there, even though the coffin was empty.

It hit me like a truck running over me. "People are going to hell everyday, simply because I did not say anything to them about Jesus." I remember sitting in the class in the first grade, and seeing an ocean of people being led into that lake of fire. If that doesn't stir your heart for souls; then nothing will.

The church has become cold, and hard where soul-winning is involved. I heard a pastor sometime back say, you bring them to church, and I will save them. I wanted to puke all over his high priced pews. A so called man of God has the guts to say he is going to save anybody.

No wonder there is no soul-searching going on in the majority of the churches. It is time the church returns to the battle field of lost souls, chasing the devil and his bunch out of the earth. Well, I had better get to point three, before I get into trouble stepping on the poor little pew sitters toes!

III. World Evangelism

Most pastors cannot get their members involved in the salvation of the local folks; they sure don't want anything to do with China, Germany, France, England, and so forth. We as a ministry have four satellite discs in India of which each one reaches a million homes.

We have helped build hospitals, orphanages, fed over one million hungry kids world wide. We have built churches across the U.S. and Bible schools, which started churches in over one hundred countries. We have sent pastors to help missionaries in over seventy countries.

Someone gave me a report of what one individual ministry that works with us has done. One intercessory prayer outreach report says that over 100 people raised up, over 100,000 people healed, over a million people world wide born again, and over 50,000 people filled with the Holy Ghost.

Each time I receive a letter from Paul and T.B.N. I am reminded of Jesus' words, "I have come that you might have life and that you might have it more abundantly." T.B.N. is only one place that is reaching millions worldwide with the Gospel.

My sister's son-in-law goes "awol" all the time. "I ask where is Casper? Oh he is gone on another mission trip." This is a man that owns his own business, has a wife, and three daughters and leaving home for a month at a time to see the world saved.

The heart of a so-called Christian that is so cold they have no compassion or mercy for little kids eating garbage on the other side of the world, well, I believe hell has a special place for you.

In the story of the good Samaritan Jesus finishes that story with these words in Luke 10 and verses 36-37 "Which now of these three thinketh thou, was neighbor unto him that fell among the thieves? And he said, He that shewed mercy on him. Then said Jesus, GO, AND DO THOU LIKEWISE."

Conclusion: If you are a born again child of God; grow up and quit being a self-centered coward. Do unto others what others have done unto you. The world is looking for Salvation. It is time we take Jesus to them! Get off your lazy pews, and go today.

Don't wait for we know not when the Lord shall return. God always works with due seasons, and appointed times. The season, and time has already passed. "Come quickly Lord Jesus." You say don't pray, that for my family is not saved. Well, you had better get busy and get them saved!

There is no such thing as too early or too young. Leave your prayer closet empowered by the Holy Ghost, and take the nations "In Jesus Name!"