Your Children Are Covered
by Loy Clements
(Springhill, LA. U.S.A.)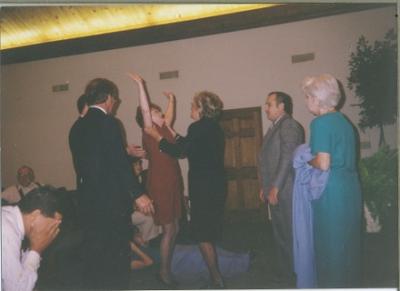 Let the power fall on your children
Text: Romans 8:1-8


Introduction: "Children are a blessing from the Lord." This statement from God's Word is truth, for our children are a blessing God has placed in our lives. But, sometimes we might wish God would remove that blessing temporary. Angela, my daughter when she was young could ask more question than anyone I have ever known. The questions were not the problem! The timing was the problem.

What do I mean? The time was right in the middle of me being so busy, that I didn't want to be disturbed. Have you ever been in this circumstance? I can answer that for you. Yes you have, if you have ever had small children. Now that Angela is over 30 I feel like I can share lessons God has taught me, I would have never known without my little blessing from Him.

I. There is no condemnation

Raising kids we're all are going to make mistakes. When you feel like you must be the dumbest parent ever. Just remember you're in Christ, so there is no condemnation for mistakes. The key is keep seeking God for wisdom, and knowledge. He is the only one that knows their heart motivation, and He knows also what you and I don't.

There is a neat verse of scripture found in Matthew 6:31 "Therefore take no thought saying." Cut yourself some slack, and don't ever say what you are doing wrong. Scripture tells us God calls things that are not as though they are.

As parents, we need to be more like Him in not calling forth those things we're doing wrong. Instead of being down on yourself, and your children call for what you want, not what you have!

II. You have the Blood

When our children are acting like the devil, we always have Revelation 12:11 to under-gird us. "And they overcame him by the BLOOD OF THE LAMB, and by the WORD OF THEIR TESTIMONY; and they LOVED NOT THEIR LIVES UNTO THE DEATH." It is simple once we see into what this has to do with our children.

First, several times a day take Jesus blood by faith, and cover your children in the Spirit of that blood. Very simply done! "Lord, in the Name of Jesus I plead the blood over my children, and then call their names before the Throne of Grace.

Secondly, we go to God's Word and find out what He has promised concerning our children. We take these promises and announce them over our children four or five times daily. This is how we call those things that are not as though they are.

Thirdly, and this is the hard one, we don't love our lives unto death. If your kid comes home looking like a hippie, with a skateboard under their arm. Your ideal about life has to die, and you have to accept your children for who they are, even if you don't like who they are.

As parents we must remember we did not give them life, God did. Quit trying to make your kids a carbon-copy of yourself. All you are doing is causing wrath in the heart of your child by not allowing them to be themselves. Ephesians 6:4 "And ye fathers, provoke not your children to wrath anger: but bring them up in the nature and admonition of the Lord." The blood will never cover the work of a parents flesh.

III. Should I whip my child

Yes and no! It is true scripture does say about the rod that it is used for the purpose of driving out rebellion. Why is that important? Rebellion is the sin of witchcraft. Witchcraft in the home, schools, and churches is the reason we have seen so many school shootings.

God never intended the schools and churches to raise or train up our children in the ways they should go! That is the reason God has given them parents. Since we are dealing with the rod. It is not so you and I can take out our frustrations on our children. Never scream at your kids, that is a sign of anger and disappointment.

Never allow your kids to see this in your life! I know life can bring us many disappointments; but our children should never have to be burdened with them. A big lie told about God's Word concerning the rod. "Spare the rod, and spoil the child."

I hate to disappoint all you abusers that like to take your anger out on your kids. You will never find that lie in the Bible, even though it has been preached as Bible doctrine. This is the truth of God's Word. "They that spare the rod hate their son." Now that is wisdom from King Solomon, and is found in the Bible.

Conclusion: We have made raising kids harder than God intended. As a small child the heart of that child is tender, and open to the things of God. This is why Jesus said, we must humble ourselves as a little child. This ministry has an outreach ministry to children we call "suffer the little children".

I have discovered the more involved I am with the hurting children around the world, the more others have touched my daughter, and her children. Someone said, "it take a village to raise a child." It takes many God given personalities to raise our children.

We must learn to trust our children as they get older, and be a safe place for them to run into. How do we do this? Train them to always run into the secret place of the Most High God by training them to trust God and His Word. You might ask me where do I start. That is an easy question, Psalms 91.

Train your child that Psalms 91 is just the starting line for life's race of faith. At the end of their lives, they can say with the Apostle Paul "I have run my race, I have kept the faith, and I have finished my course." Jesus will then say, enter into the joy of your Lord, good and faithful servant!"