---
Preaching:
All about the Messenger, Message, & Ministry.
---
Like What You See?
If you like "The Preaching Ezine", please do a friend and me a big favor and "pay it forward."

If a friend DID forward this to you and if you like what you read, please subscribe by visiting...

The Preaching Ezine (the newsletter of Preachology.com)
---
Issue #001, July 1, 2008
Hello,
Mark Hollingsworth here. Hope you are having a great day.
I quoted one of my favorite verses in a family gathering recently and then developed a sermon outline to share with you:
---
Sermon Notes
Who to Turn to in the Day of Trouble
Nahum 1:7
Intro: Nahum (meaning consolation) prophesies judgment against the descendants of Nineveh, who were converted through the preaching of Jonah more than 100 years before. Most all of what Nahum says in this book is negative except this one verse, which gives anyone who turns to God hope.
Theme: Trust in the God who delivers!
1. God is good.
"The Lord is good"
Jas 1:17 Every good gift and every perfect gift is from above, and cometh down from the Father of lights, with whom is no variableness, neither shadow of turning.
2. God is strong.
"a stronghold in the day of trouble"
Psa 18:2 The LORD is my rock, and my fortress, and my deliverer; my God, my strength, in whom I will trust; my buckler, and the horn of my salvation, and my high tower.
3. God is trustworthy.
"and he knoweth them that trust in him"
Tit 1:1 Paul, a servant of God, and an apostle of Jesus Christ, according to the faith of God's elect, and the acknowledging of the truth which is after godliness; Tit 1:2 In hope of eternal life, which God, that cannot lie, promised before the world began;
Conclusion: Why would we go anywhere else but to God through our High Priest, Jesus, when trouble comes? Our God is good, strong, and trustworthy.
Heb 6:17 Wherein God, willing more abundantly to show unto the heirs of promise the immutability of his counsel, confirmed it by an oath: Heb 6:18 That by two immutable things, in which it was impossible for God to lie, we might have a strong consolation, who have fled for refuge to lay hold upon the hope set before us: Heb 6:19 Which hope we have as an anchor of the soul, both sure and steadfast, and which entereth into that within the veil; Heb 6:20 Whither the forerunner is for us entered, even Jesus, made a high priest forever after the order of Melchizedek.
---
What's New at Preachology.com?
I just recently added some additional material on "The Call of God." It is so important for the preacher to know that he is called of God. It can make the difference in success or failure in the ministry.

Sugden and Wiersbe, in their book "Confident Pastoral Leadership" said, "The work of the ministry is too demanding and difficult for a man to enter it without a sense of divine calling. Men enter and then leave the ministry usually because they lack a sense of divine urgency. Nothing less than a definite call from God could ever give a man success in the ministry."
---
Until next time... here, there, or in the air!
Well, that's about it for now.

Do you have any comments, ideas, or feedback? I'd love to hear from you. You can either reply to this ezine or go to the form on the "Contact Me" page on my website and tell me what you think.

Yours for Powerful Preaching,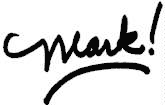 Mark Hollingsworth
---