The Preaching Ezine
"The Preaching Ezine" is the email newsletter of Preachology.com and will keep you informed about my website ministry and what it has to offer to you.
The newsletter will:
Inform you about new information on the Preachology.com website.
We are constantly adding pages and updating information on our website. The ezine will keep you from missing any new information.
Provide you with new ideas about the preaching ministry.
We will discuss many different helpful ideas about the preaching ministry that will enhance and strengthen your ministry.
Give you free sermons and sermon ideas.
I would like to share sermons and sermon outlines and sermon ideas and sermon illustrations and sermon poems and sermon PowerPoints with you.

Other preachers will share their sermons and their sermon material and their sermon stories on our website and we will pass some of them along to you by way of our ezine. Some sermons you will only find in our newsletter.

Give you access to The Preaching Ezine archives.
These archives contain sermons and preaching material that you will not find on my website. Some of the sermons in the archives are:
   "The Bible and the Christian Life"
   "What Jesus Taught About Controlling One's Tongue"
   "Who To Turn To In The Day of Trouble"
   "Why We Do Not Have Revival"
   "The Believer's Walk"
   "The Beginning of the Gospel"
   "Spiritual Greatness"
   "Why Jesus Respected Peoples Freedom to Choose"
   "How Jesus Ministered to People by Listening"
   "Christ's Principles of Communication"
   "Keys to Quality Friendships"
   "The Resurrection of Christ"
   "The New Birth of Freedom"

And much more. It's our way of communicating with you about the wonderful ministry of preaching.
When you confirm your subscription, I would like to give you, as a free gift, one of my favorite books, "Power Through Prayer" by E.M. Bounds. You can download this book after you confirm your subscription. You will love this wonderful ebook. Here's the process: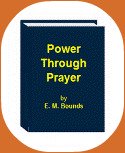 Step 1: Scroll down to the Subscription Form.
Step 2: Fill out brief form and subscribe.
Step 3: See and read "Thank You" page.
Step 4: Receive "Thank You" email.
Step 5: Click on "Confirmation" link on email.
Step 6: See and read "Confirmation" page.
Step 7: Download ebook, "Power Through Prayer."
Step 8: Recieve "Confirmation" email. 


Please subscribe so you don't miss a thing.
Return from "The Preaching Ezine" to Preachology Home Page.
© 2008-2028 - All rights reserved.

No content on preachology.com may be printed or

copied to any other site without permission.