---
Preaching:
All about the Messenger, Message, & Ministry.
---
Like what you see?
If you like "The Preaching Ezine", please do a friend and me a big favor and "pay it forward."
If a friend DID forward this to you and if you like what you read, please subscribe by visiting...
The Preaching Ezine (the newsletter of Preachology.com)
---
Test-2, June 5, 2008
Hello,
Mark Hollingsworth here. This is just another test for "The Preaching Ezine" newsletter for Preachology.com.
I hope I can get the bugs worked out and you benefit and enjoy your subscription. I don't think the Logo heading was working in the last test. I hope it is this time. Someone please let me know if it doesn't show "The Preaching Ezine" at the top of the ezine. Last time I think there was a box with an "x" in it.
I thought I would send you some preaching or teaching notes on what Jesus thought about controlling one's tongue this test run! Hope you enjoy.
---
Sermon Notes
What Jesus Taught About Controlling One's Tongue
Jesus knew that one day His brother James would write, "If anyone is never at fault in what he says, he is a perfect man, able to keep his whole body in check." (Paraphrased, James 3:2) The Lord knew the tongue has the power to encourage or discourage; heal or wound; direct or deceive; comfort or discomfort; inspire or demoralize; preach truth or falsify; build up or tear down. Let us examine ideas that Jesus had for using speech as a tool for God's greater purposes while avoiding its worse abuses.
1. Jesus taught people that how we say things is often as important as what we say. The Lord knew that a harsh word stirs up anger, but a soft word turns away wrath. (Prov. 15:1) When we are able to speak in a kindly tone we are able to avoid unnecessarily irritating our listeners.
2. Jesus criticized the Pharisees for pretending to serve the Lord with their lips while failing to give their heartfelt commitment to God. Jesus said, "You nullify the word of God for the sake of your tradition. You hypocrites! Isaiah was right when he prophesied about you: 'These people honor me with their lips, but their hearts are far from me. They worship me in vain; their teachings are but rules taught by men.'" (Matt. 15:6-9) Christ hated the sin of pretension. He taught that thinking Christians should first ask God for help in deciding what to say before speaking. The Lord Jesus chastened the Pharisees for using cleverly crafted words to manipulate special advantages for themselves. When you speak, do it as to the Lord rather than to please people.
3. Jesus spoke in such a way that His followers identified Him with His speech. The Good Shepherd said, "The Good Shepherd calls his own sheep by name and leads them out His sheep follow Him because they know His voice. But they will never follow a stranger." (John 10:3-5) We develop a reputation based upon how we speak and reply to people's requests. Learn to speak in a way that is consistently loving, gracious and truthful.
4. Jesus warned people that they could discredit themselves by inappropriate, untrue or unloving words. Jesus said, "Don't you see that whatever enters the mouth goes into the stomach and then out of the body? But the things that come out of the mouth come from the heart and these make a man unclean. For out of the heart come evil thoughts, murder, adultery, sexual immorality, theft, false testimony, slander." (Matt.15:17,18) Each person is responsible for speaking in a responsible manner that reflects a consideration for other people's feelings, concerns and perspectives.
5. Jesus was admired for not only what He said, but why He said it, how He spoke and because His words came from an authoritative source. "When Jesus finished saying these things, the crowds were amazed at his teaching, because He taught as one who had authority, and not as their teachers of the law." (Matt. 7:28,29) The Lord spoke in a way that sharply contrasted with the predictable speaking of other teachers. The Lord spoke with such conviction, vitality and energy that people knew He was communicating a message from God.
6. Jesus recognized the important of letting the Holy Spirit speak to each believer before they could be able to speak on His behalf. The Lord said, "When you are brought before the synagogues, rulers and authorities, do not worry about how you will defend yourselves or what you will say, "For the Holy Spirit will teach you at that time what you should say." (Luke 12:12) God provides us with ideas from the Holy Spirit to guide us to speak the truth in love in whatever circumstances we find ourselves.
7. Jesus recognized the importance of being around all types of people in His body, the church, to complement our unique individual gifts. The Lord said, "May they be brought to complete unity to let the world know that you sent me and have loved them even as you have loved me." (John 17:23) As all of the spiritual gifts in the church work in synchronization we are able to maximize one another's contributions.
8. Jesus knew the importance of public praise, prayer and testimonies to reinforce the power of our corporate worship. The Lord knew that Paul would write, "Speaking the truth in love, we will in all things grow up into Him who is the Head, that is Christ. From Him the whole body, joined and held together by every supporting ligament, grow and builds itself up in love, as each part does its work." (Eph. 4:15,16) A regular practice of assembling together for mutual edification is an important nutrient for all believers.
9. Jesus focused believer's speech toward being His witnesses to a world dying in their sins. He said, "You shall be My witnesses in Jerusalem, in Judea, in Samaria and to the uttermost parts of the world." (Acts 1:8) We do not have to be eloquent, but we are required to faithfully testify of what the Lord has done to those people who are in our concentric circles of responsibility.
---
What's New?
I just recently put up three "library" pages: the preacher's Personal Library, the Preaching Library, and the Ministry Library. Books and study materials are an investment for the preacher...at least the right ones are.
Soon I will be adding more of the the books and materials I recommend and that others recommend for personal spiritual growth, Bible study and preaching, as well as, books and materials for doing the ministry.
---
Well, that's about it for now.

Do you have any comments, ideas, or feedback? I'd love to hear from you. You can either reply to this ezine or go to the form on the "Contact Me" page on my website and tell me what you think.

Yours for Powerful Preaching,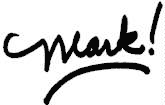 Mark Hollingsworth
---