Preaching: All about the Messenger, the Message, & the Ministry.
---
Thanks for Subscribing...Like What You See?
If you like "The Preaching Ezine", please do a friend and me a big favor and "pay it forward."

If a friend DID forward this to you and if you like what you read, please subscribe by visiting...

The Preaching Ezine (the newsletter of Preachology.com)
Issue #011, May 15, 2009
What's in this Issue:
1. Broadus on "Eloquence..." continued.
2. Memorial Weekend Sermon.
3. New sermons, outlines, & illustrations link to preachology.com
Hello,
Mark Hollingsworth here. Hope you are having a great week in the Lord.
2 Tim. 4:2 Preach the word; be instant in season, out of season; reprove, rebuke, exhort with all longsuffering and doctrine.
We continue with what Broadus said when speaking about the nature of eloquence. He asked the question, what is good preaching, or more generally, what is eloquence?
To continue what he said: "What is the true ground of eloquence," says Vinet, "if it is not commonplace? When eloquence is combined with high philosophical considerations, as in many modern examples, we are at first tempted to attribute to philosophy the impression we receive from it; but eloquence is something more popular; it is the power of making the primitive chords of the soul (its purely human elements) vibrate within us--it is this, and nothing else, that we acknowledge the orator."
It is impossible to be eloquent on any subject, save by associating it with such ideas as that of mother, child, friends, home, country, heaven, and the like; all of them familiar, and, in themselves, commonplace. The speaker's task is, by his grouping, illustration, etc., and by his own contagious emotion, to invest these familiar ideas with fresh interest, so that they may reassert their power over the hearts of his hearers.
He who runs after material discourse that shall be absolutely new, may get credit for originality, and be amply admired, but he will not exert the living power which belongs to eloquence. The 'preacher' can be really eloquent only when he speaks of those vital gospel truths which have necessarily become familiar.
A just rhetoric, if there were no higher consideration, would require that a preacher shall preach the gospel--shall hold on to the old truths, and labor to clothe them with new interest and power.
I think what Broadus is saying is that to be an eloquent speaker one must continue to preache the Gospel message and the truths that surround it, but clothe those truths in new and fresh ways that stir interest in the hearers again.
2 Tim. 4:3 For the time will come when they will not endure sound doctrine; but after their own lusts shall they heap to themselves teachers, having itching ears;
Sermon Notes:
A topical sermon for Memorial Day weekend:
The New Birth of Freedom
1Peter 1:3-5
Memorial Day...Memorial – something that serves as a reminder, preserving memory of something.
God gives us examples of memorials throughout the Bible.
In Exodus we see the Passover. God delivering His people from Egyptian bondage.
In the New Testament we see the Lord's Supper. A time of remembering the death, burial and resurrection of Jesus Christ.
Memorial Day is a national day to remember those who died for their country.
Origin Of Memorial Day
In 1867 women at Columbus, Mississippi, decorated the graves of dead soldier heroes of both the North and the South. It inspired that noble poem, "The Blue and the Gray."
There began a widespread feeling that a special day should be set apart for paying tribute to those who had given their lives in the Civil War. And so General John A. Logan, commander of the Grand Army of the Republic, issued an order designating May 30, 1868, for "Strewing with flowers or otherwise decorating the graves of comrades who died in defense of their country, and whose bodies now lie in most every city, village, or hamlet church yard in the land."
The observance of the day soon became national. In 1874 Congress made it a legal holiday. Established as a day to honor the fallen soldiers of the just concluded Civil War, Memorial Day has grown to become a solemn recognition of all of our nation's war dead and the high price of our freedoms.
Abraham Lincoln, a man whom God used greatly, wrote the Gettysburg Address.
The Ten Commandments contains 297 words. The Bill of Rights is stated in 463 words. Lincoln's Gettysburg Address contains 266 words. A recent Federal directive to regulate the price of cabbage contains 26,911 words. —Atlanta Journal
"The Gettysburg Address"
Fourscore and seven years ago our fathers brought forth on this continent a new nation, conceived in liberty and dedicated to the proposition that all men are created equal. Now we are engaged in a great civil war, testing whether that nation or nation so conceived and so dedicated can long endure. We are met on a great battlefield of that war. We have come to dedicate a portion of that field as a final resting-place for those who here gave their lives that that nation might live. It is altogether fitting and proper that we should do this. But in a larger sense, we cannot dedicate, we cannot consecrate, we cannot hallow this ground. The brave men, living and dead who struggled here have consecrated it far above our poor power to add or detract. The world will little note nor long remember what we say here, but it can never forget what they did here. It is for us the living rather to be dedicated here to the unfinished work which they who fought here have thus far so nobly advanced. It is rather for us to be here dedicated to the great task of remaining before us -- that from these honored dead we take increased devotion to that cause for which they gave the last full measure of devotion -- that we here highly resolve that these dead shall not have died in vain, that this nation under God shall have a new birth of freedom, and that government of the people, by the people, for the people shall not perish from the earth. -- Abraham Lincoln, November 19, 1863
"This nation under God shall have a new birth of freedom..."
Notice what the text says about the new birth:
1 Peter 1:3-5 Praise be to the God and Father of our Lord Jesus Christ! In his great mercy he has given us new birth into a living hope through the resurrection of Jesus Christ from the dead, and into an inheritance that can never perish, spoil or fade--kept in heaven for you, who through faith are shielded by God's power until the coming of the salvation that is ready to be revealed in the last time.
There are three things to see as we look at this "The New Birth of Freedom".
The New Birth of Freedom Requires…
I.  Salvation
From oppressive regimes, dictatorships or slavery.
Patrick Henry, in a speech at the Virginia Convention of 1775, said: "Is life so dear, or peace so sweet, as to be purchased at the price of chains and slavery? Forbid it, Almighty God! I know not what course others may take; but, as for me, give me liberty, or give me death." —Edward Latham
Deliverance from taxation without representation. From ruthless dictators, etc.
The "New Birth" requires deliverance from our SIN (Power, Penalty, Presence) Romans 6:18 You have been set free from sin and have become slaves to righteousness. 1. Power of Sin – The power and sway sin has over us. (Rom 3:23) Christ sets us free!
Romans 6:12 Therefore do not let sin reign in your mortal body so that you obey its evil desires.
1 Cor. 15:56-57 The sting of death is sin, and the power of sin is the law. But thanks be to God! He gives us the victory through our Lord Jesus Christ. Romans 6:22 But now that you have been set free from sin and have become slaves to God, the benefit you reap leads to holiness, and the result is eternal life.
2.  Penalty of Sin – Physical and spiritual death, separation from God for eternity.
Romans 6:23 For the wages of sin is death, but the gift of God is eternal life in Christ Jesus our Lord. Romans 8:1 Therefore, there is now no condemnation for those who are in Christ Jesus, John 5:24 "I tell you the truth, whoever hears my word and believes him who sent me has eternal life and will not be condemned; he has crossed over from death to life.
3.  Presence of Sin – Our ultimate deliverance from sin, when we see Jesus.
1 John 3:2 Dear friends, now we are children of God, and what we will be has not yet been made known. But we know that when he appears, we shall be like him, for we shall see him as he is.
Rev. 21:27 Nothing impure will ever enter it (heaven), nor will anyone who does what is shameful or deceitful, but only those whose names are written in the Lamb's book of life.
II.  Sacrifice
In that "Freedom isn't Free", it's very costly.
In Stroudsburg, Pennsylvania, there is the grave of a Civil War soldier. The stone bears the date of his birth and death, and then these words: "Abraham Lincoln's substitute." In the woe and anguish of the war, realizing that thousand upon thousands were falling in his place on the field of battle, Lincoln chose to honor one particular soldier as his substitute and make him a symbol, as it were, of the fact that the soldiers who perished in battle were dying that others might live.
They paid the ultimate price, their very lives.
In the early summer of 1863, the Civil War was two years old. Confederate General Robert E. Lee's force of nearly 75,000 men had just inflicted a stunning defeat on the North's army of the Potomac in Virginia. Major General George Meade commanded the Federal troops, and was headed north with 122,000 men.
The stage was set for the greatest battle of the Civil War. It began on July 1, when advance troops on both sides met near Gettysburg.
The decisive battle was highlighted by Confederate Major General G.E. Pickett's attack on Cemetery Ridge. This action, which was later immortalized at "Pickett's Charge," involved 15,000 confederate troops moving across an open field toward 10,000 defenders. By the time Pickett's men reached the ridge, they had lost too many men and were under attack on three sides, suffering tremendous losses.
The following day, July 4, Lee began his retreat to Virginia. The Union Army had lost 23,000 men (killed, wounded or missing), while the Confederates counted 20,000 casualties. No single battle in American history had lost so many human lives. It was, moreover, a turning point of the war.
The confederacy began a decline afterwards, which ended in Lee's surrender at Appomattox, Virginia, on April 9, 1865. —Paragon Publishing
The new birth of freedom required great sacrifice – they gave their very lives.
The "New Birth" requires the Sacrifice of the Son of God, Jesus Christ.
1 John 4:10 This is love: not that we loved God, but that he loved us and sent his Son as an atoning sacrifice for our sins.
1 John 2:2 He (Jesus) is the atoning sacrifice for our sins, and not only for ours but also for the sins of the whole world.
The solution to our problem of sin is Jesus Christ. The Way, The Truth, The Life. (John 14:6) Jesus died a substitutary death upon the cross for us. He paid our sin debt. A sacrifice is the innocent (Jesus) dying for the guilty (me) – That is love! (1Jn 4:10)
III.  Service
Being responsible citizens actively making a difference.
High atop the United States Capitol dome in Washington stands the statue of the stately "Freedom Lady," almost 20 feet high. Her face is framed by a crest of stars. A shield of stars and stripes is in her left hand.
The sculptured Freedom Lady was brought from Rome during a fierce storm, and the captain ordered some cargo thrown overboard. The sailors wanted to include the heavy statue, but the captain refused, shouting above the wind, "No! Never! We'll flounder before we throw 'Freedom' away." —James C. Helley "I do the very best I know how—the very best I can; and I mean to keep doing so," said Abraham Lincoln. His life is the best example of his own words. Consider the chronology of his career:
1831  Failed in business
1832  Defeated for legislature
1833  Again failed in business
1834  Elected to legislature
1835  Sweetheart died
1836  Had nervous breakdown
1838  Defeated for speaker
1840  Defeated for elector
1843  Defeated for Congress
1846  Elected to Congress
1848  Defeated for Congress
1855  Defeated for Senate
1856  Defeated for Vice-President
1858  Defeated for Senate
1860  ELECTED PRESIDENT
"I do the very best I know how—the very best I can…" Being faithful to do the best you can, never quitting or giving up. vote, serving, juries, taxes.
Learning from past history… History repeats itself as time marches on. A study of history shows that the great civilizations of the world have averaged about 200 years. The people of the world have followed this timetable.
The people go: From slavery to spiritual faith - From spiritual faith to courage - From courage to liberty - From liberty to abundance - From abundance to selfishness - From selfishness to apathy - From apathy to dependence - From dependence back to slavery. —The Bible Friend
The "New Birth" requires serving the Lord. It requires involvement by being OBEDIENT to God's Word.
James 1:25 But the man who looks intently into the perfect law that gives freedom, and continues to do this, not forgetting what he has heard, but doing it--he will be blessed in what he does.
The supernatural birth starts with repentance of sin and inviting Jesus Christ into your life as Lord.
John 1:12-13 Yet to all who received him, to those who believed in his name, he gave the right to become children of God-- children born not of natural descent, nor of human decision or a husband's will, but born of God.
Romans 6:16b "…you are slaves to the one whom you obey--whether you are slaves to sin, which leads to death, or to obedience, which leads to righteousness?
Ephes. 2:6-7 And God raised us up with Christ and seated us with him in the heavenly realms in Christ Jesus, in order that in the coming ages he might show the incomparable riches of his grace, expressed in his kindness to us in Christ Jesus.
1 Peter 1:3-5 Praise be to the God and Father of our Lord Jesus Christ! In his great mercy he has given us new birth into a living hope through the resurrection of Jesus Christ from the dead, and into an inheritance that can never perish, spoil or fade--kept in heaven for you, who through faith are shielded by God's power until the coming of the salvation that is ready to be revealed in the last time.
Spiritually, The New Birth of Freedom is found only in Jesus Christ!
Have you experienced a spiritual new birth of freedom from sin?
This could be your Spiritual Memorial Day!
What's New at Preachology.com?
Last month I added a "SiteSearch" page to my website. Take a look at the Preachology SiteSearch page for the great new opportunity to search my website for information or sermons or anything. You can also search the web from that page as well.
I also added a "Preaching News" page to my website. This page has already proved to be very popular. This is a page that has a live newsfeed that updates you about Christian news across the world. It is from Google News and they collect news from over 4000 sources. There's also a place for you to share your news stories that might help all of us preachers keep up to date about what's going on in the US and the world.
Take a look at the Preaching News page to stay up-to-date on Christianity and the Preaching Ministry across the world. You very likely will get some great illustrations from these current event stories.
There are keywords under the title "Preaching News" that you can click and see the current news for that subject. The subjects are "Christianity, Christian Ministry, Preaching, Sermons, Preachers."
There are more outlines "Bible Study Outlines" page where I share my skeleton outlines and there are more outlines at the "Your Skeleton Outline Page" where you can share your great skeleton outlines with all of us.
I also just recently added some more material at preachology.com on the FREE SERMON ILLUSTRATIONS page. There is also new material at the YOUR SERMONS page. There's a sermon there by Michael Elder. He has a great sermon on "Highway to Emmaus." There's also an introductory sermon there by Jim Fryer on the book of Judges. See below.
Go to the... Free Sermons ...page to get the new sermons and come often because we will soon add more. Take a look. There are some new sermons there now.
Subscribe to my free newsletter and receive even more sermons, outlines, notes, and ideas on a regular basis emailed directly to you. If you subscribe, you will also be able to access "The Preaching Ezine" archives where you will find even more sermon material (not on the website), sent out in the past. I'll also give you a free copy of E. M. Bounds book "Power Through Prayer."
Click here to subscribe to...The Preaching Ezine.
YOUR SERMONS
Preachers, let's be an encouragement to other preachers by sharing our sermons and outlines and commenting positively about other preacher's sermons.
I love to read other preacher's sermons as devotionals for my own personal spiritual growth and also to get ideas for developing sermons of my own.
Go to the... Your Sermons ...page to submit your sermons and outlines and be a blessing to other preachers. There are some new sermons there right now!
Go to the... Your Skeleton Outlines ...page to submit your skeleton outlines and be a blessing to other preachers. There are some new skeleton sermons there right now!
Go to the... Your Illustrations ...page to submit your sermon illustrations and be a blessing to other preachers. There are some new illustrations there right now!
Until next time... here, there, or in the air!
Well, that's about it for now.
Do you have any comments, ideas, or feedback? I'd love to hear from you. You can either reply to this ezine or go to the form on the "Contact Me" page on my website and tell me what you think.
Yours for Powerful Preaching,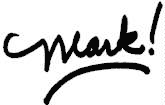 Mark Hollingsworth
---