Got Sermons and Sermon Outlines to Share? Please Do!
Sharing your sermons and sermon outlines will go a long way toward encouraging others in the Preaching Ministry, especially young beginning preachers. We are preaching all the time in our ministries. When do we get preached to?
I don't know about you, but I need preaching too. Of course, we must get into the Word of God to hear directly from Him, but what a blessing it is to read sermons from other preachers that speak to our heart.
Preachology.com is all about preachers helping preachers, preachers encouraging preachers and preachers ministering to preachers. I want to be a blessing to you and I hope you will be a blessing to me and other preachers by sharing your sermons as well as other sermon material.
We really can help each other. I will try to help you with my sermons and with my newsletter, "The Preaching Ezine." You can help me and other preachers with your great sermons. I know you have some great sermons to share and I look forward to reading them and being blessed by them.
My Sermons and Outlines
You can go to the "Free Sermons" page to get some of my sermons as well as some selected sermons from others that I think you will use and enjoy.
Want Even More Free Sermons and Outlines?
Subscribe to my free newsletter and receive sermons, outlines, notes, and ideas on a regular basis emailed directly to you. If you subscribe, you will also be able to access "The Preaching Ezine" archives where you will find even more sermon material, sent out in the past. Please subscribe and share this ongoing opportunity with your preacher friends.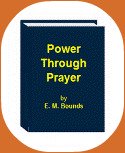 Also, when you confirm your subscription, I would like to give you, as a free gift, one of my favorite books, "Power Through Prayer" by E.M. Bounds.
You can download this book after you confirm your subscription. You will love this wonderful ebook. 

Click here to subscribe to...The Preaching Ezine.
Your Sermons
YOUR WEB PAGE:
---
Your Online Sermon Page
Preachers and Teachers, now you can have your own page to publish your sermons. Just follow the link above and get the details!
Preachers, let's be an encouragement to other preachers by sharing our sermons and sermon outlines. I love to read other preacher's sermons as devotionals for my own personal spiritual growth and also to get ideas for developing sermons of my own.
Go to the "Your Sermons and Sermon Outlines" form below to submit your sermons and outlines and be a blessing to other preachers.
You can submit your sermons and also read the sermons other preachers have submitted. You can read the sermons and comments and you can even leave a comment yourself for the preachers about their sermons. You can even comment on the comments, if you like.
If a preacher's sermon was a blessing to you, encourage him, share notes and scriptures and ideas. We need to help each other as much as we can. Take the time to be a blessing today.
Preachers Who Have Their Own Page
The following preachers and/or teachers have submitted one (1) or more sermons on this page and now have their own sermon web page. Click here for details on how to get your own page!
Visit the sermon page of the following preachers and teachers:


(Disclaimer: Preachology.com does not necessarily agree with every sermon or theological view contributed to this website. See our basic statement of faith here. Denominational tags may be used to indicate various theological views.
Have A Great Sermon To Share That Will Encourage Others?
Do you have any great sermons or sermon outlines?

Share them! Be a blessing to other preachers.

Share your sermons in as full form as possible.

If it's more than 10,000 words submit a Part 1 and Part 2.
What Other Preachers Have Preached:
Click below to see sermons and sermon outlines from other preachers visiting this page...you can read them and make encouraging comments. You can even make a comment on the comments, if you like!

---
Leave "Your Sermons and Sermon Outlines" and go to "Free Sermons" page.

Return from "Your Sermons and Sermon Outlines" to Preachology Home Page.
© 2008-2028 - All rights reserved.

No content on preachology.com may be printed or

copied to any other site without permission.