Preaching: All about the Messenger, the Message, & the Ministry.
---
Thanks for Subscribing...Like What You See?
If you like "The Preaching Ezine", please do a friend and me a big favor and "pay it forward."

If a friend DID forward this to you and if you like what you read, please subscribe by visiting...

The Preaching Ezine (the newsletter of Preachology.com)
Issue #013, July 17, 2009
What's in this Issue:
1. Broadus on "Requisits To Effective Preaching" #2.
2. Sermon by Earl White on Fellowship with God.
3. New sermons, outlines, & illustrations link to preachology.com
4. You could have your own sermon web page on Preachology.com!
Hello,
Mark Hollingsworth here. Hope you are having a great week in the Lord.
2 Tim. 4:2 Preach the word; be instant in season, out of season; reprove, rebuke, exhort with all longsuffering and doctrine.
I would like to continue to discuss what Broadus said about the prerequisites of effective preaching. He said there were four requisites. The first is "piety." The second is "Natural Gifts."
(2) Natural Gifts. The preacher needs the capacity for clear thinking, with strong feelings, and a vigorous imagination; also capacity for expression, and the power of forcible utterance. Many other gifts help his usefulness, these are well-nigh indispensable to any high degree of efficiency. Each of these can be improved almost indefinitely, some of them developed in one who had not been conscious of possessing them; but all must exist as natural gifts.
Brodus is saying that the ability to think and study and speak must be a God given natural ability for a high degree of efficiency. One may not even know he has these gifts until he obeys the call from God, surrenders to the call and begins to develop the gifts.
2 Tim. 4:3 For the time will come when they will not endure sound doctrine; but after their own lusts shall they heap to themselves teachers, having itching ears;
Sermon Notes:
A textual sermon by Earl White:
GOD WAITS FOR OUR FELLOWSHIP
Col 1:12
I read five Psalms a day. But the Lord has been leading me to the Book of Colossians for my meditations for the past few weeks. The verse that met a need for me this morning is Colossians 1:12. Paul says "Giving thanks unto the Father, which hath made us meet to be partakers of the inheritance of the saints in light." I did a workup on that verse that I will share with you.
1. "Giving thanks unto the Father"
The words "giving thanks" is a present active participle. It means to be grateful for something or to be thankful and show it. It comes as a result of the realization of the provision that the Father has made for the believer in Christ. The word "Father" identifies the originator of the plan. We find the phrase "the Father of our Lord Jesus Christ" four times in the New Testament: Rom. 15:6; 2Cor. 1:3; Eph. 3:14; Col. 1:3.
This truth should make us thankful and overflow in praise. One of the outstanding features of personal revival is the overflow of joy in the Christian's life. The next clause will tell us the well springs of that joy and thanksgiving.
2. "Which hath made us meet"
The words "hath made meet" translate one word (hikanoo) that means "to make sufficient or to render fit." The verb form is an aorist active participle. The aorist tense refers to a point of time in the past. It is an accomplished fact. It is not something to be sought after. It has already taken place and Paul mentions it here as a motivation to thanksgiving for those whom he is addressing.
Verse 2 identifies those he is addressing. The active voice is where the subject does the acting. The subject here is the "Father." Our being "made meet to be partakers" is not attainment on our part. We are the subjects of God's provision. He has made us meet. The Father has rendered us fit; He has made us sufficient. One of our major barriers to fellowship with the Father is my feeling of unworthiness.
Satan accuses me as I pray to the Father. And I tell you it is distracting. Unless that barrier comes down, I leave my place of prayer unfulfilled. He constantly tells me that I have not attained the level of maturity needed to fellowship with God. He shows me others that I admire and makes them an example of what I am not. I do not have the Bible knowledge they have.
I do not spend the time in prayer they do. I do not witness as much as they do. But here it is not I who must make me meet or sufficient to partake of the inheritance. God has done it for me. When I remind the Accuser of the brethren, he can't handle that. That opens the door to the Lord's presence.
3. "To be partakers of the inheritance"
The words "to be partakers" (meris) translate one word that means "a part as distinct from the whole or an assigned part, a portion, a share." The words "of the inheritance" (kleros) This is referring to all that the death of Christ provides for the believer. It is not just heaven some day. It is access to the Father's throne.
It is fellowship with the Father and the Son (1John 1:2-4). It is continuous revival (John 7:37-39). Christ is the One who obtained this inheritance. He is my acceptance. He has brought me by His death on the cross to the privilege of partaking. I have a share in that inheritance. It is not a goal. It has been obtained for me by Him.
4. "Of the saints in light"
The word "saints" (hagios) means "most holy thing, a saint." The word "light" (phos) is the regular word for light and means "the light emitted by a lamp." Metaphorically it is used of "the power of understanding esp. moral and spiritual truth." The word "saints" refers to every believer in Christ. Now if we have trouble seeing ourselves as a "most holy people" just look at verse 22 of this chapter:
"In the body of his flesh through death, to present you holy and unblameable and unreproveable in his sight." It is through His death that this happens. We are recipients of His grace. God's unmerited favor comes to me because of the cross. Grace is God giving me what Christ deserves. The process of our fellowship is maintained by walking in the light. See 1John 1:7.
Conclusion: The truth that my worthiness to fellowship with God is God's provision for me. There is a blank place in the heart of God that awaits my presence for fellowship. This must be by faith. Faith is God's provision (Eph 2:8; Rom 12:3) that gives me the capacity to fellowship with and respond to His unseen presence.
Faith makes what is true in the Spiritual world real in the physical realm. I must accept by faith that God has made me worthy to partake of His inheritance and use that truth to tear down any barrier that Satan tries to put in my way.
May the Lord bless these truths to your heart as He has to mine.
What's New at Preachology.com?
Let me remind you once again preachers and teachers that you can now have your own Preachology sermon web page. If you submit 15 or more sermons on the "Your Sermons" page, I will then move your sermons to a page of your own where you can continue to add sermons and invite your family, friends, and followers to view your work. When they visit your page, they can make comments about each of your sermons.
Dennis Michelson has submitted 15 sermons and has his own sermon web page now. He has submitted some great sermons. Check it out at "www.preachology.com/dennis-michelson-sermons.html" and then get your own page!
There are more outlines at the "Bible Study Outlines" page where I share my skeleton outlines and there are more outlines at the "Your Skeleton Outline Page" where you can share your great skeleton outlines with all of us.
I also just recently added some more material at preachology.com on the FREE SERMON ILLUSTRATIONS page. There is also new material at the YOUR SERMONS page. There are new sermons there from several different preachers.
Go to the... Free Sermons ...page to get the new sermons and come often because we will soon add more. Take a look. There are some new sermons there now.
Subscribe to my free newsletter and receive even more sermons, outlines, notes, and ideas on a regular basis emailed directly to you. If you subscribe, you will also be able to access "The Preaching Ezine" archives where you will find even more sermon material (not on the website), sent out in the past. I'll also give you a free copy of E. M. Bounds book "Power Through Prayer."
Click here to subscribe to...The Preaching Ezine.
YOUR SERMONS
Preachers, let's be an encouragement to other preachers by sharing our sermons and outlines and commenting positively about other preacher's sermons.
I love to read other preacher's sermons as devotionals for my own personal spiritual growth and also to get ideas for developing sermons of my own.
Go to the... Your Sermons ...page to submit your sermons and outlines and be a blessing to other preachers. There are some new sermons there right now!
Go to the... Your Skeleton Outlines ...page to submit your skeleton outlines and be a blessing to other preachers. There are some new skeleton sermons there right now!
Go to the... Your Illustrations ...page to submit your sermon illustrations and be a blessing to other preachers. There are some new illustrations there right now!
Until next time... here, there, or in the air!
Well, that's about it for now.
Do you have any comments, ideas, or feedback? I'd love to hear from you. You can either reply to this ezine or go to the form on the "Contact Me" page on my website and tell me what you think.
Yours for Powerful Preaching,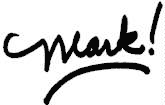 Mark Hollingsworth
---