www.preachology.com
Preaching: All about the Messenger, the Message, & the Ministry.
---
Thanks for Subscribing!
You are receiving this newsletter because you subscribed to "The Preaching Ezine" ...the newsletter of Preachology.com.

If you like "The Preaching Ezine", please do a friend and me a big favor and "pay it forward."

And if a friend DID forward this to you and if you like what you read, please subscribe by visiting...

The Preaching Ezine (the newsletter of Preachology.com)
---
Issue #028, November 13, 2013
What's in this Issue:
1. Another Lord's Day is coming up on November 17 and Thanksgiving is November 28!
2. Sermon outline on "Reasons to Count Your Blessings" (at bottom of ezine)
3. New sermons, outlines, and illustrations link to preachology.com!
4. You could have your own sermon web page on Preachology.com!!

---
Hello,
Mark Hollingsworth here. I hope you are looking forward to a great Lord's Day this Sunday. Don't forget that Thanksgiving is in two weeks! Some like to preach on being thankful to the Lord.
2 Tim. 4:2 Preach the word; be instant in season, out of season; reprove, rebuke, exhort with all longsuffering and doctrine.
Happy Thanksgiving!
...from the Hollingsworth Family.
2 Tim. 4:3 For the time will come when they will not endure sound doctrine; but after their own lusts shall they heap to themselves teachers, having itching ears;
---
What's New at Preachology.com?
Keep praying for us as we minister at the Prison to the prisoners and the officers and pray as Janey and I minister at the church as well.
I am praying for you and your ministry and enjoy hearing from you with your prayer requests.
PREACHOLOGY BIBLE INSTITUTE...still coming!!!
Subscribe to my free newsletter and receive even more sermons, outlines, notes, and ideas on a regular basis emailed directly to you. If you subscribe, you will also be able to access "The Preaching Ezine" archives where you will find even more sermon material (not on the website), sent out in the past. I'll also give you a free copy of E. M. Bounds book "Power Through Prayer."
Click here to subscribe to...The Preaching Ezine.


YOUR SERMONS, OUTLINES, and ILLUSTRATIONS:
Preachers, let's be an encouragement to other preachers by sharing our sermons and outlines and commenting positively about other preacher's sermons.
I love to read other preacher's sermons as devotionals for my own personal spiritual growth and also to get ideas for developing sermons of my own.
Go to the... Your Sermons ...page to submit your sermons and outlines and be a blessing to other preachers. There are some new sermons there right now!
Go to the... Your Skeleton Outlines ...page to submit your skeleton outlines and be a blessing to other preachers. There are some new skeleton sermons there right now!
Go to the... Your Illustrations ...page to submit your sermon illustrations and be a blessing to other preachers. There are some new illustrations there right now!
---
Until next time... here, there, or in the air!
Well, that's it for now.
Do you have any comments, ideas, or feedback? I'd love to hear from you personally and thanks to you who have made contact with us. It truly is a blessing and encouragement to us. Thanks for the comments we received last time!
You can either reply to this ezine or go to the form on the "Contact Me" page on my website and tell me what you think.
And thanks for forwarding this newsletter to your friends.
Yours for Powerful Preaching,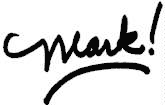 Mark Hollingsworth
---
Reasons to Count Your Blessings
Psalm 103:1-5
In a revival campaign the song leader Charles M. Alexander asked a paralytic, who had been brought down the aisle in a wheel chair, to tell his favorite song. The paralyzed man called for "Count your Blessings." There was no whining or complaining from the poor man, just a vivid sense of the goodness of God (Holdcraft Bible Illustrations 230).
The song says, "Count your blessings, name them one by one, and it will surprise you what the Lord hath done." That seems to be exactly what the Psalmist decides to do here. He started counting up all the benefits of God. The only problem was that there were so many blessings he had to tie them into bundles to remember them all and then he shaped the bundles into a song.
If more of us as Christians would praise God for his blessings and stop complaining and feeling sorry for ourselves, we would be happier and we could turn the world upside down. I read somewhere about a high class restaurant in a great city that hired a half-dozen men to carry signs advertising the restaurant. The near starved men were advertising the best dinners. It would be funny if it weren't so tragic. We have today ungrateful, complaining Christians advertising for the good news of Jesus Christ. It is time that we were counting our blessings instead of our anxieties. The Psalmist counts his blessings one-by-one, and we find that his blessings are our blessings.
So what are the reasons for being thankful?
1. We are grateful because God has forgiven our sins. (v3)
All through the Bible sin is looked upon as a disease. It is a terrible disease that is always fatal. All men are afflicted with the disease and all men carry it. The Bible says, "There is not a man upon earth that does good and does not sin". Rom. 3:23 says, "For all have sinned and come short of the glory of God."
The disease of sin is fatal, and there is only one cure. Jesus died on the cross to cure us and forgive our sins. Praise God! We can be forgiven for all our sins no matter what they are. We are given a second chance.
There was once a small boy that had an emergency operation. It was very delicate, but the little fellow breathed freely when it was over. But late that night there was a frantic call to the doctor. The nurse had become frightened and neglected her duty. Now the boy was dead. The doctor decided the nurse could not be trusted and wrote a letter to end her career. He called her in and read the letter. She listened in shame and misery. Finally, he asked, "Have you nothing to say?" She shook her head and when she finally did speak she replied, "Give me another chance." (Allen Psychiatry 82). I thank God that he has forgiven my sins.
2. We are grateful because God heals our diseases.
Only the person who has suffered a severe illness and has recovered from it can fully appreciate the benefit of healing. Apparently the Psalmist had had a terrible disease that was wrecking his life. He was miserable in mind and spirit. But now hew was well again and he praised God for it.
I appreciate all the instruments of healing that God has given us today -- the doctors, the nurses, the drugs, and hospitals. God has blessed us with so many miracles of modern medicine. But I am also convinced that all healing is divine healing and is a gift from God. The doctors do all they can do, and then we depend upon God to bring the healing.
You remember the woman that had been bleeding for twelve years. She had been to doctor after doctor; she had spent everything that she had on a cure. Then one day she met the Great Physician, Jesus Christ. She touched the hem of his clothing and she was healed immediately. Power flowed from Jesus, and when he found out who had touched him he said, "Daughter, be of good cheer, your faith has made you well."
As a pastor I have been to see many people in the hospitals. I have waited as friends have been operated on. I was there for an operation of my father, my mother, and my wife, and my son. Before each operation I have prayed, and I thank God that so far God has answered all those prayers. I thank all the doctors and nurses for being good instruments of God. But I thank God for the healing. I thank God for the health of my family this last year.
3. We are grateful because God saves us from the Pit.
The pit may refer to the grave or death. If that is the case then there may have been a dark moment in the Psalmist's life and God kept him from it by pulling him back.
But there may also be the hint of God pulling him back from the eternal pit which Jesus called hell. I sometimes hear someone say laughingly to another, "You go to hell." Hell is no laughing matter, and I would not want anyone to go there. Thank God--those who have trusted in Jesus will never be cast into the everlasting pit.
One day a young preacher was conducting a revival service. A well-dressed middle-aged lady walked down the aisle and received Jesus as her Savior. She went back to her husband, a big raw-boned farmer over six feet tall and said, "Dave, I heard a young fellow preach today and I was saved." She said, "I'm so happy! I have been worried about where I was going to spend eternity. I got saved today."
Here husband loved her, but he got so furious he was on the verge of striking her. He said, "What kind of home are we going to have with you saved and me lost?" He decided he was going to take care of that preacher the next day who had caused all the trouble.
The next day he went to the service with her, and just sat there as meek as a lamb. He heard the story of Christ on the Cross with all of our sins laid upon him. At the invitation he went forward and said, "Preacher, tell me how to be saved." From then on he went around thanking the preacher and patting him on the back and praising God. God had saved him from the pit (Malone - Psalms 305:6). I thank God for my experience of salvation.
4. We are grateful to God because he crowns us with love and mercy.
The crown here is not one of gold, but one of "steadfast love and mercy." I do not know exactly what the Psalmist means here by a crown. Maybe he is talking about the close contact -- nothing is closer to a person's head than a crown. Maybe he is saying we are surrounded by God's love, because the crown goes all around the head in a circle. But whatever the exact symbol, we know his is telling us that God's love and mercy are always there.
Nothing can ever cause us to lose God's love and mercy. Sometimes is seems that we could lose his love because of our sin. But Jesus promised he would be with us always. I know that as a human, I will never stop loving my children. I may be disappointed with them -- I may become angry with them -- I may even have to discipline them. But nothing could make me stop loving the. My love does not depend on their actions. And it is wonderful to know that even when I sin, God still crowns me with his love and mercy.
Sometimes it seems we may have lost his love and mercy because he does not seem to hear us and heal our sickness. But some of God's choicest servants have been sick and afflicted and were never healed in this life. The Apostle Paul was one of those. He had a "thorn in the flesh." It may have been some kind of eye trouble or something else. If anyone could have claimed healing it should have been Paul. But the thorn remained. Fanny Crosby who wrote many wonderful songs was blind until her dying day. John Milton the great Christian writer was blind. Some of God's greatest servants were never healed of their illnesses (McGee - Psalms 49). God said to the afflicted Paul ,"My grace is sufficient for you. I am all you need." We are to praise God because he surrounds us with his love and mercy.
5. We are grateful to God because he satisfies our desires with good things.
No human need is left unsatisfied by God. He puts food on the table. Jesus said that we are not to worry about food or clothes or drink. God in his providence takes care of the tiniest animals and the most insignificant flower. Surely we can trust in God to take care of us as well. David says in the 37th Psalm, "I was young and now I am old, yet I have never seen the righteous forsaken or their children begging bread." And you know, neither have I.
Because God gives us food day by day, we must not take it for granted. We must thank and praise him. Once a girl in college sat down with five other girls at a cafeteria table and bowed her head to say grace silently. Some of the girls laughed. When she finished her prayer, she asked why they had laughed. She said, "Aren't you thankful?" One of the girls said, "For what? We paid for it."
"Where did you get the money?" she asked. "From our families," one replied. "Where did they get it?" was the next question. "They worked for it," was the answer. "Where did they get the strength -- where did it all come from?" she asked. That evening, at supper, two more girls said grace before their meal; the next day all six of them said it. We praise God because he satisfies our desires with good things (Allen, Prayer).
6. We are grateful to God because he renews us.
The Psalmist says, "my youth is renewed like the eagles." One of the greatest desires of human beings is to be young. Billions of dollars are spent each year on cosmetics and surgery to turn back the clock. We have become a people of joggers and aerobic exercisers trying to go back a few years. Ponce de Leon was not the first or the last seeker of the Fountain of Youth. Researchers continue to study aging with the hope of slowing down the process. But sooner or later time will ravage all our bodies.
But listen to the prophet Isaiah, "But they that wait upon the Lord shall renew their strength, they shall mount up with wings as eagles, they shall run, and not be weary, and they shall walk, and not faint" (Isaiah 40:31).
That kind of spiritual renewal has nothing to do with age. I have known young people who had no reason to live and no purpose in life. And I have known of those in their 70s and 80s and 90s who were soaring with the eagles. They have a zest for life -- a zest for witnessing -- a zest for God. Where do they get their strength? Why are they always young? They are renewed continually by God. Thank God that we do not have to depend on our own strength -- he renews us himself.
When John Jasper the great black slave preacher was converted, his master said, "Keep tellin' it John. Fly like an angel, and where ever you go tell it!" Jasper said later of his conversion in his own way: "O happy day! Can I ever forgit it? Dat was my conversion mornin, an dat was the day de Lord sent me out witd de good news of de kingdom. Fer mor dan sixty years I'se been tellin' it. Ma step is gettin' rather slow, my voice breaks down an sometimes I'se awful tired. But still I'se tellin' it. Ma lips shall sing de dyin' love of de Lamb wid my las' expirin' breath."
Thank God that he renews our strength through Jesus Christ, and we have a "youth" about us that the world and the years cannot touch.
---