www.preachology.com
Preaching: All about the Messenger, the Message, & the Ministry.
---
Thanks for Subscribing!
...You are receiving this newsletter because you subscribed to "The Preaching Ezine" - the newsletter of Preachology.com


...If you like "The Preaching Ezine", please do a friend and me a big favor and "pay it forward" by sending it to them.


...And if a friend DID forward this to you, please subscribe by visiting -->


The Preaching Ezine (the newsletter of Preachology.com)
---
Issue #041, November 29, 2019
What's in this Issue:
1. Happy Thanksgiving Weekend!
2. Sermon "Thanks to God" (at bottom of ezine)
3. New sermons, outlines, and illustrations (Some great poems too!)!
4. You could have your own sermon web page on Preachology.com!!
5. "Special Note" Look for info coming soon about "Online Ministerial Training!" It has been a long but rewarding road and we will share it with you soon!
---
Hello,
Mark Hollingsworth here. It's been a while but it is good to connect again. I hope you had a great Thanksgiving and are looking forward to a great Lord's Day this Thanksgiving weekend! I'll be preaching in a local church in town. Please pray for me! I will be praying for you and your ministry.
God is so good to us we should be like those in Rev. 7:12 "Saying, Amen: Blessing, and glory, and wisdom, and thanksgiving, and honour, and power, and might, be unto our God for ever and ever. Amen."
What are you thankful for this year? Who are you thankful for this year?
How does your thankfulness make you feel about God?
Are you still in wonder of your salvation?
What do you think?
More on the subject later, I'm sure!!
2 Tim. 4:2 Preach the word; be instant in season, out of season; reprove, rebuke, exhort with all longsuffering and doctrine.
Happy Lord's Day this weekend!!
...from the Hollingsworth Family.
YOU are a blessing to me and the ministry! Keep on keeping on!!
2 Tim. 4:3 For the time will come when they will not endure sound doctrine; but after their own lusts shall they heap to themselves teachers, having itching ears...
---
What's New at Preachology.com?
There are new sermons and some great poems on my website...take a look!
Keep praying for us as we minister at the Prison to the Inmates and to the Officers and Staff.
I am praying for you and your ministry and enjoy hearing from you with your prayer requests and praises.
Subscribe to my free newsletter (if you have not already) and receive even more sermons, outlines, notes, and ideas on a regular basis emailed directly to you. If you subscribe, you will also be able to access "The Preaching Ezine" archives where you will find even more sermon material (not on the website), sent out in the past. I'll also give you a free copy of E. M. Bounds book "Power Through Prayer."
Click here to subscribe to...The Preaching Ezine.


YOUR SERMONS, OUTLINES, and ILLUSTRATIONS:
Preachers, let's be an encouragement to other preachers by sharing our sermons and outlines and commenting positively about other preacher's sermons.
I love to read other preacher's sermons as devotionals for my own personal spiritual growth and also to get ideas for developing sermons of my own.
Go to the... Your Sermons ...page to submit your sermons and outlines and be a blessing to other preachers. There are some new sermons there right now!
Go to the... Your Skeleton Outlines ...page to submit your skeleton outlines and be a blessing to other preachers. There are some new skeleton sermons there right now!
Go to the... Your Illustrations ...page to submit your sermon illustrations and be a blessing to other preachers. There are some new illustrations there right now!
---
Until next time...here, there, or in the air!
Well, gotta go for now...I'll get back with you very soon with good news!
Do you have any comments, ideas, or feedback? I'd love to hear from you personally and thanks to you who have made contact with us. It truly is a blessing and encouragement to us. Thanks for the comments we have received!
You can either reply to this ezine or go to the form on the "Contact Me" page on my website and tell me what you think.
And thanks for forwarding this newsletter to your friends.
Yours for Powerful Preaching,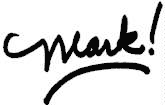 Dr. J. Mark Hollingsworth
---
Sermon:
Thanks to God
2 Cor. 9:15
Verse 15 says, "Thanks be unto God for his unspeakable gift."
The subject that surrounds this verse is giving. In chapter eight Paul is commending the churches of Macedonia for their giving of a special offering given to aid the poor saints in Jerusalem. He uses them as an example for the church at Corinth to follow. Then he talks again in chapter ten about missionary giving. So right in the midst of Paul's teaching on giving he says, "Thanks be unto God for his unspeakable gift." Christ is the motive for all giving. Let's look at this verse then derive some lessons that we can learn.
I. Thanks
The word "Thanks" (charis) comes from a word that means "grace; that which affords joy, pleasure, delight, sweetness, charm, loveliness: grace of speech." There is a root word in the Greek (chairo) out of which a family of words come. Some of the meanings, without going in to detail, are, "to rejoice," "joy," "grace," "to bestow a favor," "gratitude, thanks," "thanksgiving." The word "thanks" has in its utterance and meaning an outburst of praise to God for the grace gift of His Son. So in this utterance there is an acknowledgment of the unworthiness of the one offering thanks. It is not possible to use this word without admitting this truth.
II. Thanks to God
The words "unto God" bring us before His throne of grace: "Let us therefore come boldly unto the throne of grace, that we may obtain mercy, and find grace to help in time of need" (Heb. 4:16). God gives grace and gifts of grace because His throne is a throne of grace. I am afraid most Christians think when they come before God in prayer that there is a Lion on the throne. And if you think there is a Lion on the throne you can never be at ease. You are afraid that that Lion is going to roar and have you for a meal. Because in our hearts all of us know that God would be absolutely just to consume us on the spot. Another thing, if we believe there is a Lion on the throne, we want to become like that One on the throne. I ask you a question. Aren't we supposed to become like God? Well, if he is a Lion ready to pounce on anything that comes near, he is to be dreaded and respected but not loved. But John says, "And I beheld, and, lo, in the midst of the throne and of the four beasts, and in the midst of the elders, stood a Lamb as it had been slain, having seven horns and seven eyes, which are the seven Spirits of God sent forth into all the earth" (Rev. 5:6). There you have it. There is a Lamb in the midst of the throne. The Lamb has turned the throne of a Holy and Just God into a friendly, and loving meeting place of the saints and God. Excuse me! Someone hold my mules! I am literally overwhelmed at this thought. Paul says, "Thanks be unto God . . ."
III. Thanks to God for His Unspeakable Gift
The words, "for his unspeakable gift" introduces us to the reason for the ecstatic praise of God on this occasion. Notice it is "His" gift. We already knew this but sometimes it slips our minds. For God did so love the world that He gave His Only begotten Son to die on a cross for sinners like you and me. It is HIS gift. The word "unspeakable" (anekdiegetos) means according the Linguistic Key, "indescribable, not able to recount or to describe or to set forth in detail (Linski). God's exquisite working cannot be fully described with human words (Windisch)." It would be foolish for me to attempt to describe what Paul said is indescribable. There has been times I have been so filled with a sense of praise over God's indescribable blessing that I could utter that praise in no other way than just shouting "Glory to God! If someone were to have asked, "What's going on?" I would have had to reply, "I can't tell you. I am just overwhelmed at God's goodness." You see, people would like for you to describe it so they can get in on it. But there are some things that cannot be explained. But praise God they can be enjoyed!
Now coming out of this verse that is found in the context of giving, I believe Paul is saying, "Give with your eyes on Jesus." He is the Unspeakable Gift. He is the explanation of God's grace. We did not deserve Him. "He came to his own, and his own received him not" (John 1:11). The Creator in our midst and we did not receive Him. We did not know Him. Jesus is Grace Personified. He is the exegesis of God (John 1:18: the word "declared" is literally exegesis) which means He brings the meaning of God into visibility and what we see is GRACE. When we give, we should give with our eyes on Jesus. This takes any boasting out of the gifts we give no matter how sacrificial they are.
We are to give, motivated by our gratitude for His unspeakable gift. The story of the ten lepers who were cleansed by Him in Luke 17:11-19 illustrates this. He cleansed all ten but one, once he realized what had happened returned to give Him praise and thanksgiving for what had been done. When this happened verses 17-18 say, "And Jesus answering said, Were there not ten cleansed? but where are the nine? There are not found that returned to give glory to God, save this stranger." This man was so overwhelmed by the grace, goodness and power of the Lord Jesus, and so filled with thanksgiving, that he was freed from this painful and terminal illness, that he was compelled by his gratitude to return and give thanks for his healing. Jesus drew attention to this man's act as being one of notable mention. God is glorified and honored when those who have been helped by Him return to give Him praise.
Conclusion:
There is something at this point that we need to look at. Paul says, "Unto him be glory in the church by Christ Jesus throughout all ages, world without end. Amen." (Eph. 3:21). The local Church is the place where believers give glory to God by Christ Jesus. We sinners who have been saved by the grace of God have a divine institution that is the designated place where we can publicly give glory to God for saving us. The "one" who returned to give glory to God did it unashamedly and publicly: "And one of them, when he saw that he was healed, turned back, and with a loud voice glorified God, And fell down on his face at his feet, giving Him thanks: and he was a Samaritan" (Luke 17:15-16). The words "and he was a Samaritan" draws attention to the fact that he was the most unlikely one to do such a thing. I think sometime we resent it when some unlikely person gets emotional in a church service as he expresses his thanksgiving to God for salvation and blessing. Is the discomfort that we experience, the conviction of the Holy Spirit because of our unexpressed gratitude? It is something to think about.
Paul says, "Thanks be unto God for his unspeakable gift." I believe Paul means that we are to recognize that His gift surmounts any giving we could ever do. Whether it is money, time, talents or the sacrifice of our earthly dreams that we may serve Him, these are not even worth mentioning compared to "His unspeakable gift." Paul says, "But what things were gain to me, those I counted loss for Christ. Yea doubtless, and I count all things but loss for the excellency of the knowledge of Christ Jesus my Lord: for whom I have suffered the loss of all things, and do count them but dung, that I may win Christ" (Phil. 3:7-8).
---