The King Is Coming Part 2
by John Lowe
(Laurens SC, USA)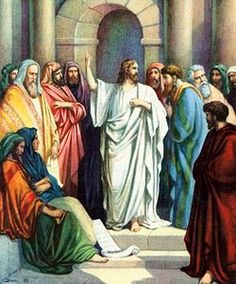 I am not sure of what the disciples understood about His return, but it appears they were more fixated upon the immediate establishment of the kingdom than anything else. They misunderstood His request to wait in Jerusalem after His resurrection. Just before He was taken up into heaven, He commanded them not to depart from Jerusalem, but to wait for the Promise of the Father. He said, "…John truly baptized with water, but you shall be baptized with the Holy Spirit not many days from now" (Acts 1:4-5). They didn't realize that this was His promise of baptism by the Holy Spirit. Instead, they took His promise to mean that He would establish His Kingdom and restore power to Israel. But Jesus told them to return to Jerusalem and wait. This was meant to raise their expectations of something very great to come from their Redeemer.


At that time, the Holy Ghost would be poured out upon them more plentifully than ever before. They had already been breathed upon with the Holy Ghost, but now they would have even more of His gifts, His graces, and His comforts, and even be baptized with them. Now, I want to pause for a moment to speak about some specific aspects of this gift of the Holy Spirit:

• First, the Spirit was given because of a promise.

It was a great promise; as great as the promise of the Messiah was before, and as great as the promise of eternal life is now. This promise is received by grace, and it is a peculiar grace that is received by faith. The way we receive the Spirit is just like we receive Christ; by faith.

• Secondly, it was the promise of the Father.

If our Father will give us the adoption of sons, He will certainly give us the Spirit of adoption.

• Thirdly, this promise from the Father is one they had heard from Christ many times, especially in the farewell sermon he preached to them a little before he died, where he assured them, again and again, that the Comforter would come.

• Fourthly, there was the prediction of John the Baptist.

He had this to say to those he baptized in the Jordan, "I indeed baptize you with water, but he that comes after me shall baptize you with the Holy Ghost'' (Matthew 3:11).

We read in Acts 1:6, "Therefore, when they had come together, they asked Him, saying, "Lord, will You at this time restore the kingdom to Israel?" Even after the resurrection of our Lord, the disciples were still confused about His true purpose in coming to live among them. Jesus did not answer the apostles' question concerning the precise time when God would restore the kingdom of Israel, but He did promise them something far more important in those seconds prior to the ascension. They thought Christ would restore the kingdom to Israel, that is, that he would make the nation of the Jews as great among the nations of the world as it was in the days of David and Solomon. But we can see by their question that they were impatient for Him to set up that kingdom in which He promised them a share. Christ had told them that they would sit on thrones. But when He was on earth, Jesus was interested in the souls of men, not in kingdoms.

It's been about 2100 years since Jesus left the earth, but so far He has not elected to establish His Kingdom. Therefore, when a believer dies, it is his soul that goes to be with the Lord, and the body is placed in the grave to wait for the Rapture.

It's the desire of every believer to be with the Lord. That is why Paul said, "For I am hard-pressed between the two, having a desire to depart and be with Christ, which is far better" (Philippians 1:23). It is far better for the Christian to be liberated from the bondage of their present body. And the best state for us to be in is to be clothed with a resurrection body or to have our present body changed (1 Corinthians 15:51-54). We have no reason to give up because Jesus has conquered sin and death.

Some Christians will not even face death because if they are alive at the Rapture they will be caught up with Him. But those who are dead will be raised first to meet Him in the air. If you believe this and return to Jesus, then for you the best is yet to come, so let's give Him our best now.

When Jesus came the first time, it was to save. But when He comes the second time, He will come as King and Judge. Matthew, Mark, and Luke in the New Testament, and Daniel in the Old Testament deal with the Tribulation period, which will last seven years. There will be believers who will be saved during this period because God will not close the door to salvation until the very end.
It is to those saved during the Tribulation that Jesus addressed what we have labeled our Lord's Olivet Discourse. The Lord knew that this period of the Great Tribulation will be hard to take and therefore He assured these believers that it will not be long. He told them, "And unless those days were shortened, no flesh would be saved; but for the elect's sake those days will be shortened" (Matthew 24:22). The terrible suffering of that time will be shortened by the sudden return of Christ. He told them this, "Then the sign of the Son of Man will appear in heaven, and then all the tribes of the earth will mourn, and they will see the Son of Man coming on the clouds of heaven with power and great glory" (Matthew 24:30).

Jesus' birth was relatively quiet and uneventful. Only a few witnessed the unusual events: Mary and Joseph had angelic visits; a group of shepherds heard an angelic choir; wise men from another nation saw an unusual star. Jesus came as the Lamb of God to make peace between God and man. When He comes again to set up His kingdom, heaven and earth will dramatically announce Him, and everyone will see the display. He will come as King in power and glory and declare war against His enemies. No one knows when this will take place. Jesus said that it was not even for Him to know while He was on earth as Redeemer. But I believe He knows now.

Since He has returned victoriously to the Father, I believe that He knows all things, even this. He knows, otherwise, how would He know when to come? But no man knows, no one, not a single person, not a created being. But when Jesus is going to return is not important. The important thing is that He will return. And we must be ready to meet Him.

Then, the question becomes, "What do we need to do to be prepared?" It's very simple. You must believe. You must believe the Gospel: Believe that Jesus died for your sins, was buried and rose again three days later. If you believe that, and confess your sins to God in Prayer, God has promised you salvation and eternal life.

I hope you are ready to meet Jesus!

Amen.