5-8-03 Watch Your Weak Moments Part 2
by John Lowe
(Laurens SC, USA)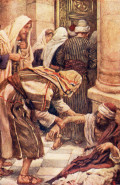 In this particular family, it means that the one who had it would be the one who would be in the line that would lead to Christ.
Esau didn't value his birthright at all, and Jacob knew he didn't.
He attached no importance to it and he didn't want to be the priest of the family.
In fact, that's the last thing he wanted to be, so when he was hungry, he gave his birthright to Jacob for a bowl of stew.
In our day, sometimes when a Christian is asked to do something for the cause of Christ, he replies, "Oh, I'm not a preacher; I can't do that!"
There are too many folks today who do not want to do that which is spiritual.
They don't even want to give the impression they are interested in spiritual things.

That was Esau.
He didn't want to give that impression.
If anyone would have called him "Deacon" or "Preacher," it would have insulted him.
He didn't want the birthright.
He didn't care about being in the line that leads to Christ.
No one could have cared less about being in that line.
Jacob sees this, and he says to him, "I'll tell you what I'll do, if you'll give me your birthright, I'll give you a bowl of stew."
Esau was very happy with the bargain.
He said, "I'll be very happy to do it; what profit is the birthright to me? What do I care about the birthright? I'd rather have a bowl of stew."

That is the value he attached to spiritual things.
He made a bad decision in a moment of weakness.
Remember, I said at the start that this incident revealed something about the nature of both these men.
Jacob was also a man who in a weak moment made a wrong decision.
God had promised, "The elder shall serve the younger."
The birthright is coming to Jacob in God's own time.
But Jacob can't wait so in a moment of weakness he reaches out to take that which God has promised him.
He takes it in a clever, tricky fashion.
He should have waited for God to give it to him.
Two nations came from the families of these brothers.
Jacob fathered the Israelites and Esau fathered the Edomites, who lived south of the Dead Sea.
Hundred's of years later, David leads Israel to the conquest of the Edomites, and they remained under Judean control for 130 years; proving God's words-the elder shall serve the younger.

One thing that we all know is that weak moments are inevitable.
There are times when our resources are depleted.
A person may say, "I'm at the end of my rope."
Our focus then shifts to worldly desires, and we zero in on satisfying the particular appetite that is nagging us at that time and we give little heed to the consequences.
J. Wallace Hamilton wrote a book called "Ride the Wild Horses."
The thesis of his book is that God gave us every desire we have.
No desire is bad within itself, but it must be controlled by God.
I may not agree with Mr. Hamilton's theme, but I do agree that we must allow God to control our thinking.
So the first lesson here is to allow God to tame your physical desires.

But there is another lesson.
The next lesson is that we must treat privileges responsibly.
The story of Esau teaches believers a valuable lesson about treating the gifts entrusted to us responsibly.
Think again about the gift of Esau's birthright.
Esau was the first born son of Isaac and Rebekah.
This was a distinguished position because in those days the first born son had the privilege of ruling the other children.
The family inheritance would ultimately belong to Esau as well.
Esau had a marvelous privilege that he could never have obtained by personal achievement.
Unfortunately, he despised his gift, and during a moment of weakness, he gave it away.
Because he felt the pains of hunger, he chose to treat his privilege irresponsibly.

But Gifts are not to be taken lightly.
God endows all believers with one or more gifts, and He greatly desires that we acknowledge and use those gifts.
We must not disregard them as Esau did.
Let's learn to cherish our privileges and to treat them responsibly.
The last lesson that we can learn from the story of Esau is that we must consider decisions carefully.
Perhaps the greatest lesson Esau learned is how crucially important moments of decision can be.
The decisions we make influence the rest of our lives.

Consider these decisions, which for most of us, are already over and done with:
Who shall I marry?
Shall I go on to college or just go to work?
Should I go into the service?
Should we have a large family or just one child?
Should we buy that house?
Do we need a new car?
What church should we attend?
We sure make a lot of decisions, don't we?
And I have to admit that I have made a lot of "bad" decisions; decisions that have hurt me and my family.
I made so many "bad" decisions because I reacted during times of weakness, and I didn't seek God's guidance.
Let's think again about Esau's crucial decision.

Esau's decision was a momentous one at the time.
Stated simply, it was the decision to remain hungry and keep his birthright or to satisfy his appetite and lose his birthright.
At the moment the decision seemed obvious to Esau.
But later he lived to regret that decision because he could never get his birthright back.
That decision in a moment of weakness cast a shadow on the rest of his days on earth.
The lesson we learn from this story is that the decisions of life demand great care.
Life brings all kinds of decisions, both big ones, and little ones.
So we should pray about everything, and we should seek to know God's leadership in our lives.
He leads us during our moments of strength and during our moments of weakness.
If we look to Him for guidance, He will never lead us to regret a decision.

Do you have a resource for the weak moments of life?
All of us have those times, and we need help from someone greater than ourselves.
Invite Christ into your life.
He will join His life to yours.
He will add His strength to yours.
And then when you find yourself in one of those inevitable moments of weakness you won't be alone.
His Spirit will be inside of you; to comfort you, to guide you, to strengthen you.
Amen.