Clergy Books for the Preacher's Personal Library
Clergy books that help the Preacher develop in his personal relationship with the Lord, as well as his family, are very important to him and his ministry. Our preaching library and our ministry library are good and help us preach and minister, but developing our relationship with the Lord is first and foremost in importance. And we must certainly consider the health of our family life as well.
If we do not walk with the Lord and seek His blessing and power, we will eventually stumble and even fail in the ministry. At the least it will just become a job and not a real ministry. We do this for Him, not for ourselves or for the paycheck. Our goal is to please Him first.
E.M. Bounds said in his book, "The Preacher and Prayer," "What the Church needs today is not more machinery or better, not new organizations or more and novel methods, but men whom the Holy Ghost can use -- men of prayer, men mighty in prayer. The Holy Ghost does not flow through methods, but through men. He does not come on machinery, but on men. He does not anoint plans, but men -- men of prayer."
Book Recommendations
"Preacher and Prayer" by E. M. Bounds

You will not be surprised that my first book recommendation for a preacher's personal library is E. M. Bounds book, "The Preacher and Prayer." However, you will probably not find that book by that title today. I have a 1911 copy of the book that still has that title. Today you will find it titled, "Power Through Prayer."
I don't know why later publishers found it necessary to change the title, but maybe it had something to do with appealing to a greater audience than just preachers! I don't know for sure.
Nevertheless, I highly recommend this great clergy book. It is an excellent book on the preacher's personal walk with God, especially through prayer.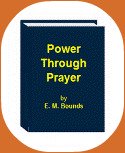 Be warned, it is also very convicting but a must read for every preacher!
In fact, if you will subscribe to my newsletter, "The Preaching Ezine," I will give you this book. When you confirm your subscription, I would like to give you, as a free gift, one of my favorite books, "Power Through Prayer" by E.M. Bounds. You can download this book after you confirm your subscription. Click here...The Preaching Ezine to subscribe. 

Here are some of the other books and resources that I recommend. I wish I could give them all to you but I can't. However, I can tell you that I learned a long time ago that ministry books and materials are an investment not a luxury...and my wife agrees! These books and materials, if you will purchase them and use them, will make a difference in your life and ministry for the Lord.
Just click on any of the links below and get a full description of the books and resources listed.
Books on the Preacher's Calling
Is God Calling Me? (Jeff Iorg)
On Being A Pastor (Begg, Prime)
Brothers, We are not Professionals (Piper)
Books on the Preacher's Personal Life
Ordering Your Private World (MacDonald)
Rebuilding Your Broken World (MacDonald)
Fireproof (Special Collector's Edition DVD)
The Love Dare (Kendrick--based on Fireproof movie)
The Five Love Languages (Chapman)
Leaving a Godly Legacy (Charles Stanley)
Worth's Income Tax Guide for Ministers
Books on the Preacher's Inspiration
Running with the Giants (Maxwell)
Morning and Evening (Spurgeon)
Morning and Evening-Contemporary (Spurgeon)
Lectures to My Students (Spurgeon)
Spurgeon: The Prince of Preachers (Drummond)
Encouragement: The Key to Caring (Crabb)
The Life You've Always Wanted (Ortberg)
Books on the Preacher's Philosophy
Success God's Way (Charles Stanley)
Systematic Theology--3 volumes (Hodge)
The Purpose Driven Life (Warren)
Answers to Pastors' Faqs (Wiersbe)
...Walk on Water...Get Out of the Boat (Ortberg)
Books on the Preacher's Character
Paul, Men of Character Series (Getz)
Pastoring With No Regrets (London)
The Man in the Mirror (Morley)
The Heart of a Godly Man (Wagner)


I will make other clergy book recommendations later. Or if you just want to search for clergy books and resources, by subject or author of your own choosing, use the search tool below. 
Leave Clergy Books and go to Preaching Books.

Leave Clergy Books and go to Ministry Books.

Leave Personal Library and go to Preachology Home Page.
© 2008-2028 - All rights reserved.

No content on preachology.com may be printed or

copied to any other site without permission.