7 Paul's Methods - Page 7 of 9 (series: Lessons on 2nd Cor.)
by John Lowe
(Woodruff, S.C.)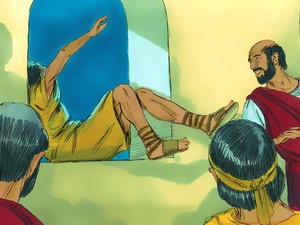 By the power of God

"By the power of God" means the divine power which accompanied the preaching of the gospel. Most of the ancient commentators explain this as the power of working miracles. But it probably includes all the demonstrations of divine power which accompanied the spread of the gospel, whether in the working of miracles, or in the conversion of people. If Paul was asked how he used these miraculous powers of speaking in foreign languages etc., he would probably reply, "In the same way I use my natural faculties," and he might point us to 1 Corinthians 14:32, where it says, "And the spirits of the prophets are subject to the prophets." The idea here is that they used the great powers entrusted to them by God, not as impostors would have done, for the purposes of monetary gain and ambition, or for useless spectacle, but solely for the furtherance of the true religion, and the salvation of people. They thus showed that they were sent from God, by the nature of the powers with which they were entrusted, and by the manner in which they used them.

Spiritual gifts, like all other gifts, are under the dominion of the mind, and may, like all other gifts, be easily misused. A holy self-restraint, even in the use of the highest gifts, must characterize the Christian. If a man comes into the assembly inspired to speak in an unknown tongue, the impulse is to be steadily repressed, unless there is a certainty that what is said can be interpreted, so that those present may understand it. If he comes into the assembly possessed with what he feels is a valued idea, he must keep it to himself until such time as he can give it out without causing disorder, without doing injury to that which must be absolutely the first consideration in all worship services—the edification of the flock. Someone has said, "Uncontrolled religious feeling" is apt to "overpower both reason and sense."

The apostle calls the "power of God to salvation," "For I am not ashamed of the gospel of Christ: for it is the power of God to salvation to every one that believes" (Rom. 1:16). The Gospel is made so powerful by the inward, powerful, effective working of the Holy Spirit.

By the armor of righteousness on the right hand and on the left,
Bible scholars give differing interpretations of "By the armor of righteousness on the right hand and on the left":
1. Some think it refers to the way in which the ancient soldiers were armed. They bore a spear in their right hand, and a shield in the left. With the former they attacked their foes, with the later they defended themselves. For the Christian soldier, the weapon in the right hand is "the sword of the Spirit," which he wields in the conflict with evil (Ephesians 6:17). The shield for the left hand is defensive, the "shield of faith," which is our defense against the fiery darts of the wicked (Ephesians 6:16).
2. Some have supposed that it refers to the fact that they were taught to use the sword with the left hand as well as with the right. For the child of God, the "armor of righteousness" means a good conscience, (which cannot be without a universal righteousness, or uprightness of life), which is a defense against all temptations, either from prosperity or from adversity. In this sense, what Solomon said is true: "He that walketh uprightly, walketh surely" (Proverbs 10:9): and David prayed, "Let integrity and uprightness preserve me" (Psalm 25:21).
3. Still others have the simple idea that it refers to the Gospel ministers, who were completely armed. To be armed on the right hand and on the left means to be well armed, or entirely equipped. They went forth to battle. They met persecution, opposition, and slander. Just as the soldier went well armed to battle, so did they. But the armor with which they met their foes, and which constituted their full suit of armor, was a holy life. With that they met all the assaults of their enemies; all the slander and persecution. That was their defense, and by that they hoped and expected to be victorious. They had no swords, spears, helmets, or shields; none of the usual weapons of offence and defense; but they expected to overcome all their
enemies, and to gain all their victories, by an upright and holy life.
The thought expressed here is found in a more expanded form in Ephesians 6:11-17 and Thessalonians 5:8: "But let us who live in the light be clearheaded, protected by the armor of faith and love, and wearing as our helmet the confidence of our salvation." Its recurrence in 2 Corinthians 10:4—"We use God's mighty weapons, not worldly weapons, to knock down the strongholds of human reasoning and to destroy false arguments"—shows how familiar it was to Paul's mind. Here it is presented in a more condensed form, but its meaning is sufficiently obvious.
8 by honor and dishonor, by evil report and good report; as deceivers, and yet true;
By honour and dishonor
The apostle is still illustrating his admission that he and his fellow-laborers always attempted to avoid offending anyone (v. 3), and to commend themselves as the ministers of God (v.4). In verses 8-10 he introduces another group of instances in which it was done. The main idea is that they tried to act in a manner that would commend the ministry and the Gospel, whether they were in circumstances which were honorable or dishonorable, whether much-admired or despised by the world. The word rendered "by" does not denote here the means by which they commended the gospel, but the method. In the midst of honor and dishonor; whatever might be the regard in which they were held by the world, they attempted to reverence God and the Gospel. They were not honored everywhere, or treated with respect. Yet they were sometimes honored by people. The churches which they founded would honor them, and as the ministers of religion they would be treated by them with respect.
Occasionally, they may have been treated with great respect by the people of the world on account of their miraculous powers (compare Acts 28:7). Nowadays, ministers of the gospel are often treated with great respect and honor. They are loved and revered; stroked and flattered, by the people they serve. As ministers of God who carry out a holy function, their position is often treated with great respect by the world. If they are eloquent or learned, or if they are highly successful they are often greatly admired and loved. It is difficult under such circumstances not to commend themselves as the ministers of God. There are few people who are not injured by being honored; few who are not corrupted by flattery. Few ministers are able to resist being affected by this influence, and who in such circumstances can honor the ministry. Those who are not corrupted seem to consider personal honors and appreciation as matters of little consequence, for they are influenced by higher considerations than the love of praise. They do not permit those insignificant matters to interfere with their duties, or to make them less faithful and enthusiastic; but rather by making this the ground for increased faithfulness and increased zeal in their Master's cause.
Paul is proof that it is possible for a minister who is greatly honored to make it the motivation for commending himself more and more as a minister of God. And he should do it; as Paul said he did. The other situation was "in dishonor." As we study the early church it becomes obvious that the apostles were often in situations where they had the opportunity to commend themselves as the ministers of God. If sometimes they were honored, they were often dishonored. If the world sometimes flattered and stroked them, it often despised them, and cast insults at them—"Being defamed, we entreat: we are made as the filth of the world, and are the offscouring of all things to this day" (1 Corinthians 4:13). And perhaps, it is the same today with those who are faithful. In such circumstances, Paul sought to commend himself as a minister of God. It was by receiving all expressions of contempt with meekness; by not allowing them to interfere with the faithful discharge of his duties; by rising above them, and showing the power of religion to sustain him; and by returning good for evil, prayers for torments, blessings for curses, and by seeking to save, not injure and destroy those who sought to overwhelm him with disgrace. It may be difficult to do this, but it can be done; and when done, a man always does good.