A Blind Beggar Part 2
by John Lowe
(Laurens SC, USA)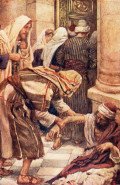 Now notice with me, how QUICK THIS MAN'S FAITH WAS TO GRASP THE OPPORTUNITY TO MEET JESUS.

As Jesus went through the city of Jericho, there was a blind man, and He healed him. But Bartimaeus was on the other side of the city, in his usual spot, begging, so he would have to wait until Jesus left the city. He was sitting down, and he expected to be there all day, but he heard the sound of tramping feet, so he asked a passerby what all the noise was about. He was told, "Jesus of Nazareth is coming." His faith was strong enough now, so that was enough for him. It was a small opportunity, but he must take it. He thought to himself, "If Jesus of Nazareth is leaving Jericho; I must stop Him, because this may be my last chance." He decides that he will shout as Jesus passes by, "Jesus of Nazareth, have mercy on me." It was not much of a chance, but he was keyed up and ready to act.

Now I wonder, how many people have let Christ pass them by, and they didn't call out to him? I am sure there a thousand reasons for why they didn't. But today, Jesus is still saying to them, "Whosoever will, let them come and freely drink of the water of life." Today, He not only passes by, He offers Himself, with outstretched arms, and exclaims, "Come unto Me, and I will give you rest, and life, and salvation."

Now that we have seen how the faith of the blind man, seized the opportunity when the Savior passed by, let's listen TO THE SHOUT OF FAITH.

The poor blind man is sitting there on the ground when he hears that it is Jesus of Nazareth. He begins immediately to shout, "Thou Son of David, have mercy upon me, thou Son of David, have mercy upon me." But Jesus is talking to the crowd that follows Him from place to place. One of His disciples tells the blind man, "He is in the middle of a speech; he can't be interrupted, so hold your tongue blind man and go away." But he only cries out more, "Thou Son of David, have mercy upon me." Then, some in the crowd try to move him out of the way, but he only shouts again and again, "Thou Son of David, have mercy upon me." What we have here, is a picture of the power of faith. In every case, the sinner must cry out to God in prayer, "Jesus, I believe you are the Savior. Have mercy upon me, and forgive my sins and save my soul." Those who are truly sorry for their sins, and cry out to the Lord in faith, will be saved.

Take a look at the courage of this man. Many try to stop him, but he doesn't cease to call out to Christ. So, if the world, the devil or your own hearts, should try to stop your prayers, cry out even louder, "Thou Son of God, have mercy upon me."

Now, I want to call your attention to the simplicity of this man's prayer. There was something he needed, and he asked for it. This man cried from his heart, the first words which came to mind-"Thou Son of David, have mercy upon me." Go ahead and pray just like this blind sinner, and the Lord will hear you, just like he heard Bartimaeus. Through the buzz and noise of the crowd comes the cry, louder and louder, "Jesus, thou Son of David, have mercy on me."

Jesus stops. He looks around, and there sits Bartimeus. The Savior can see him, even though he can't see the Savior. "Bring him to me, so that I can have mercy on him," Jesus tells Peter and John. And now, those who had been telling him to keep quiet change their tune. They gather around him and say, "Be of good cheer; rise, He calleth thee." The blind man doesn't need to be led to the Savior, because he jumps to his feet, and moves toward the sound of the Lord's voice as swiftly as a person who could see. And then, there he stands in the presence of the one who will give him his sight.

Now, look HOW EAGERLY HE OBEYED THE CALL.

All the Lord had to do was to speak, and stand still, and command him to come, and he comes. Peter doesn't need to pull him by one arm and John by the other. No! He leaps forward and is glad to come.

And now, I wonder, how many people has he called, who have not come. Why is it? Do they think that Christ doesn't mean it when He says, "Come unto me all ye that labor and are heavy laden, and I will give you rest?" Why do some people continue to carry such a heavy burden of sin? Why not give that burden to the Savior?

He is speaking to us today, "Come to Me for hope; come to Me for righteousness, and lay aside your self-righteousness. He is speaking to those who are outcast; those who are despondent; those who are in trouble; those who are lost; and those who are penniless saying, "Come to me today."

The man has come to Christ, SO LET'S LISTEN TO WHAT HE SAYS.

Jesus lovingly takes his hand, and so that the crowd can see that he really knew what he wanted, He asks him, "What wilt thou that I should do unto thee?"

See how plain the man's petition is; he couldn't have said it with fewer words, "Lord, that I might receive my sight." Those words no sooner left his mouth, than he received his sight. At that moment, He must have leaped for joy. The blind man could see perfectly. Now, what do you imagine, that this man would do first? If he has a father, he may go see him. If he has a sister or brother, he may want to see them. Above all, if he has a wife, who has loved and cried over him for all these years, I believe he will go to her, and look lovingly in her face, perhaps for the first time. It could be that he will go to the temple and worship; or maybe he will want to look at the beautiful hills, which are covered with green grass and colorful flowers. No! There is only one thing that this poor blind man longs for, it is that he may always see the man, who has opened his eyes. "He followed Jesus in the way."

What we have here, is a picture of one who has been truly converted. The moment his sins are forgiven, the one thing he wants to do, is to serve Christ. And he wants to tell somebody that his sins have been forgiven. All he asks is, "Lord, I want to follow you, where ever you go. I want to be with you for the rest of my life. I want to walk with you in this world, and in the world to come, all I desire, is to live with you. Don't let me ever lose your companionship."

Now picture this in your mind's eye. The man, who was blind, is in the midst of the crowd following Jesus. He is still wearing the clothing of a beggar, but that's the only thing about him that would remind you of what he once was. Now his step is firm, his eyes sparkle, and sometimes he sings a little Hymn or a song. Poor, blind, Bartimeus, who once set beside the road begging, is happy and thankful.

What were you before you came to Jesus; before your sins were forgiven? I know He saved a criminal when he was about to die. He saved a tax collector and even made an apostle out of him. He saved a prostitute and He saved me. He is willing to save anyone, who will come to Him in faith believing. He didn't turn Bartimeus away, and he will not turn you away either.

Amen.

A Blind Beggar

"And they came to Jericho: and as he went out of Jericho with his disciples and a great number of people, blind Bartimaeus, the son of Timaeus, sat by the highway side begging. And when he heard that it was Jesus of Nazareth, he began to cry out, and say, Jesus, thou son of David, have mercy on me. And many charged him that he should hold his peace: but he cried the more a great deal, Thou son of David, have mercy on me. And Jesus stood still and commanded him to be called. And they call the blind man, saying unto him, Be of good comfort, rise; he calleth thee. And he, casting away his garment, rose, and came to Jesus. And Jesus answered and said unto him, What wilt thou that I should do unto thee? The blind man said unto him, Lord, that I might receive my sight. And Jesus said unto him, Go thy way; thy faith hath made thee whole. And immediately he received his sight, and followed Jesus in the way."—Mark 10:46-52.