A COURAGEOUS GRACE: Part 2 of 2
by John Lowe
(Laurens SC, USA)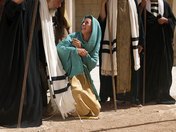 What they thought no one knew, Jesus did. So note what this revealed. For instead of passing judgment on the woman as these leaders had intended, Jesus passed judgment on the judges. You see…The qualifications of the accusers are brought into question. Jesus says, "Anyone here that has not sinned, they can go first!" And there is this gigantic pause. There is no debate! There is not even any discussion. The stones they were holding in their hands, dropped to the ground. For, convicted by their own consciences, the accusers, one by one, leave the scene…and Jesus was left alone with the woman standing before him. Jesus stood up and said to her, "Woman, where are they? Has no one condemned you?" She said, "No one, Lord." And Jesus said, "Neither do I condemn you; go, and from now on sin no more." What I find interesting here is that…

First of all: The One who was qualified to point the finger refuses to do so. Now that the jury is gone, the woman awaits her verdict. And the One who can condemn her, does not. The One who has the power to pass judgment, amazingly acquits. The words come that one desperately wants to hear… "Neither do I condemn you." But do notice this, that Jesus' forgiveness did not give her permission to remain and continue in her adultery. For…Jesus gives us the opportunity to do it right. When Jesus says, "Go and sin no more," He is saying, "Stop making sin the habit of your life." You see, we need to understand this correctly…Jesus never merely excuses sin. He never makes a place for it. He never rationalizes it. He forgives and forbids it in the same breath.

Now, let's make an APPLICATION to our lives from this incident: Jesus continues to pass on a message to us, but it is not written in the sand. It is written on the cross. It is not written with His hand, but with His blood. Jesus continues to leave a message for us: "Not Guilty."

So, many of us live with negative labels. Sometimes they are not our own fault. But so many times they are of our own doing. And as a result, we think that our story is one of failure and shame. But you know, it doesn't have to be, because our story can be a story of grace. For it is grace that fixes broken lives. It is grace that heals broken hearts and restores estranged sinners. For…Jesus points us to what we are intended to be. We don't have to live in our past. We don't have live with the label. We don't have to live a life that is powerless in the face of temptation and sin. We are chosen for something more.

There is a story that may just illustrate what I mean. Soccer season was starting once again. This year, Curtis Buthe's tiny, 35-pound, 5-year-old daughter would be playing Micro-League for the Bombers. As they walked to the first practice on a cool summer day, he was anxious to see who the coach would be. Would his focus be on making the game fun and a team experience, or would he focus on goals and winning? As practice began Curtis met the coach, Ray was his name. His first impression was that Ray was a good man. Any lingering doubt about him vanished when an odd incident occurred during a practice game: the white shirts versus the blue shirts. As they began, an olive-skinned little boy who (they later learned) spoke no English wandered from the playground equipment over to the sidelines of the game. He watched. He waited. Moments later, Curtis looked for him again, but he was gone. Then he noticed there were now thirteen Bombers running up and down the field. The boy, perfectly camouflaged in blue shorts and a white t-shirt, had joined the white team. He ran, he passed, he kicked, and he smiled. No one seemed to notice that he wasn't a part of the team. No one yet said, "He hasn't paid the fees! The proper forms and releases have not been signed!" Soon, however, a ball rolled into a mother's lap, and as the new boy ran to fetch it, the mom innocently said to the coach, "He's not on the team." The kids, who had not even noticed that a new friend was on the field, stopped. The coach looked down at the now very dirty boy, saying, "He's not? Hmm." There was a pause as the boy looked up at Ray, who held his soccer fate, at least for this day. Finally, Ray made his judgment. He put his hand on the boy's small back and said, "Come on! Let's play soccer!" And off all thirteen Bombers ran.

You know, none of us deserve to be on God's team. We haven't earned it. Nor have we paid the price ourselves. Yet, in His grace, Jesus chooses us to be on the best team in the universe. This means…WE CAN EXPERIENCE AND EXHIBIT A COURAGEOUS GRACE. It is a COURAGEOUS GRACE that does not count our sin against us. It seems to me that it would be easier for God to say, "Let them get what they deserve. But that is not the kind of God that He is. He is a God that exhibits grace so that we might experience forgiveness, His COURAGEOUS GRACE. So…We should never forget. Grace is free to us, but it is not cheap.

And it is a grace that we are called on to imitate. For it is a COURAGEOUS GRACE that looks beyond what someone has done and sees what they can be. As Christians, this is the kind of grace we not only experience, but we are to exhibit as well, so that we may be as Christ…people of grace.

CONCLUSION
EXPERIENCE GRACE…know today that whatever wrong you have done, no matter what it is, or what people think, can be forgiven; for Jesus has paid the penalty for your sin, and He freely offers you an acquittal.
EXPERIENCE GRACE…know today that God is willing to let the past be the past if you are willing to "go and sin no more;" He gives grace to enable you to be what you are intended to be.
EXHIBIT GRACE…once you have experienced grace, it is now time to show it; we too are to be people of grace and see each individual the way God does, as a person needing unconditional love. I want to end with this benediction from the Bible.

Now to him who is able to keep you from falling and to present you before his glorious presence without fault and with great joy—to the only God our Savior be glory, majesty, power, and authority, through Jesus Christ our Lord, before all ages, now and forevermore! Amen.