A Fresh Encounter with God: Part 2 of 2
by John Lowe
(Laurens SC, USA)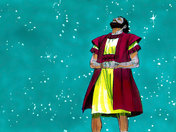 III. A NEW COVENANT SIGN

"This is My covenant which you shall keep, between Me and you and your descendants after you: Every male child among you shall be circumcised;" Genesis 17:10 (NKJV) With Abraham, God's sign of the covenant was to be circumcision. In the New Testament, the covenant sign is baptism. Neither circumcision nor baptism was the means of salvation. Salvation in the Old Testament and in the New Testament was "by grace through faith." A whole chapter is written in Romans (chapter 4) to show that salvation came to Abraham years before he was circumcised, so all would understand that act in itself had no saving merit. Abraham's faith resulted in obedience. Verse 23 says "that same day" Abraham was obedient in carrying out the commands of God. Whatever God said, Abraham listened, believed and obeyed. The lesson of the Gospel is Abraham's challenge all over again. It is a call to a deeper relationship. I want you to think of the Christian life within the framework of three calls:

1. The call to repentance and Faith.

Mark 1:14-15 (NKJV): "Now after John was put in prison, Jesus came to Galilee, preaching the gospel of the kingdom of God, (15) and saying, "The time is fulfilled, and the kingdom of God is at hand. Repent, and believe in the gospel." In the beginning, the message preached by Jesus and John the Baptist was pretty much the same; "Repent, for the Kingdom of God is at hand." Jesus called men to repentance as emphatically as John did. But Jesus made one important addition to His message; "Believe in the gospel." Repent and believe!

Billy Graham's son, Franklin, led a crusade in Australia during the spring of 1996. At one of the invitations, a fifteen-year-old boy told a counselor he came forward because, as he said, "I haven't been decent to Jesus." Repentance starts with a confession that we "haven't been decent to Jesus." "Faith is a day by day process in which God will show us what to do moment by moment." Faith always leads to repentance the two go together and they will stand together forever and ever.

2. The call to discipleship.

Luke 9:23: "Then He said to them all, "If anyone desires to come after Me, let him deny himself, and take up his cross daily, and follow Me." The call to discipleship requires that we meet three conditions: self-denial, bearing one's cross and obedience. Discipleship demands a radical change in a person's life—with self no longer the center. God's will must replace our will. It may be easier to make sacrifices when going through a crisis that it is to make steady and lonely sacrifices of one kind or another over long years of discipleship. But self-denial and bearing ones' cross is futile unless we follow Jesus, that is, take His yoke upon us and learn of Him. Self-denial is useless unless it's done for Christ's sake.

3. The call to go forth as a laborer.

Luke 10:1-2: "After these things the Lord appointed seventy others also, and sent them two by two before His face into every city and place where He Himself was about to go. (2) Then He said to them, "The harvest truly is great, but the laborers are few; therefore pray the Lord of the harvest to send out laborers into His harvest."

Here Jesus is making it clear that it is supremely important that the Gospel be given to everyone. This call is terribly urgent, so we are to pray for laborers to give out the Gospel and we are to be giving it out also. Why is it so urgent? To accept the Gospel is to accept salvation and life: to reject it is to choose judgment and death. People have it within their power to accept it or reject it. But we must make sure they have heard the Gospel; that's what the Lord wants us to do—the rest is up to Him.
Have you responded to his call?

Conclusion

Abraham believed God. Paul says of him, "And not being weak in faith, he did not consider his own body, already dead (since he was about a hundred years old), and the deadness of Sarah's womb. (20) He did not waver at the promise of God through unbelief, but was strengthened in faith, giving glory to God, (21) and being fully convinced that what He had promised He was also able to perform." Romans 4:19-21 What made the faith of Abraham and Sarah great was not they believed that they could do great things with God's help. Rather, they believed that God could do whatever he wanted to do with them or without them. God would do great things simply because he chose to do so. Do we have a faith like that? Do we serve a God like that? The God we worship is the God of Abraham; God still works in men to bring forth faith like Abraham's. This God is able to bring life out of death, love out of hate, peace out of turmoil, joy out of misery, praise out of cursing and strength out of weakness. He is still El-Shaddai, Almighty God and there is nothing he cannot do.