A Lame Man Healed - Part 3 of 5
by John Lowe
(Woodruff, S.C.)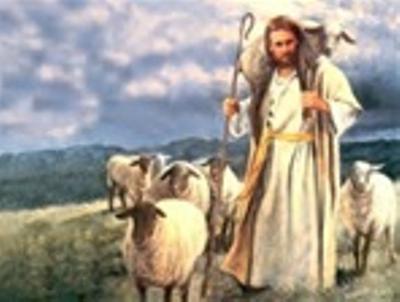 said, Look on us.
Peter "said, look on us;" which was said to get him to pay attention to them, to see the kind of men they were, and how unlikely they were to perform the following cure, and to take notice of the method in which it would be done, and, it is likely, he took this occasion to tell him about Jesus Christ. Peter and John probably felt themselves suddenly drawn by the Holy Spirit to pronounce the healing name in behalf of this poor man. It is true that Christ had promised that they could perform miracles in his name—"And these signs will follow those who believe: In My name they will cast out demons; they will speak with new tongues; they will take up serpents; and if they drink anything deadly, it will by no means hurt them; they will lay hands on the sick, and they will recover." (Mark 16:17, 18). And that whatsoever they asked of the Father in his name, he would grant it—"When that day comes, you will no longer ask me for anything. What I'm about to tell you is true. My Father will give you anything you ask for in my name" (John 16:23). And they might have been led at this time to make the request to God to be enabled to work this miracle; and the faith they had in his unlimited power and unchangeable truth might have induced them to make this request. It is the faith of Peter and John, not the faith of the crippled man that brought the healing.


5 And he gave heed unto them, expecting to receive something of them.

And he gave heed unto them,
"And he gave heed unto them," or "he looked at them" (as the Syriac version renders it), in response to Peter's demand; "Look on Us." He was not only focused on them in his mind, but he directed his eyes towards them, and looked wistfully at them. He took Peter's invitation as a promise of a large gift.


expecting to receive something of them.
Now he expected to receive something from them; not a cure for his lameness, which he thought was beyond a cure of any kind, but some money, for an alms, because it was the usual custom for all who entered the temple to carry money with them to give to the treasury, or to the poor, or to both. It was on this ground that the friends of the lame man laid him daily at the gate of the temple, since this was the most likely place to receive alms.


The lame man was correct in "expecting to receive something from them," but he received much more than the monetary donation he would have been satisfied with! Many of us haven't even come to the place where we really expect something from God. The cripple man certainly has faith, plain and simple faith, even if the man was expecting the wrong thing. It is always better to expect the right things from God. We are so often ready to settle for much less than God wants to give us, and our low expectations often rob us.

NOTE: We must come to God both by studying His word and speaking to Him in prayer; our hearts should be full of love for Him, and our expectations of receiving something from Him raised. I will direct my prayer unto thee, and will look up at where my help comes from.


6 Then Peter said, Silver and gold have I none; but such as I have give I thee: In the name of Jesus Christ of Nazareth rise up and walk.

Then Peter said, Silver and gold have I none;
Though the early church had poured out its gifts abundantly, Peter had not enriched himself, and was a poor man, presenting a great contrast to the popes who claim to be his successors. It is related that Thomas Aquinas came to Rome and visited Innocent IV. He looked somewhat amazedly upon the mass of plate and treasure which he saw there. So, said the pope, you see, Thomas, we cannot say as did St. Peter of old, 'Silver and gold have I none.' No, said Aquinas, neither can you command, as did he, the lame man to arise and walk. Peter had that which the popes have not. The man had asked for money; but Peter informs him that he did not have any money to give him; however, what he did for the man was done in a way that showed his willingness to help him if he had possessed money.


Though it was customary for all those who entered the temple to carry some money with them to give to the treasury, or to the poor, or to both, yet the apostles were so poor that they had nothing to give, either to the sacred treasury, or to the poor. It is probable that they had no money anywhere that they could call their own; none except what was brought to them, and put into their hands as a common fund for the whole church, or the church's poor. It is interesting that it was forbidden to carry money in a purse when inside the Temple, though no doubt they could carry it in their hands, or in some other way, for the offerings, or for the poor, or this man would not have lain by the gate asking for alms.


but such as I have give I thee:
"Such as I have" is like saying "Such as is in my power;" meaning the gift of healing; though he did not communicate that to him, but exercised the gift of healing upon him, by curing him of his lameness; and which was certainly preferable to large quantities of gold and silver, if he had it to give. Peter wants to inform the man that the power he has did not originate with him, that he has no power himself, but only that which was entrusted to him. He immediately adds that it was derived solely from the Lord Jesus Christ.


In the name of Jesus Christ of Nazareth rise up and walk.
There is power in the name of Jesus—"Then listen to this, you and all the people of Israel! You nailed Jesus Christ of Nazareth to the cross. But God raised him from the dead. It is through Jesus' name that this man stands healed in front of you" (Acts 4.10). Jesus said, "Here are the miraculous signs that those who believe will do. In my name they will drive out demons. They will speak in languages they had not known before. They will pick up snakes with their hands. And when they drink deadly poison, it will not hurt them at all. They will place their hands on sick people. And the people will get well." (Mark 16.17, 18). "In the name" means "by his authority," or "in virtue of power derived from him." It is said, "These signs shall follow them that are sick, and they shall recover." There is a remarkable difference between the manner in which the Lord Jesus performed miracles and the manner in which it was done by His apostles. He did it in no one's name and by virtue of his own power. The apostles never attempted to perform a miracle by their own power. It was only in the name of Jesus; and this stipulation alone shows that there was a radical difference between Christ and all other prophets and teachers.


"Jesus Christ of Nazareth" was the name by which he was commonly known. That is what the Jews called Him, and it is highly probable that the man had heard of Him by this name, and it was important that he understood that it was by the authority and power of Him who had been crucified as an impostor, that he was healed. Peter will clearly explain what he meant by "in the Name," in verses 12 and 16, where he shows that they did not work the miracle by their own power or godliness, but that the lame man was healed by the Name of Jesus, in which he believed. And our Lord said of himself, "I am come in my Father's Name" (John 5:43; John 10:25).


Peter told the man to "Rise up and walk"— without making use of any medicines, or applying anything to him; but believing that power would go along with the words, and strength would be communicated to him—this would be evidence of Divine power. It is remarkable that in cases like this they were commanded to do something immediately. Similar cases are found in John 5:8; Matthew 9:6; Matthew 12:13. It would have been easy for the sick and needy to claim that they had no power; that they were lame, or sick, or palsied, and could do nothing until God would give them strength. But the command was to do a certain thing; nor did the Saviour or the apostles stop to convince them that they could do nothing by themselves. They did not doubt that if it were done they would ascribe the power to God. What is said about the cripple man can also be said about the sinner. God commands him to do something; to repent, and believe, and lead a holy life. It is not merely to attempt to do it, but it is actually to repent and believe the gospel. Where he may obtain power to do it is another question; but the Holy Spirit is the source of such power. It is easy for the Spirit of God to involve himself in difficult situations, as it would have been in this case. But the command of God is positive, and must be obeyed. If not obeyed, people must perish, just as this man would have always been lame if he had put forth no effort of his own. When done, a convicted sinner will do just as this man did, instinctively give all the praise to God (See Acts 3:8).