A LEAP OF FAITH
by Charles Robey
(Trussville AL)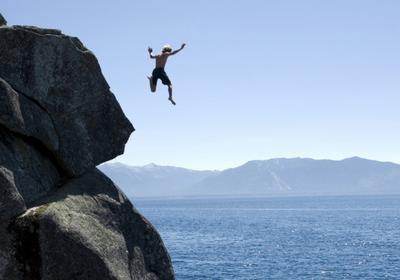 Just leap into His arms.
When I hear of the old cliché, "a leap of faith", I think of the times, as a small boy, when my Dad would stand me on a chair and shout loudly,"jump son, jump into my arms and you'll be safe".

A simple definition of this old idiom states, "To spring or bound upward from or as if from the ground; jump: leaped over the wall; salmon leaping upriver"

How does this "leap of faith" influence us Christians ? Simply put, when you are fearful, just jump into the arms of your Lord and Savior Jesus Christ. Fear is one of the biggest gizmos, in the Devil's tool chest of discouragement. However, scriptural faith will overcome fear every time.( 1 John 5:4) You see, fear is not in God's war chest ( 2 Timothy 1:7), only in the philosophy of Satan.

"In his first inaugural address, President Roosevelt coin the famous cliché, 'the only thing we have to fear is fear itself'". This speech took on an unusually solemn, religious quality. Now, I don't know the full extent of Mr. Roosevelt's spiritual qualities. However, this phrase alone is the very root of a firm scriptural doctrine, that of fear.

As a Christian, have you ever wondered why God gave us the emotion of "fear" ? It may have been for the purpose of being alert to an emotion of injury. He may have wanted to develop a more spiritual attitude towards the "keys to the kingdom", so to speak. He may have wanted to increase our courage in witnessing for Him. Or, simply put, He may have wanted to increase our faith. Whatever the reason, God knows what's best for each of our lives. ( Jeremiah 29:11)

You see, faith is what our Christian walk is all about. ( Hebrews 11:1,6) Remember, when "Doubting Thomas" placed his fingers in our Lord's bodily injuries, to strengthen his weakened faith. ( John 20:25 ) (John 20:27-29)

You have probably heard the old cliché, "Why worry, ninety percent of your worries never happen".

So, should we Christians be fearful ? Why not just substitute the two "F's", "Faith for Fear". One definition of faith over fear is doing what your feelings say you cannot do but God says you can do. ( Philippians 4:7)

Every fearful believer can, with the help of God's indwelling Spirit, become courageous. We can choose to trust and love God in all circumstances and experience God's love in our hearts. ( Philippians 4:13)

Throughout history the scripture has warned against the believer being trapped in fear. ( 2 Timothy 1:7) Fear is, and always has been, one of the most used tools of Satan's arsenal. ( 1 Peter 5:8 )

I was watching the history TV channel recently and observed the most amazing occurrence. A wounded deer was struggling to walk in the woods. Directly behind the deer was a pack of hungry wolves. Seeing the advantage they had over the deer, the wolves just lagged behind waiting for the proper moment to charge.

Then, all of a sudden, a big strong robust deer came out of nowhere to accompany this wounded deer. They then walked together through the wooded area. Sensing defeat, the wolves pulled back out of sight, as the deers went about their business. At one point, I even observed the companion deer embrace the wounded deer by a kiss.

If God takes care of nature, don't you feel He will surely see you through your wildest fears ? ( Matthew 6:26-28)

It is estimated that 80% of Christians today are oppressed by a spirit of fear. Does this mean that only 20% of believers are living a free life in Christ? ( Philippians 1:21)

This trend surely needs to be reversed. ( Proverbs 11:9 ) Obviously, this spirit of fear, is not of God. So, how do we conquer this obsession ? And what is the remedy for fear ?

First, we need to understand that God is greater than the source of fear, Satan. ( Hebrews 13:5) (Matthew 28:20)

And secondly, it's all about the love of God. The closer we walk with God, the less apt we are to be trapped in fear. ( Romans 8:37-39)
When we are aware of the presence of Jesus, we will not be swallowed up or dominated by fear. Moreover, Satan's fearful doctrine of fear cannot control us. ( Psalm 37:28 )

Yes, "perfect love drives out all fear".( 1 John 4:18) But where does this perfect love come from. Again, it has to come from God as it can never come from within ourselves.( 1 John 4:8)

Make room for God, in your daily life, in fervent prayer, in dedicated daily Bible meditation, and through verbally praising the Lord with your mouth, by telling others what the Lord has done for you.

In contrast, however, is the fear of the Lord. This is necessary, for believers to grow in the Lord, ( Romans 8:15) as many blessings are associated with the healthy fear of the Lord. ( Genesis 26:24)

Remember, When you feel like everything in your life is a burden that you can't bear to carry anymore, look to the scripture and discover a reason for your hardships. ( 2 Timothy 3:16)

Here are a few sample Bible verses about anxiety taken from the Bible: (John 14:27) (John 14: 1) (Psalm 16:8) (Psalm 32:7-8) (Proverbs 29:25)

You see, we all have problems. We all are bound to experience extreme bouts of anxiety, from time to time. But we must trust God, for He is all we have in these difficult times.

Oh, our friends and loved ones will tend to have a limited secular understanding of our difficulties, but our loving Heavenly Father is the only One to help in time of spiritual necessities. ( Philippians 4:19)

Here's my "top 10" favorite encouraging bible verses: ( John 16:33) ( Psalm 46:1-3,7) ( Isaiah 41:10 ) ( 2 Timothy 1:7 ) ( Psalm 16:8 ) ( Psalm 55:22) ( Psalm 62:6 ) ( 1 Peter 5:7 ) ( Nahum 1:7 ) ( Isaiah 26:3)

According to scripture ( Romans 10:17) this is how faith comes. The more we look to truth of God's Word, the more assured we become and the less fearful we are. So study these verses, among your other favorites, and keep your focus on the Lord as He only has the truth!

Christ Jesus is the eternal answer to all fear. First, we must know Him.( Philippians 3:10) Second, we must love Him. ( 1 John 4:18) And third, we must trust Him. ( Psalm 56:3)

Remember, this old gospel chorus:

Turn your eyes upon Jesus, Look full in His wonderful face, And the things of earth will grow strangely dim, In the light of His glory and grace.

God operates on the basis of faith, which enables believers to resist one of the devil's chief operative tactics -- fear. ( 2 Timothy 1:7)

Beloved, just humble yourself before God. ( Jeremiah 9:23-24) Rely solely on God, for your spiritual strength. ( James 4:7) ( Grow with God by attending to His word. ( 2 Peter 3:18) And just look around you, at the marvels of God. (Psalm 119:18)

Amen!