A Most Unlikely Evangelist Part 1
by John Lowe
(Laurens SC, USA)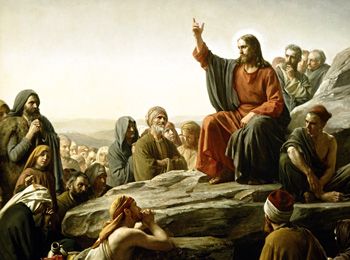 October 28, 2012

Scripture: 2 Kings 5:1–14 (The Living Bible)

1 The king of Syria had high admiration for Naaman, the commander-in-chief of his army, for he had led his troops to many glorious victories. So he was a great hero, but he was a leper.
2 Bands of Syrians had invaded the land of Israel, and among their captives was a little girl who had been given to Naaman's wife as a maid.
3 One day the little girl said to her mistress, "I wish my master would go to see the prophet in Samaria. He would heal him of his leprosy!" Elisha is this unknown prophet.
4 Naaman told the king what the little girl had said.
5 "Go and visit the prophet," the king told him. "I will send a letter of introduction for you to carry to the king of Israel." So Naaman started out, taking gifts of $20,000 in silver, $60,000 in gold, and ten suits of clothing.
6 The letter to the king of Israel said: "The man bringing this letter is my servant Naaman; I want you to heal him of his leprosy."
7 When the king of Israel read it, he tore his clothes and said, "This man sends me a leper to heal! Am I God, that I can kill and give life? He is only trying to get an excuse to invade us again."

I want to stop here to give you some additional explanation.
The nation of Syria was located northeast of Palestine.
Through much of their history, they were a threat to Israel.
When Ben-hadad, the king of Syria, heard that there was a possible cure for Naaman in Samaria, he showed how he valued this captain by his promptness in sending him to Samaria and by the size of the gift for his healing.
Naaman and his letter arrived at the king's court, but the king of Israel was horrified to think that Ben-hadad would so subtly ask him to heal a leper.
He thought Ben-hadad was attempting to instigate a war.
Now, let's pick up our text at verse 8.

8 But when Elisha the prophet heard about the king of Israel's plight, he sent this message to him: "Why are you so upset? Send Naaman to me, and he will learn that there is a true prophet of God here in Israel."
9 So Naaman arrived with his horses and chariots and stood at the door of Elisha's home.
10 Elisha sent a messenger out to tell him to go and wash in the Jordan River seven times and he would be healed of every trace of his leprosy!
11 But Naaman was angry and stalked away. "Look," he said, "I thought at least he would come out and talk to me! I expected him to wave his hand over the leprosy and call upon the name of the Lord his God and heal me!
12 Aren't the Abana River and Pharpar River of Damascus better than all the rivers of Israel put together? If it's rivers I need, I'll wash at home and get rid of my leprosy." So he went away in a rage.
13 But his officers tried to reason with him and said, "If the prophet had told you to do some great thing, wouldn't you have done it? So you should certainly obey him when he says simply to go and wash and be cured!"
14 So Naaman went down to the Jordan River and dipped himself seven times, as the prophet had told him to. And his flesh became as healthy as a little child's, and he was healed!


Introduction:

If I were to ask you, "What kind of Christian does God use?"—I believe that it's possible that everyone here would have a different answer.
We tend to believe that God only uses the "perfect person," but we have discovered a wonderful truth in the Bible; God uses little people in big ways.


Message

Now within this passage, we have A Strange Mystery
There are 5 main characters mentioned in this passage:
 First; Ben-Hadad, the King of Syria
 Second; The King of Israel—we don't know who he was.
 Third; Naaman was the commander-in-chief of Ben-Hadad's army. He was a great hero to his people, but unfortunately, he was a leper.
 Fourth; A little girl who was captured in Israel and given to Naaman's wife as a maid.
 Fifth; Elisha the prophet

The key person in the passage may well be the "little maid."
The days in which she lived were hard and cruel.
There was continual warfare between Ben-Hadad, King of Syria, and the King of Israel.
However, at that point in time, the army of Israel was dispersed throughout the region and no longer able to resist Syria.
The result was that marauding bands of Syrians continually invaded the borders of Israel and carried away whatever they wanted.
In our text, a little maid was kidnapped from her home and taken to Syria, where she was forced to work as a housekeeper.
What a strange mystery; why did God allow a kidnapping, when He is the One who guards Israel.
King David wrote this about the Lord watching over us—"He will never let me stumble, slip, or fall. For he is always watching, never sleeping" (Ps.121:4).
This is the guarantee of a Guardian who shall neither slumber nor sleep.
Alexander the Great told his soldiers, "I (stay) awake that you may sleep."
Throughout the night, when we are no longer conscious of the world around us, there is One greater than Alexander who watches over us with constant, untiring care.
But bad things still happen.
In this case, the little maid's Home Was Shattered (v.2).
Can you imagine the feelings of these parents who had their young daughter ruthlessly snatched from them?
How would you feel as a mother or father if your daughter was kidnapped?
Wouldn't you be terribly hurt by this cruel twist of fate, and ask, "Why?"
You don't need to answer, but are any of you distressed today about something tragic that just doesn't make sense?
I have read that worldwide, an average of four hundred Christians is killed each day simply because of their faith in Christ.
That's one murdered Christian every four minutes.
Thank God, our problems are not nearly as severe.
How do you handle problems?
If you are a person who runs from hard times, pay attention to the plight of Patricia Christy, a real person who lived in Florida.
After Hurricane Andrew devastated Florida in 1992, this South Florida resident was standing in line waiting for food.
She decided then and there, that she was going to run as far away from this problem as possible.
She boarded the first available flight and headed for a restful vacation on the Hawaiian island of Kauai.
She arrived just in time to experience Hurricane Iniki.
The point is; running from your problems usually just leads to more problems.
When you are distressed, bear in mind that God works through tragedy.
In an interview about his Parkinson's disease, Billy Graham said, "I think God sent it to me at this age to show me I am totally dependent on him."
Suffering is a feared intruder to us all, but it can bring the benefit of greater dependence on God.
It becomes apparent from the story of Naaman that a Hand Was Shaping the Circumstances
This event, which seemed to originate in the mind of man, was actually the start of a divine plan through which Naaman was physically and spiritually healed!
God had a purpose in the ordeal that we may find difficult to come to terms with.
We cannot always trace God's heaven-sent dealings in our lives, but we can be sure that God will always work for our good.
One of my favorite verses is Romans 8:28—"And we know that all things work together for good to those who love God, to those who are the called according to His purpose."
It may not always seem so!
Sometimes when we are suffering heartbreak, tragedy, disappointment, frustration, and bereavement, we wonder what good can come out of it.
But this verse gives the answer: whatever God permits to come into the lives of those who love Him is for a purpose; it is designed to conform us to the image of His Son.
When we see this, it takes the question mark out of our prayers.
Our lives are not controlled by impersonal forces such as chance, luck, or fate, but by our wonderful, personal Lord, who is "too loving to be unkind and too wise to get it wrong."
Well, what good could there be in Naaman having leprosy, and a little maid being kidnapped and taken to a foreign land?
The answer is—through the healing of Naaman, the power and compassion of God will become known wherever this story is told, and this little girl had a part to play in the miracle—
Through a Simple Testimony (v.3).
Verse 3 said, "One day the little girl said to her mistress, 'I wish my master would go to see the prophet in Samaria. He would heal him of his leprosy!'"
Although this girl was small in stature, she was big in heart!
She could have easily harbored bitterness against her captor.
Instead, she directed Naaman toward God's prophet.