A Most Unlikely Evangelist Part 2
by John Lowe
(Laurens SC, USA)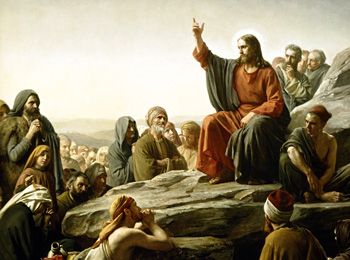 Where did such faith come from?
No doubt, this child had often heard the story of God's dealings with her ancestors.
She must have listened intently as they spoke of the prophet that was in Samaria.
Are YOU seeking to instill the truths of God's Word into the minds and hearts of a family member or friend?
This captive maid, because she had been taught to trust and know God, was the means God used to bring salvation to the home of her captors, and of raising up a testimony for God, which rang through the whole land of Syria!
Note How Courageous She Was.
In the midst of this pagan nation, she pointed her master towards God's representative, His prophet Elisha.
What about you?
Are you being tested financially?
Do you feel like your testing may be happening through a physical ailment?
Is it spiritual in nature?
Is someone pressuring you to do something you don't want to do?
We're either conformers to outside pressure or transformers controlled by the inward power of God.
All of us are one or the other.
Now see How Compassionate She Was.
This maid was an unwilling captive in Naaman's household, yet she could not bear to see her master suffer.
She did not return a curse but a blessing to her captors!
How do you react if your closest neighbor is a jerk or when your friend is the pushy type or when the nursing assistant says something that hurts your feelings or when family members do not visit you?
Our compassion when directed towards our "enemies" just may soften the hardest of hearts.
Now see How Confident She Was.
There's not even a hint of doubt in her words!
Leprosy had no cure, yet she was confident in her God's power!
Leprosy is practically unheard of today, at least in our part of the world.
But in Naaman's day, it was all too common.
It is an incurable skin disease that progresses slowly.
Old Testament Law was quite detailed in its instructions regarding the recognition and quarantine of leprous persons.
However, the Old Testament contains no references to treatment nor does it give the remedy.
When Israel's king exclaimed, "Am I God, to kill and make alive, that this man sends a man to me to heal him of his leprosy?" the implication is that leprosy could be cured only by a miracle.
Leprosy is a terrible disease, described as a chronic, infectious disease characterized by sores, scabs, and white shining spots beneath the skin.
Modern medicine has all but eliminated the disease after learning the proper methods of treatment.
But in Naaman's day, and even in Jesus' day, if the symptoms of leprosy showed up in a person, he or she was taken to a priest.
The priest was to decide if this was leprosy or some other disease.
Because of the need to control the spread of a disease for which there was no cure, the law required that a leper be isolated from the rest of society.
They were required to wear mourning clothes, leave their hair in disorder and place a handkerchief over their upper lip and cry out "Unclean! Unclean!" so everyone could avoid them.
Any contact with lepers defiled the persons who touched them.
But sometimes leprosy victims were miraculously cured.
Moses, Miriam, his sister, and Naaman are prominent examples of such miracles.
King Uzziah was a leper from middle age until his death.
The leprosy inflicted upon him was due to his uncalled-for assumption of the priesthood; it began in his forehead.
In the New Testament, cleansing of lepers is mentioned as a specific portion of Jesus' work of healing.
On one occasion, Jesus healed ten lepers, but only one returned to thank him.
The healing of Naaman was A Supernatural Recovery
Naaman was healed of leprosy and brought to know God.
It all began with a captive maid who motivated her mistress to take action; her mistress motivated a servant; the servant motivated the King of Syria; the King of Syria motivated the King of Israel, and the King of Israel motivated Elisha.
Before we finish, I want to give you some additional information about the prophet.
Elisha's name means my God saves.
He was an early Hebrew prophet who came after the prophet Elijah when Elijah's time on earth was finished.
Elisha ministered for about 50 years in the northern kingdom of Israel, serving God during the reigns of 4 kings—Jehoram, Jehu, Jehoahaz, and Joash.
The period of his ministry dates from about 850–800 B.C.
Elisha's work consisted of presenting the Word of God through prophecy, advising kings, anointing kings, helping the needy, and performing several miracles.
The healing of Naaman was one of those miracles.
Talk about a most unlikely evangelist!
The little maid could also be called an unlikely evangelist, but she was the first link in the chain of events that eventually brought healing to Naaman and Naaman to the place of salvation.
This girl illustrates how a person of no importance in the eyes of the world, by being in a key place and showing loyalty to God, can influence the course of the history.
The maid boasted of God, that he would do for Naaman what he had not done for any in Israel; and God honored her faith.
D.L. Moody was the great 19th Century evangelist.
But in the beginning, they wrote off D .L. Moody as "a most unlikely evangelist," but God did not.
By God's grace, D .L.Moody was transformed into one of the most effective servants of God, a man whose impact is still with us.
Conclusion
Missionary Hudson Taylor, as he looked back over thirty years (During which he had seen 600 missionaries respond to his vision to reach China) said this: "God chose me because I was weak enough. God does not accomplish His great works by large committees. He trains someone to be quiet enough, and little enough, and then He uses him."
The God who used this little maid can and will use you.
So step out in faith and trust God to use you!
You may ask, "What can I do?
You can do a lot; you can pray for others; you can tell others about Jesus and what He means to you; you can live a life that encourages and blesses others.
In the opinion of the world, you may be a most unlikely evangelist, just like this little maid.
But God has given you a wonderful helper; the Holy Spirit was given to you when you were saved to help you to live the Christian life, and He will help you to witness and help others.
Let's go out from here and serve God.
Thank you for listening to me.
May God bless and keep you until we meet again next Sunday.
Let's end our service with a prayer.