A Sign to Israel: A Lame Man Healed Part 5
by John Lowe
(Laurens SC, USA)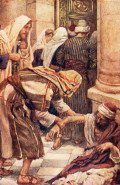 and they were filled with wonder and amazement at that which had happened unto him.

"They were filled with wonder and amazement at that which had happened unto him;" that he could have been cured so suddenly, and in such an extraordinary manner; they wondered at the power of God, which was clearly seen in it, and that he would make use of such poor, disreputable, and contemptible persons as the apostles were.


He had sat beside this same gate so long that they all knew him; and for this reason, he was chosen, on this occasion, to be the vessel of God's mercy. Now, they were not so vicious or stubborn that they would voice any doubt whether he was the same man, as the Pharisees had questioned concerning the blind man that Christ cured (Jn. 9:9, Jn. 9:18). They now saw him "walking, and praising God," and perhaps they noticed a change in his mind; because he was now as loud in praising God as he had before been in begging alms. The best evidence that it was a complete cure was that he now praised God for it.


11 And as the lame man which was healed held Peter and John, all the people ran together unto them in the porch that is called Solomon's, greatly wondering.

And as the lame man which was healed held Peter and John,
The word "held" means that he "adhered" to them; he "joined himself" to them; he was wanting to "remain" with them and "participate" with them. "He clung to his benefactors, and would not be separated from them." He felt the strongest affection for them, since they were the instruments by which the Divine influence rehabilitated his diseased body. He held on to Peter and John; by their clothes or arms, either through fear that his lameness would return once they left him; or rather out of affection for them for the blessing he had received, and therefore hung about them, and was unwilling to part with them; unless it was to make them known, and point them out as the agents of his cure, so that they might be taken notice of by others, and their role in the miracle recognized.


all the people ran together unto them in the porch that is called Solomon's, greatly wondering.
"All the people" ran to them; to the man that was healed, and to Peter and John, when they saw him standing, walking, and leaping, and clinging about the apostles; because they were excited and curious about what was taking place in their presence. The fact of the cure and the conduct of the man would soon draw a crowd and provide a favorable opportunity for preaching the gospel to them. They came together in the "porch that is called Solomon's" which was a covered portico or passage on the east side of the Temple. It was distinguished by its magnificence (See SOLOMON'S PORCH, below)—"And Jesus walked in the temple in Solomon's porch" (John 10.23), to keep himself warm, and protect Him from inclement weather.


Peter knew that the phenomenon of
the miraculous in itself brought no one to Jesus, it merely aroused interest. Though they were greatly amazed, they weren't saved yet! Peter knew that saving faith did not come by seeing or hearing about miracles, rather "faith comes by hearing, and hearing by the word of God" (Romans 10:17).
This gloriously happy man clung to Peter and John and would not let them leave him, while he shouted to all those around him all about him, what God had done for him, and how God had acted through these men. He "entered with them into the temple." His strong affection for them held them; but it could not hold them enough to keep them from going into the Temple, where they were going to preach Christ to the crowd. If they will not stay with him, he is resolved to go with them, and like the impotent man whom Christ cured, he was soon found in the temple—"Afterward Jesus findeth him in the temple, and said unto him, Behold, thou art made whole: sin no more, lest a worse thing come unto thee" (Jn. 5:14). He went into the temple, not only to offer up his praises and thanksgivings to God, but to hear more from the apostles of that Jesus in whose name he had been healed. Those that have experienced the power of Christ should earnestly desire to grow in their relationship with Christ. He was in the Temple "walking, and leaping, and praising God." This man, as soon as he could leap, leaped for joy in God, and praised Him. How the people that were eye-witnesses of this miracle were influenced by it is the next chapter.
SOLOMON'S PORCH; a part of the outer courtyard of the temple, which was covered over, and the outside of it was enclosed with a wall: this was on the outside of the temple eastward, and was a very magnificent structure. Josephus gives this description of it. "There was a porch without the temple, overlooking a deep valley, supported by walls of four hundred cubits, made of four square stone, very white; the length of each stone was twenty cubits, and the breadth six; the work of king Solomon, who first founded the whole temple.'' The original structure was built by Solomon on the east side of the outer court of the temple, was left standing by Herod, when he rebuilt the temple. But when Agrippa came to Jerusalem, a few years before the destruction of the city by the Romans, and about eighty years after Herod had begun his building, the Jews solicited Agrippa to repair this portico at his own expense, using for their argument, not only that the building was becoming a ruin, but that otherwise eighteen thousand workmen, who had all of them, until then, been employed in carrying on the works of the temple, would be all at once deprived of a livelihood. In Peter's time, this was not the same porch that was built by Solomon, yet it was built on the same spot, and in imitation of it, and it bore his name.