A Tragic Beginning, A Tragic End: Part 1 of 2
by John Lowe
(Laurens, SC)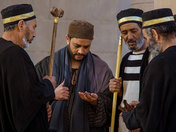 February 28, 2006


Matthew 27:3-27:5

Tonight I want to share an unusual message (or lesson) with you, a message (or lesson) that comes out of Matthew Chapter 27.

I'll read verses 3, 4 and 5.

3 Then Judas, which had betrayed him, when he saw that he was condemned, repented himself, and brought again the thirty pieces of silver to the chief priests and elders,
4 Saying, I have sinned in that I have betrayed the innocent blood. And they said, What is that to us? see thou to that.
5 And he cast down the pieces of silver in the temple, and departed, and went and hanged himself.

The message (or lesson) is titled, "a tragic beginning, and a tragic ending."

Some stories start out bad and end good, some start out good and end good, and some start out bad and keep getting worse, ending in tragedy.

PRAYER

There was a strange man who had come into the area, one who was dressed kind of outlandishly. He was wearing camel's hair. He also had an unusual diet; his was a diet of locust and honey. And he had come to the banks of the Jordan River in the wilderness preaching about someone the people were anticipating. But they did not realize that He had already come. This strange man I am sure you all know, was John the Baptist, and he came crying, "There comes one after me whose shoes I am not worthy to bear." He said, "He must increase, but I must decrease." This is something we each ought to remember.

The lonely man of Galilee wandered to the shores of the Jordan River. John the Baptist looked and pointed to this man, Jesus, the Son of God, and shouted, "Behold, the Lamb of God that taketh away the sins of the world." Multitudes came to hear this unusual preacher, this evangelist who preached with a passion no other evangelist had ever preached with. This strange man had a certain charisma and magnetism, although he was crude in his approach.

Then he gave the invitation. He told people that if they wanted to come to Jesus, the Lamb of God, that they would have come down into the water of repentance; and one came, then another, and then another. In that crowd, that day it is speculated by some historians, was Judas Iscariot. And he probably saw his friends walking down into the water, down the aisle, and he said to himself, "I think I had better walk down, also." But no doubt, he was not willing to admit that he was a sinner. No doubt it was hard for him to admit he was lost. Perhaps he was much like Cain in the Old Testament who wanted to make his own way. You see, God's way was to come with a blood sacrifice, but Cain was looking for an easier, more acceptable way, for he was a farmer who lived off the grain of the field, and he tried to offer up that as a sacrifice.

No doubt Judas came down, made a profession of his faith in Jesus Christ, and maybe he was saved that day. Some people say Judas never was saved, yet there are others who say Jesus would never have chosen him if he had not been saved. I don't know when, or how, or if.—no one really knows the nature of Judas heart, but without a doubt, he came because others came. Maybe it was peer pressure that caused him to follow John the Baptist and Jesus. Maybe it was the thing to do, the popular thing that caused him to go along.

Judas was a man of reputation. He had a good business reputation, he was respectable and for him to say, "I am not saved," was not good for his reputation. Can you imagine how he felt when the hands of John the Baptist went around his waist and under his arms, and lowered him into the Jordan River? "Could it be?" he thought. "This is mockery, I am not really sure that I am right with God." Perhaps he said, "I know what I'll do, I will just admit that my heart is not right with God. But I can't do that, I am respectable. People will laugh at me; they would make fun of me if I were to admit that I was a sinner."

Christian friends, listen to me. I am not trying to scare anyone who is genuinely saved; but perhaps there is one here who is not. I would like to cause some unrest in the hearts of those who are not known by others as a sinner, but you know you are lost in your heart and you are going to hell and you have never been born by the Spirit of the Living God. Jesus said, "You must be born again."

Judas Iscariot did not admit it in the Jordan River when baptized by the same hand that lowered our Savior into the water; he was too proud to admit that his heart was not right with God. Time passed, and one day Jesus calls some
men upon the mountain in Matthew chapter 10. He chooses 12 men that would be His apostles, the men that he would train to carry the gospel around the world after he had gone back to heaven. He began to call their names, "Peter, Andrew, James, Philip, Bartholomew," and then to the shock of Judas Iscariot, his name was called, "Judas." He was chosen to be one of the twelve disciples that would walk and live with Jesus, to see blind eyes open and deaf ears unstopped, and to see the lame walk again, and demons cast out. He would see Jesus bless the little children and calm the stormy seas. He was chosen to be trained by Jesus himself, as one of the disciples, a full-time worker for Jesus Christ.
Can you imagine the ordination service?
When Jesus placed his hands on Judas head, no doubt Judas thought, "I ought to get right now. I ought to admit that I am not right. I ought to get up right now and take care of this thing. I ought to, but they might laugh at me. This would embarrass me. I don't want to admit that my heart isn't right with God; they all think that I am O.K. I don't want to admit that I am not born again." But he who is afraid to be embarrassed in front of a few will someday be embarrassed before the whole world when he stands before God at the White Throne Judgment.
Let me recap a few things for you. Judas is ordained, he has been baptized by John, and he has walked down the aisle, and now is a member of the church. Now he is a preacher, if you please.
Listen to me; I don't care what you have done. I don't care where you sit. I don't care what position you hold in the business world. I don't care if it embarrasses you or if you are afraid it will embarrass me. Do not take a chance with your never dying soul that will burn forever if you are not right with God.
I want to ask you right now; have you been born again? Was there a time in your life where you knelt and realized that you were a sinner and you knew that Christ died for you, and you knelt upon your knees and said, "God, I am a sinner" and on that basis, you trusted Jesus as your Savior? Did you ask Him to forgive you of your sins and then you repented? Did you ask Him? Or did you just sign a card at the altar, or join the church. Did you shake hands with the pastor, or did you just kind of grow into it?
Judas Iscariot was a church member; he was baptized by John the Baptist. The Bible said that only Jesus was greater than John the Baptist.
Judas was chosen to be one of the twelve. He carried the gospel, he walked with Jesus, and he was trained by Jesus. So as Jesus' ministry began to grow, the offerings got so big they had to have somebody to take care of the offerings. They had a meeting among the church members, and someone said, "There is a man among us that I trust more than anyone in the church, and that is Judas Iscariot. I make a motion that Judas Iscariot becomes the treasurer of this group." It was unanimous; for I am sure everyone had confidence in Judas Iscariot. So they gave him the purse; they gave him the money. They didn't have banks in that day, so Judas literally carried the money; he was the treasurer who took care of God's money. Now as Jesus laid the money bag in Judas' lap, Judas no doubt thought, "Now, this is the time. I should have admitted that I was lost at the Jordan. I should have admitted it when I was chosen to be one of the disciples. But now I will stand up and say, 'Fellows, I cannot be your treasurer because I am not right with God."' But pride kept him from doing it. Pride has destroyed millions of people. Some of you might be thinking, "I have no pride." But if you are, you are the most prideful.
Judas continues as a church member, baptized now by John, chosen as 1 of the 12, chosen as treasurer, the trusted one. Judas Iscariot was no doubt at the well when he saw the fallen woman turn to Jesus and trust Him. I wonder if he thought to himself on that day, "I ought to do what she has done. I ought to admit that I am lost." No doubt he was there when Matthew the tax collector stood up and gave his testimony on how he was crooked, but now he had been set free by the grace of God. Maybe his heart burned that day and he thought, "I Judas ought to come clean." The scene changes and in just a few hours Jesus is going to Calvary. No doubt they were already preparing the tree, scraping off the bark.