A Warning to Israel: Peter's Sermon Part 1
by John Lowe
(Laurens SC, USA)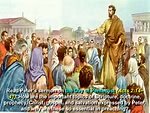 August 19, 2013

Acts of the Apostles


Lesson II.C.2: A Warning to Israel: Peter's Sermon (3.12-26)


Acts 3.12-26 (KJV)

12 And when Peter saw it, he answered unto the people, Ye men of Israel, why marvel ye at this? or why look ye so earnestly on us, as though by our own power or holiness we had made this man to walk?
13 The God of Abraham, and of Isaac, and of Jacob, the God of our fathers, hath glorified his Son Jesus; whom ye delivered up, and denied him in the presence of Pilate, when he was determined to let him go.
14 But ye denied the Holy One and the Just, and desired a murderer to be granted unto you;
15 And killed the Prince of life, whom God hath raised from the dead; whereof we are witnesses.
16 And his name through faith in his name hath made this man strong, whom ye see and know: yea, the faith which is by him hath given him this perfect soundness in the presence of you all.
17 And now, brethren, I wot that through ignorance ye did it, as did also your rulers.
18 But those things, which God before had shewed by the mouth of all his prophets, that Christ should suffer, he hath so fulfilled.
19 Repent ye therefore, and be converted, that your sins may be blotted out, when the times of refreshing shall come from the presence of the Lord;
20 And he shall send Jesus Christ, which before was preached unto you:
21 Whom the heaven must receive until the times of restitution of all things, which God hath spoken by the mouth of all his holy prophets since the world began.
22 For Moses truly said unto the fathers, A prophet shall the Lord your God raise up unto you of your brethren, like unto me; him shall ye hear in all things whatsoever he shall say unto you.
23 And it shall come to pass, that every soul, which will not hear that prophet, shall be destroyed from among the people.
24 Yea, and all the prophets from Samuel and those that follow after, as many as have spoken, have likewise foretold of these days.
25 Ye are the children of the prophets, and of the covenant which God made with our fathers, saying unto Abraham, And in thy seed shall all the kindreds of the earth be blessed.
26 Unto you first God, having raised up his Son Jesus, sent him to bless you, in turning away every one of you from his iniquities.


Introduction

In this passage, we can observe the difference in the manner of working miracles. Our Lord always spoke like One having Almighty power, never hesitated to receive the greatest honor that was given to him on account of his Divine miracles. But the apostles referred all the glory to their Lord, and refused to receive any honor themselves, except as his undeserving instruments. This shows that Jesus was one with the Father, and co-equal with Him; while the apostles knew that they were weak, sinful men, and dependent for everything on Jesus, whose power effected the cure of the crippled man. Useful men must be very humble. Not unto us, O Lord, not unto us, but to thy name, give glory. Every crown must be cast at the feet of Christ. The apostle showed the Jews the greatness and terribleness of their crime, but would not anger or drive them to despair. Assuredly, those who reject, refuse, or deny Christ, do it through ignorance; but this can in no case be an excuse.


Commentary

12 And when Peter saw it, he answered unto the people, Ye men of Israel, why marvel ye at this? or why look ye so earnestly on us, as though by our own power or holiness we had made this man to walk?

"And when Peter saw it;" that is, when he saw that the people ran to them, and looked thoughtfully at them, and wondered what has just happened and who did it; he answered (or, he said) unto the people, ye men of Israel, why marvel ye at this?


The words "He answered," in this day and age, implies that a question had been asked, or that some subject had been proposed for consideration. But the word "answered" is used in a different sense in the Bible. It is often used when no question was asked, but when an occasion was presented for remarks, or when an opportunity to make a statement occurred. It is the same as replying, or making a statement in regard to some subject (See Daniel 2:26; Acts 5:8).


When Peter said, "Why marvel ye at this?" it was not because he wanted to scold them for wondering about what had just transpired, since that was an appropriate reaction; but that they thought he and John were the authors of this healing. They should have understood what had happened. The Jews were well-enough acquainted with miracles to interpret them and to know where they came from; therefore, they should not attribute them to man, but rather, simply to inquire why they had been performed by God.


"Or why look ye so earnestly on us"; which suggests that they should look to God instead, and observe His divine
power, and to the Lord Jesus Christ, whom they had crucified, whose apostles they were, and in whose name, and by whose power they had brought about this miracle; which shows that they were not self-seeking, vain, and boastful men, but sincere and honorable men who love Christ very much, and who desire to honor Him, and bring glory to God. So, Peter is making a statement intended to get their attention off him and John, and on God, where it belongs—"Why do ye fix the eyes with amazement on us, as though we could do this? Why not look at once to God?"
"As though by our own power and holiness we had made this man to walk?" This sentence assumes certain questions concerning the healing of the crippled man: "Do you think it was through any natural power we possess; or due to any virtue of ours, because of our strict religion and godliness; or our commendable conversation; by any healing art or any medicine we provided; because we are greater and holier than others, that we have a knack for curing lame persons; all which they totally reject, and credit it to the right account in the next verse.
Instead of "holiness" (or, piety), some render it "authority", which seems to go well with the idea expressed here. Did these people really believe God had bestowed the power to heal on us on account of our personal and exceptional piety? It should be noted that here was a great opportunity for them to establish a reputation for themselves. The people were prepared to pay them honor; they might have immediately, and on the spot, laid claim to considerable authority over them; but they refused all such personal honor, and attributed it all to the Lord Jesus. Years ago, I attended a testimony service where a young man praised the pastor for "saving him." Of course, I understood that He did not really think his pastor had that kind of power, and when church was over the pastor made sure he understood that people are saved only by the power of God, designed to honor his Son. "Not that we are sufficient of ourselves to think any thing as of ourselves; but our sufficiency is of God; Who also hath made us able ministers of the new testament; not of the letter, but of the spirit: for the letter killeth, but the spirit giveth life" (2 Corinthians 3:5-6). It is faith in Jesus that saves. Whatever success may come to the ministers of the gospel, or however much the world may be inclined to honor them, they should repudiate all claims that they have power in themselves, and give all the credit to the Lord Jesus Christ. It is not by the talents or personal holiness of ministers, valuable as these are, that anyone is saved.
Peter wisely takes advantage of the crowd, but he knew that the phenomenon of the miraculous in itself brought no one to Jesus, it merely aroused interest. Though they were greatly amazed, they weren't saved yet! Peter knew that saving faith did not come by seeing or hearing about miracles, rather "faith comes by hearing, and hearing by the word of God" (Romans 10:17). Peter denies that the healing is due to either his power or godliness. Many "healers" today who would never claim to heal in their own power still give the impression that healing happens because they are so spiritual, so close to God, or so godly. Peter knew that it was all of Jesus and nothing was of him.
Peter's point is simple: Jesus healed all sorts of people when He walked this earth, so why should it seem strange that He continues to heal from heaven?
13 The God of Abraham, and of Isaac, and of Jacob, the God of our fathers, hath glorified his Son Jesus; whom ye delivered up, and denied him in the presence of Pilate, when he was determined to let him go.
"The God of Abraham, and of Isaac, and of Jacob" are titles and epithets of God, which are used in the Old Testament—"Moreover he said, I am the God of thy father, the God of Abraham, the God of Isaac, and the God of Jacob. And Moses hid his face; for he was afraid to look upon God" (Exodus 3:6). The Apostle chooses to retain these titles, partly to distinguish Him from the gods of the Gentiles, and partly to show his high regard for the God of Israel, the one, only true, and living God; and even though he and his fellow apostles were preachers of Christ, they would not set up another, or a new god, because they believed in the same God their forefathers did, and to Him they ascribe the glory of this miracle.
In our modern world, there are so many different (and strange) ideas about God, therefore it is helpful for us to be clear about which God we serve and speak about. We can say "God" when talking to someone else, without realizing that our idea of God and their idea of God are completely different. Perhaps it would be helpful for us to more carefully define the God we are speaking of: The God of the Bible, the God of Abraham, Isaac, and Jacob.