A Warning to Israel: Peter's Sermon Part 3
by John Lowe
(Laurens SC, USA)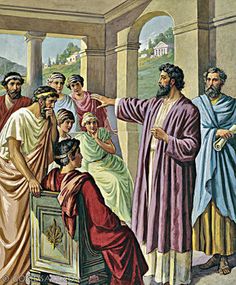 The word "life," as it is used here takes in "all manner of life." In this sense it is used in reference to Christ in John 1:4, "In him was life." (Also see John 5:26; 1 John 5:11; 1 Corinthians 15:45.). "The Prince of life" is a remarkable title given to our Lord by the apostle, perhaps to elicit a comparison between him whom they preferred (Barabbas) and Him whom they rejected (Jesus). Barabbas was a murderer, one who took away human life for his own wicked ends; the other was the Prince and Author of life, who was come into the world, not to destroy men's lives, but to save them. Jesus himself speaks about his own great prerogative of giving life, in many places: "I am come that they might have life, and.., have it more abundantly" (John 10:10); "I am that Bread of life;" "I am the living Bread ... if any man eat of this bread, he shall live forever;" "I give... my flesh for the life of the world;" "Ye will not come unto me that ye might have life;" "They that hear shall live;" "As the Father hath life in himself, so hath he given to the Son to have life in himself;" "The Son of man be lifted up: that whosoever believeth in him should... have eternal life;" "The water that I shall give him shall be in him a well of water springing up into everlasting life." Jesus is the author of all life: not only implying that all life proceeds from Jesus Christ as its source, but that the life-giving influence of that religion which they were now proclaiming came through Him. In Hebrews 2:10, Christ is called the Captain of salvation. He teaches that the doctrine of life and salvation, leads the way in which men should walk, and has purchased the eternal life and glory which are to be enjoyed at the end of life's highway.


God has "raised from the dead" the man they crucified, in spite of all their viciousness and malice, so that they were not able to do what they wanted; not being able to retain Jesus under the power of death, and under the shame and reproach of the cross. Peter mentions this because it was Jesus Christ, "whom God hath raised from the dead" who bestowed upon the apostles the gifts and power to do the miracles they did.


"Whereof we are witnesses" refers to the Twelve, all of whom had seen the risen Lord, and to the forty days after His resurrection during which Jesus met with His apostles, talked with them, ate with them and was seen by five hundred at one time; therefore he could say, "whose witnesses we are." He and the other apostles could testify concerning His person, office, grace, righteousness, and resurrection because they were eyewitnesses; they had the proof and plenty of it, and were capable presenting it in a convincing manner; and this is the purpose for which they were chosen and appointed. We are witnesses. Observe how prominent in the early preaching is the resurrection and the apostolic witness to it.


16 And his name through faith in his name hath made this man strong, whom ye see and know: yea, the faith which is by him hath given him this perfect soundness in the presence of you all.

"His name" is used here for Jesus himself, and it is the same as saying "And He through faith in Him hath made this man strong," etc. The word "name" is often used in this way by the Hebrews, especially when speaking of God (See Acts 1:15; Acts 4:12; Ephesians 1:21 Revelation 3:4.). It does not mean that there was any power in the mere name of Jesus that would heal the man, but that it was done by Jesus authority and power. Also, Peter does not take the credit for the healing, but gives it all to Jesus.


"Through faith in his name" means through faith in Him; that is, in this case, the cure came through the faith which Peter and John had in Jesus. It does not refer to any faith that the man had, and there is no evidence that he believed in Him before this. But it was by means of the faith which the apostles exercised on the man's behalf that the miracle was performed, and it was another fulfillment of the declaration in Matthew 17:20, which says: "And Jesus said unto them…for verily I say unto you, If ye have faith as a grain of mustard seed, ye shall say unto this mountain, Remove hence to yonder place; and it shall remove; and nothing shall be impossible unto you." Peter repeats this truth two or three times in the verse to impress it more distinctly on the minds of his hearers.


Although, I said it was the faith of the apostles that brought healing to this formerly crippled man, many commentators say it is not quite clear whether the apostle refers to his
own faith in Jesus, or to the faith of the lame man. It is true Christ had promised that they could perform miracles in His name (See Mark 16:17, 18.), and that whatsoever they asked of the Father in His name, He would grant it (John 16:23). And they might have been led at this time to request that God enable them to work this miracle; and the faith they had in his unlimited power and unchangeable truth might have induced them to make this request. Or, the faith might have been that of the lame man; the apostles, at the time they asked him to look on them, might have taught him the necessity of believing in Christ in order for him to be healed; and the man's mind might have been prepared for this by the miracle of the gift of tongues, of which he must have heard; and heard that this mighty outpouring of the Spirit had come in the name and through the power of Christ. There is still another explanation for this man's healing which has just occurred to me; it may not have been due to faith at all, but for the purpose of bringing glory to God and the Lord Jesus, which occurs from time to time in the New Testament. However the faith may be understood, it was only the means to receive the blessing, which the apostles most positively attribute, not to their power or holiness, but to Jesus Christ alone. Faith always receives; never gives.
This poor man who before must be carried from place to place was extremely weak and his limbs must have atrophied from lack of use; but Christ has made him strong; strengthening the parts that were feeble, his feet and ankles, so that he could use them, and walk with them. What do you think he would want to do first? Perhaps he had a mother who prayed for him every day; would he want to go for a walk with her? Or maybe he would go show himself to those friends who faithfully carried him. Could he want to do something he had never done before; go into the Temple and worship his Savior with Peter and John? We will follow this man through this and the next Chapter, and see what he does.
"Whom ye see and know" implies that there could be no mistake, because he was well known to them. There was no doubt about the truth of the miracle, which is confirmed by Acts 4:16—"Saying, What shall we do to these men? for that indeed a notable miracle hath been done by them is manifest to all them that dwell in Jerusalem; and we cannot deny it"—and the only question was: How had it been done? This Peter acknowledges has been accomplished by the power of the Lord Jesus. It happened in a public place, in the presence of you all; not in a corner, but near the gate of the temple; you saw in what manner it was done, so that nothing about it could be falsified, and you may examine him immediately.
The word translated here as "perfect soundness" is not used anywhere else in the New Testament. It means "integrity of parts, freedom from any defect"; and it is used here to show that the cure was perfect and complete, or that he was completely restored to the use of his limbs, which they saw with their own eyes while the man was leaping and dancing before them.
"In the presence of you all" is like saying, "You are all witnesses of it, and can judge for yourselves." This shows how confident the apostles were that a real miracle had been performed. They were willing for the man to be examined; and this is conclusive proof that there was no attempt at faking the cure. A deceiver, or one who pretended to work miracles, would have been cautious about exposing the subject to the danger of detection.
17 And now, brethren, I wot that through ignorance ye did it, as did also your rulers.
And now, brethren,
In spite of the fact that the Jews had been guilty of crucifying their Messiah, Peter showed compassion in dealing with them—he addressed them as "brethren." He still regarded them as his brethren in the flesh, of the same nation as himself, entitled to claim the same promises, the same privileges, and the same hope. He was not disposed to exalt himself above his brethren from the natural standpoint, he was not "holier than thou." He realized the difference between himself and his nation was that he had received the Messiah, and they had REJECTED HIM and DEMANDED HIS DEATH.
Peter by no means considered the Jews free from blame in crucifying their Messiah; he was simply holding out to them hope and mercy from a longsuffering God. If they would repent of their sins and believe on Jesus, God would forgive them and save them through the shed blood of His beloved Son.