A Warning to Israel: Peter's Sermon Part 4
by John Lowe
(Laurens SC, USA)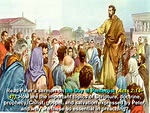 I wot that through ignorance ye did it,
"I wot" (I know) that you did it in Ignorance." Peter did not mean that the Jews were innocent in what they had done, but rather that they had crucified Jesus because of ignorance in their hearts concerning Him. They did not recognize Him because they did not believe the Old Testament prophecies concerning His coming. If they had believed Moses, they would have believed Jesus.


In the Old Testament Law, there is a difference between deliberate sins and sins of ignorance (See Lev. 4-5; Num. 15.22-31). The person who sinned arrogantly was a rebel against God and was guilty of a great sin. He was to be "cut off" from the people (Num. 15.30, 31), which could mean excommunication and even death. The defiant "high-handed" sinner was condemned, but the person who sinned unwittingly and without deliberate intent was given the opportunity to seek God's forgiveness. Ignorance does not remove the sinner's guilt, but it does mitigate the circumstances.


Jesus had prayed, "Father forgive them; for they do not know what they do" (Luke 23.34); and God had answered that prayer. Instead of sending judgment, He sent the Holy Spirit to empower His church and to convict lost sinners. Israel's situation was something like that of the "manslayer" who killed his neighbor without prior malicious intent, and fled to the nearest city of refuge (Num. 35.9-34). So long as he remained in the city, he was safe, because as long as he was there the avengers could not reach him and kill him. He was free to go home only after the death of the high priest. Peter invited these "murders" to flee by faith to Jesus Christ and find refuge in Him—"So God has given both his promise and his oath. These two things are unchangeable because it is impossible for God to lie. Therefore, we who have fled to him for refuge can have great confidence as we hold to the hope that lies before us" (Heb. 6.18).


as did also your rulers.
There is no doubt that the great majority of the Jewish people were ignorant of the identity of Jesus. They believed that He was a great teacher—but they did not believe him to be their Messiah. The outstanding religious leaders and rulers certainly did not believe Jesus was Messiah, because in 1 Corinthians 2.7,8 Paul declared, "But we speak the wisdom of God in a mystery, the hidden wisdom which God ordained before the ages for our glory, which none of the rulers of this age knew; FOR HAD THEY KNOWN, THEY WOULD NOT HAVE CRUCIFIED THE LORD OF GLORY."


The scribes and Pharisees carried a burning hatred for Jesus and were determined to find some means whereby they could put Him to death. They had many opportunities to know His true character and to recognize Him as the One for whom they waited. They were exposed to miracles such as no mortal could perform, but they were blinded, willing ignorant, refusing to recognize in those miracles the unmistakable evidence that Jesus was their promised Messiah—and the Scripture makes it clear that they did not believe Him to be the Son of God, because in John 19.7, when they brought him before Pilate, they said, "We have a law, and according to our law He ought to die, because He made Himself the Son of God."


Even the Sanhedrin was influenced by the hatred of the chief priests and other religious leaders (and the members of that body who did think Jesus was being unjustly condemned lacked the courage to resist the chief priests and Pharisees). There was one Pharisee, however, who stood up for Jesus on another occasion, but not when our Lord's life was at stake—"Nicodemus (he who came to Jesus by night, being one of them) said to them, "Does our law judge a man before it hears him and knows what he is doing?" They answered and said to him, "Are you also from Galilee? Search and look, for no prophet has arisen out of Galilee." And everyone went to his own house" (John, 7.50-53).


18 But those things, which God before had shewed by the mouth of all his prophets, that Christ should suffer, he hath so fulfilled.

The past deeds of the Israelites called for a course of action. That action is repentance and conversion. This was not a new message to them. "I, even I, am he who blots out your transgressions, for my own sake, and remembers your sins no more" (Isaiah 43.25).


The Old Testament prophets wrote about the coming of the Messiah and the suffering He would have to endure:
• Genesis 3.15: "And I will put enmity between you and the woman, and between your offspring and hers; he will crush your head, and you will strike his heel."
• (Zech. 12.10):"And I will pour out on the house of David and the inhabitants of Jerusalem a spirit of grace and supplication. They will look on me, the one they have pierced, and they will mourn for him as one mourns for an only child, and grieve bitterly for him as one grieves for a firstborn son."
• Also, see Psalm 22 and Isaiah 53.


God continued to leave the door that leads to eternal life open to the Jews—they had the opportunity to repent. Though they crucified Him in ignorance, the suffering of Christ fulfilled Old Testament prophecies. In Acts 17.3 it is said of Paul, "He explained the prophecies and proved that the Messiah must suffer and rise from the dead. He said, "This Jesus I'm telling you about is the Messiah." And in Acts 26.22, 23 he said, "So, having obtained help from God, I stand to this day testifying both to small and great, stating nothing but what the Prophets and Moses said was going to take place; that the Christ was to suffer, and that by reason of His resurrection from the dead He would be the first to proclaim light both to the Jewish people and to the Gentiles."


19 Repent ye therefore, and be converted, that your sins may be blotted out, when the times of refreshing shall come from the presence of the Lord;
20 And he shall send Jesus Christ, which before was preached unto you:
21 Whom the heaven must receive until the times of restitution of all things, which God hath spoken by the mouth of all his holy prophets since the world began.

These are interesting verses and of great importance, but they can be understood in the right way only if we keep in mind the fact that they were spoken to Israel, not to Gentiles. Peter was speaking to his own people, and these words were the heart of his message.


There are mysteries here which the human mind cannot fully comprehend, so we must accept them by faith. God had a plan from all eternity, yet His plan did not force men to act against their own will. The prophets had foretold the sufferings and death of the Messiah, and the nation fulfilled these prophecies without realizing what they were doing. When God cannot rule, He overrules and always accomplishes His divine purposes and decrees.


Repent ye therefore, and be converted,
Now Peter challenged the Jews to repent of their sins and turn to God. This would mean reversing their opinion about Christ, and acknowledging the wrong they had done in denying Him. They must repent of their sin and confess that His blood was on their hands. Then God would "blot out" their sins and forgive them, as promised in Isaiah 43.25—"I, even I, am he that blotteth out thy transgressions for mine own sake, and will not remember thy sins." The message of repentance was not new to the Jews, for John the Baptist had preached it and so had Jesus—"Now in those days John the Baptist came, preaching in the wilderness of Judea, saying, "Repent, for the kingdom of heaven is at hand" (John 3.1, 2) (Also see Matt. 4.17).


"Be converted" means to turn around from sin to God. This would mean reversing their opinion about Jesus and confessing Him as God's Messiah. In His sovereignty, God knows that the glorious day will come when Israel will receive Messiah; "they will look on Him whom they have pierced" (Zech. 12.10), they will recognize Him and claim Him as their own (Zech. 14.4-9). Knowing this, God said, "I have blotted out, as a thick cloud, your transgressions, and, as a cloud, your sins: return unto me; for I have redeemed you. Sing, O ye heavens; for the LORD hath done it: shout, ye lower parts of the earth: break forth into singing, ye mountains, O forest, and every tree therein: for the LORD hath redeemed Jacob, and glorified himself in Israel" (Isaiah 44.22, 23). So sure are God's promises that they are recorded here as having already been fulfilled!


that your sins may be blotted out,
Peter tells them that if they will receive Jesus as their long-awaited Messiah; "that your sins may be blotted out," and they will enjoy the "times of refreshing" promised by the Old Testament prophets. Sin cannot be forgiven before the sinner repents of his sin. Repentance must precede pardon.


when the times of refreshing shall come from the presence of the Lord;
"Times" means epoch, era, or season, and it refers to features and events that will be part of His earthly kingdom reign, which will begin at His Second coming (Matt. 25.21-34). The exact time, however, remains unknown to everyone except God. Two descriptions are given of the coming era of the millennial kingdom. This is clear because they bracket the reference to Jesus Christ being sent from God to bring those times. Peter points to Christ's earthly reign.


The "times of refreshing" and "the times of restitution of all things" (v.21) will be God's final restoration of Israel. They will be gathered back into their own land, never to be scattered again.