A Welcome Visitor: Part 2 of 2
by John Lowe
(Laurens, SC)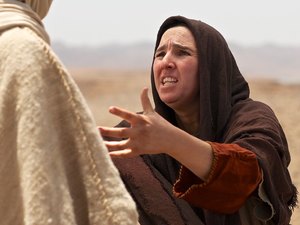 She got up and she went just as she was. She got up quickly, it said, and she went to him. But, shouldn't she have washed her face? Tears don't add any beauty to a woman's face. And that hair of hers, it has become untidy; shouldn't she have arranged it a little better, and prepared her dress, and made herself look presentable for the Lord? Isn't that something all of us do, we say, "I cannot come to dinner yet, because I am not dressed well?" Brother or sister, you should have come prepared, but, at the same time, if you have not, get up quickly and come to the Master, just as you are.


The Master had seen Mary in tears before, for he had felt her tears fall upon his feet. He had seen her with messy hair before, for she had wiped his feet with the hairs of her head. Jesus has seen Mary out of order before. It's not the first time Jesus had seen her like that.

I don't think a mother's love depends upon seeing her child in its best Sunday clothes. She has seen her dressed many ways, some of which she wouldn't want anyone else to see, but she didn't love her any less.

Come to Jesus no matter how unprepared you are, because that's what Mary did. Come to him who knows all about you, and He knows your current condition, and he will not cast you out. Simply believe that, when Christ calls, his call is a demand for you to come, no matter how unfit you may be.

And now, take note of how quickly she left all those who came to comfort her to come to Christ. For instance, there were the Jews that came to comfort her. I believe they did their best, but she didn't stop to listen to the Rabbi finish his chat or for her friends to give their condolences. She went straight to Jesus. So, forget that there are other comforters, and forget your heartaches, and leave them all for Him. Come right away, and seek his help, for He cares for you.

But it appears, that when Mary had reached the Master she completely gave out, for it said that she fell at his feet. But, do you remember she had knelt at His feet when she washed His feet with tears, and that she had at one time sat at his feet, when she heard Him speak; but this time she fell at his feet. But now, she couldn't kneel to do him any kind of service, and she couldn't worship Him like a disciple. All she could do was fall at His feet like a dead person. She fell at his feet, and so should we. And could there be a better place to die than at the feet of Jesus?

Some of us, and I will include myself, know what it is like to be barely able to get together two consecutive thoughts, and not to be able to master some verses of scripture, and not to be able to remember where we left off speaking; still we could say, "Though he slay me, yet will I trust in him". But, we could lie down at the feet that were pierced, and feel how sweet it is to rest at the Savior's feet. But first, you must get there. So, turn your will and your heart to Him now, for the Master is here, and calls for you. Come, even though it doesn't bring you much enjoyment; come and fall at His feet.

Someone may be thinking, "But I have some pressing problems, and if I come to him now, there is not much that I can say to honor Him. I don't feel the love, and gratitude, and joy that I should." Be that as it may, go ahead and give Him the love you do have; for what did Mary do? She said, "Lord, if thou hadst been here, my brother had not died." But, the Master did not scold her, though he might have done so, because what she said was cruel, for she seemed to say, "Why were you not here?" You can sense some unbelief in her statement, and yet there was a great deal of faith in it.

I wonder how often those two sisters had said to one another, "I wish God the Master was here." When their brother was very sick and close to death, they were saying to one another, "We must get the Master here!" That was what the sisters wanted more than anything else, so they poured it all out before the Lord. Folks, when you are at Jesus' feet, if you have an unbelieving thought, or if you have something against Him, pour out your heart like water before the Lord. Tell him about your weaknesses; tell him about the suspicions you have; tell him all of your sins, and tell Him how guilty you feel. Tell it all to Him; and the best place to tell Him is at his feet. It's there that you will be relieved of your burdens.

Friends, do you know how Mary received relief. It was a great day for her when she
got down to Jesus' feet, and when the Lord began to do a marvelous work, and very soon Lazarus was brought back to life.
So the first thing you need to do is to get to Jesus. But some may say, "Oh! I'll get to Jesus, all right, but I must wait until business is better." Never mind your business now, just get to Jesus. "Oh! But my wife is sick at home." Don't worry about sickness now. The thing to do is to get to Jesus and to put yourself at His feet. "Oh! But my life is not as it should be." Forget your life, and remember Jesus; He is all you need. He is your God, and he gives wisdom, and righteousness, and sanctification, and redemption, and if you will come to Him quickly, He will give you all you want.
There are those who may say something like this, "I cannot stand to think about God, because I do not love him." And then another might say, "But I can bear to think of Him, since even though I did not love Him, He loved me." And now you may say, "I cannot bear to think of coming to Jesus, since I don't love him as I should." For just a moment, think of him, for He loves you. His grace to you is never-ending. Therefore, stop thinking of yourself for awhile, and remember this "faithful saying, and worthy of all acceptation, that Christ Jesus has come into the world to save sinners." Come, then, for no other reason than that!
I want to close by saying a few words to those whom up till now I have not addressed. Perhaps there are some here to whom this message has never come--"The Master is come and calleth for thee." If it could reach them tonight, it would be the first time they ever heard it. If you are one of them, I pray it may come to you.
The Master has come, and we can be certain of it. He came from the highest throne in glory to the manger, to the cross, and to the grave. The Master has come, and I know that he calls for you. Let me give you some verses in which, I think, he calls for you. "Whosoever will, let him come and take of the water of life freely." "Whosoever believeth on the Lord Jesus Christ shall be saved." And He calls for you too in this verse, "Let the wicked forsake his way and the unrighteous man his thoughts, and let him turn unto the Lord, for he will have mercy upon him, and to our God, for he will abundantly pardon"? Don't you know He calls for you in the verse, where he pleads for all that labor and are heavy-laden to come unto him, so that they may rest; or in that other verse, "Come now, let us reason together, saith the Lord. Though thy sins be as scarlet, they shall be as wool; though they be red like crimson, they shall be as snow." He is calling for you. Don't you believe Him?
It's impossible to match His grace, because there is no other God beside Him. "As high as the heavens are above the earth, so high are his thoughts above your thoughts." But your heart might say, "Why, if I thought Jesus called for me, I would come"? But, your words are proof that He does call for you! "I would come," proves it, because it's God that makes you feel willing to come. Do you long for Him? Well! He is putting his hand in at the door of your heart, and making you yearn for him. Does a teardrop form in the corner of your eye, and do you say, "It cannot happen that a person who has lived like I have can be saved, and belong to Jesus"? Just for you to wonder about it shows that His Spirit is working on you.
Trust that His strong arm can save you; and that that pierced hand can grasp you; and trust that heart that was wounded with a spear to love you. Trust yourself completely to him. Didn't Jesus say, "Go thy way; thy sins which are many are forgiven thee." If you have trusted in Him, you are saved; you are forgiven. Come today, and cast yourself at the Savior's feet. Is there anyone here who can hear Christ's voice?
If you think you cannot believe, and cannot repent, and cannot do anything, then fall like you're dead at Jesus' feet, and look up to him--to him alone, and you will have eternal life. Is there a woman here who is carrying a burden in their heart? Then come to the Savior's feet and make it a place of refuge from all your fears?
And if there's anyone here who imagines that just because they are old God will be merciful; you might as well forget it. You may have only a few more days to live, but the Master is calling for you. Get up quickly, and confess your sins, and cling to His cross; and one day you will see His face in heaven. The Lord bless you, for Christ's sake