A Woman Which was a Sinner Part 2
by John Lowe
(Laurens SC, USA)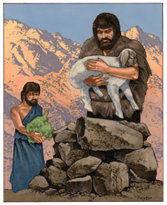 Her hair had once been an object of vanity, but now it was humbled. She made her eyes a fountain and her hair a towel. Was anyone's hair ever so exalted as hers to be able to touch those sacred feet?At that moment, she was overcome by the temptation to kiss His feet, and so she humbly expressed her love in that way. She didn't say a word, but she didn't have to because her actions spoke volumes. Could this act of devotion be even better than Psalms and Hymns?

Then she remembered that alabaster box containing perfumed oil. She had bought it for her own use since like all Eastern women she enjoyed the pleasant fragrance. She opened it, and she poured it on His feet. It was the most valuable thing she owned, but she poured it all on the feet of her Savior. Still, she never said a word. I am sure that Jesus preferred this silent woman, who loved Him, and who acted as she did, to ten thousand noisy talkers, who have no gifts, no love, and no tears. As for the Master, he remained quietly accepting, saying nothing, but all the while drinking in her love and letting His weary heart find sweet comfort in the gratitude of this woman, who had once been a sinner, but who was now a devoted disciple.

However, I believe this woman was courageous because it took courage for her to enter the Pharisee's house. When the Pharisee saw her for the first time, he must have given her a look that could kill.

Those Pharisees had an unbearable contempt for everybody who wasn't part of their own group, who didn't fast twice a week, and tithe off the vegetables in their garden; and who by every gesture they made said, "I am holier than thou." This Pharisee would go out of his way to show his contempt for her, and since she felt so unworthy, she would have been severely wounded by his bad manners. Besides, her tears would have been out of place at a feast, and she would have been rudely scolded over them. But she was fearless, and bravely held her tongue when Simon criticized her.
The third thing to see in this story is how graciously our Lord accepted her gift.

Jesus knew all about her sin. The Pharisees wondered why he didn't shrink back from her touch. You and I may wonder too. We sometimes find it hard to feel comfortable with certain people even though they claim to have repented and been saved: but our Lord is much more sensitive to the guilt of sin than we are, so he continued to rest on the couch, and quietly accepted her gift. And He permitted her to kiss His feet, again and again, and to wash them with her tears.
Oh, I wish that He would always be willing to accept from me; my tears, my prayers, and my praises. We are so unworthy to offer Jesus anything, and He is so very gracious to accept our offerings.

The fourth thing to see in this story is that grace is on display when Jesus defends this woman.
Simon objected to this sinful woman approaching Jesus and touching Him. He would prefer to throw her out in the street or to have her arrested. Perhaps, he thought to himself, "How can He permit a woman like this to get so close to him." There would even be those today, who would ask, "How could Jesus be so receptive to the attention of a woman like this, and to allow her such privileges?"
But our Lord took it upon Himself to defend her, so she held her tongue. And we should do the same. If Satan accuses you, or if your enemies accuse you, remember, you have an advocate with the Father; Jesus Christ will plead your case and clear your name.

The parable, which He uses to defend her, shows that He was justified in letting the woman approach because she was prompted to do so by her great love. There was no sin in her actions, and she should be commended, because she had good motives, and motive is the true measure of anything we do for Him.

She was grateful for forgiveness, and she loved the person, who had forgiven her, therefore her actions were commended.

The fifth and last point I want to make on this topic is that this story shows the Lord's grace when He assured her that her sins were forgiven.
The proof of her forgiveness was that she loved Jesus very much, but she had not yet been assured of her forgiveness. She was a hopeful believer, but she wasn't a confident believer. But when the Master said, "Thy sins are forgiven thee," from that moment, she was assured of her forgiveness. And then when He dismissed her, he said, "Go in peace," and the peace of God which passed all understanding filled her heart and mind.

How I wish that everyone knew what God's grace and mercy can do. The grace and mercy, which flows from God to all who have been born again is not rare but is abundant. He can do more than lift you out of the miry clay; He can set you upon a rock.

I don't believe that anyone knows the extent of God's grace which will be ours someday because we cannot fathom His goodness. So, go out into the world, and enjoy the covenant of grace, which belongs to you.

It is only through faith in Jesus Christ that you will be able to comprehend what are the heights and depths, and know the love of Christ which passes all understanding.

The second thing to talk about today is LOVE.
Love comes to us from our God, who gives us grace. The woman loved so very much, but it was because she was forgiven very much. There is no one who naturally loves God. The only true love which can burn in the human heart towards the Lord is the love which the Holy Spirit Himself kindles.

If you truly love God, you can be sure you are a child of God, because only His children love Him.

But love is inferior to faith.
The fifteenth verse tells us, "Thy faith hath saved thee."

Our souls do not begin with loving Christ, but the first lesson is to trust Him. The first thing to do is to trust Jesus for the pardon from sin: when you have done that, your sins are forgiven, and then love will grow in your heart for what He has done for you.

The elements which cause love to grow are a sense of your sin and gratitude for being forgiven. If we felt more deeply the guilt of our past lives, we would love Jesus even more. If we could have a deeper understanding of how much our sins deserve that we be delivered to hell, that Christ suffered what we should have suffered in order to redeem us from our sin, we would probably act differently than we do.

If only our love could feed continually on our remembering what Jesus has done for all of us?

Love, in the case of this woman, is even more amazing, because what she did was completely voluntary. No one suggested it, much less forced her to do it. Shouldn't we be more like her?

Notice also, that it was a personal service which she performed for Jesus. She did it all by herself, and she only did it for Him. She didn't serve Peter, or James, or John, and she didn't serve the sick of the city either. When we are active in our love for Jesus, our goodness will be directed toward Jesus; we will sing to Him, pray to Him, teach for Him, preach for Him, and live for Him. How much better will you do your work, if you do it for Him? We must never court anyone's approval; it can be enough for us if the Master accepts what we do.

The woman's service showed her love because it was passionate. There was a lot of affection in her act. Why did she kiss His feet? She didn't care how it looked to others; she knew what it meant. She couldn't do anything else. Her whole soul went out in love to Him. If only we could have her honest faithfulness, which would ignore good manners. Let's put our heart and soul into service for Christ; give your body and soul to Him.

If I could ask for one thing this morning, it would be that love for Jesus would grow in every heart here.

Just one more thought and then we are done.

This woman was just recently saved, but she had already decided to serve Him. This then is a lesson for us.

We can no longer say, "We will do something for Jesus in the future after we are retired and have more time." No, serve Him now. The very day you're saved, begin to serve Him. If there is anything you can do for Him, do it. Jesus will accept what you do, and He will reward you. And if you ever do too much for Jesus, come and tell me, but I don't believe you ever will.

I beg all of you who love Jesus, do not hide the light you have under a bushel, but come and show it.

Do whatever you can do, and the Lord will bless your work, and just like this woman, you will be a highly favored servant of the Master.

May the Lord give every one of you His blessing, for Jesus sake?