AMERICA'S FUTURE- GOD'S CALL
by CharlesRobey
(Trussville, AL USA)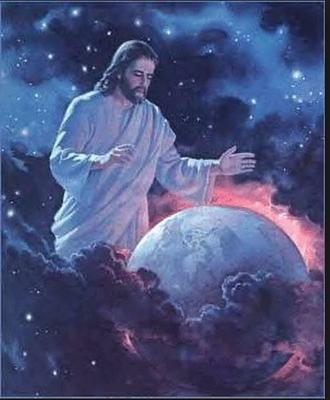 " For in him all things were created: things in heaven and on earth, visible and invisible, whether thrones or powers or rulers or authorities; all things have been created through him and for him.17 He is before all things, and in him all things hold together." (Colossians 1:1`6-17)


We the People are now living in problematic, trouble-filled times. America's citizenry is divided like never before. In spite of his many economic and world leadership accomplishments, our sitting President who was endorsed and elected by the "We the People" is now being criticized and condemned on every hand.

This disparity is being embraced by certain biased constituents from both sides of America's political aisle, by a number of the country's main line news media, by many self-styled political/psychology experts and a host of cynical naysayers and gloomy Guses. All of which are vocally proud to report that they are the front-running social authorities. Sorry, not so ! (Isaiah 42:8)

Kind of reminds me of my childhood days .When I couldn't have my way at play, I would selfishly give my playmates a piece of my childish mind, politely pick up my toys and run home to Mommy. Get the picture?

Our populous will come and go, and governments will rise and fall. However, it is because of His love for His people, that He also blesses our nation with a span of time so it might prosper and do well, but this blessing will end when we become a lasting nation of degenerate and rebellious citizenry. When God determines that extended mercy for a nation has no redeeming effect, He marginalizes that nation.(Psalm 2:10-12)

Sad to say, however, many so-called Christians will not accept the premise that a God of love destroys nations when they become decadent and degenerate. (Ezekiel 14:12-21)

" But our Lord is true to His promises. He is our living God, the eternal King. When He is angry, the Earth trembles; the nations cannot endure His wrath." (Jeremiah 10:10)

Some of the bogus claims, among the many given against this sitting president, are that he has lost his mind, that he doesn't have the ability to lead, that he is insensitive to the people's human needs, that he is responsible for uncanny global weather changes, including tornadoes and hurricanes, that he is responsible for all the world's hunger, that he is responsible for all the evils and unrest, that he is responsible for all the violent crime waves, and on and on, as the events mount.

I've not ever seen anything like it. I can no longer tune in my favorite entertainment medium, television, without receiving all those concealed subliminal messages. Why, this approach has even reached down to the juvenile cartoons! So I have now averted back to the sitcoms of yester year such as Gunsmoke, Father Knows Best, Leave It To Beaver and such.

If these influences were not so wrapped up in unbelief with respect to their political diagnoses, their particular distorted views might be halfway acceptable. However, missing in all of this opinionated discussion is the spiritual aspect of the conversation. Missing is our living Creator's sovereign plans for our great universe, which includes America. From the very onset of His creation of the universe, and down through the eons of time, He has been and will continue to be in command. (Isaiah 45:7)

"He changes times and seasons; he deposes kings and raises up others. He gives wisdom to the wise and knowledge to the discerning. He reveals deep and hidden things; He knows what lies in darkness, and light dwells
with Him." (Daniel 2:21-22)
In this very interesting Scriptural portrayal of our Lord's divine sovereign will, we see here that God is still in control. He removes and raises up kings, those in authority, and influential government leaders such as presidents. (Psalm 75:7) He also gives insight to those He chooses by revealing deep hidden knowledge.
And what's so interesting is, those in darkness cannot and do not fool Him or hide from Him. (Psalm 50:6) He will judge them all. (Psalm 75:8) You see, if our Lord can count and name all the stars that He created (Psalm 147:4-5), so He can certainly control our great country of America, including those in authority.
Not only will God keep, but will also bless those government officials He has chosen, (Psalm 37:23) and the countries they represent, including America. (Psalm 37:29)
You see, although we sometimes falter in our faith and question God's love for us and our country, He remains faithful. His faithfulness still reaches beyond the clouds. (Psalm 36:5) We can rest assured that God will do all He said he would do. (I Thess 5:24) (II Thess 3:3) So why all the fear? Why all the fuss? (Psalm 37:23-25) I was inspired to create the poem below.
THE COMMAND OF GOD
The command of God is always here.
Come now children be of good cheer.
The removal of the leader is the plan.
That must be from an evil wicked hand.
Did the mainstream media bring it on?
Was it given by a broken record song?
Now let us simply look at all the facts,
Not looking to scratch the other's backs.
If truth be known the facts will stand.
His words were written by a holy band.
Now let us go back to God's holy Word,
And now believe every word we heard.
For it tells us He is still in command,
To appoint those in charge of our land.
Now we all are living in the land to save,
Land of the free and home of the brave.
So let us forget this evil removal fuss,
And enjoy all the freedom He gave us.
With glad hearts we will lift our voice,
And in His word we will surely rejoice.
He will always speak to us from above
Giving us all His countless gifts of love,
Taking away all our guilty human sin,
And make our souls preach from within.
The command of God is always here.
Come now children be of good cheer.
Author's Postscript
After having written this blog, my mind almost spun out of control into a big cultural meltdown by almost freaking out. In other words, I was simply losing it. Then, I realized what this blog alludes to, that our God is surely in control of this great universe of ours, which includes our American freedoms.
However, based on my layman's limited knowledge of the Scripture, I simply settled in realizing we might be on the verge of living in the last days as we know them to be. And no matter what, these current events are also under God's sovereign command.
Chiefly, in (II Timothy 3:1-7.9,13) and (II Timothy 4:3-4) and (I Timothy 4:1-2), we see a description of the perils of apostasy.
In (II Peter 3:3-4) and (Jude 1:18-19) , we see scoffers and false teachers giving derision, and ridiculing the gospel.
And in addition, one should read the entire prophecy chapter of Matthew Twenty-Four.
So simply settle back, your holy Scripture, watch our living Creator at work and trust Him to have everything well in hand. (Psalm 33:12) (Isaiah 42:6)