AMERICA'S RED AND BLUE, A CONTROLLED CHAOS
by Charles Robey
(Moody, AL)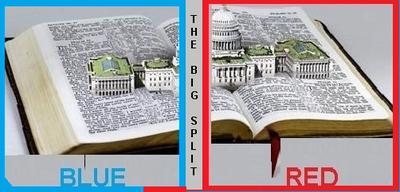 PROLOGUE

What has happened to our great Republic of America? I can remember back when we all loved baseball, the big muscle-finned vehicles, and apple pie. There were no red versus blue states, for we all were loyal, color-blind red-blooded Americans. And the only schoolroom crime punishable by the teachers' paddle was chewing gum in class.

According to tradition, as America's loyal statesman Benjamin Franklin was walking out of Independence Hall after the Constitutional Convention in 1787, someone shouted out, "Doctor, what have we got? A republic or a monarchy?"

To which Franklin supposedly responded with a rejoinder at once witty and ominous: "A republic, if you can keep it."

In his book America's Expiration Date Cal Thomas examined eight of the greatest empires in world history and how they tended to spiral into decline after about 250 years in power. On July Fourth, 2026, the U.S. will be 250 years old. That is the average life span of great nations, Thomas said. "I'm not saying the end is near, but what is going to prevent it if we don't turn things around?"

Turn things around, aye, I totally agree. Do you remember the old adage, "it isn't over till it's over"? Well, time is on our side, according to providential Scripture writings. You see, I still have prayerful hope for this great republic of ours. And I have pretty much stopped watching or reading the mainline news, in lieu of the Holy Scripture. (II Timothy 3:16)

So, on with this fiction blog; A dream, a story, all about time. It's all about this great republic of American politics and the red and blue of it. I don't know how I can convey it, this most unusual dream. Very much a surprise for me, a doubter, a sceptic of the highest order. It was a story that moralistically made a believer of this, a real live old coot.

I was sitting on my couch watching television and relaxing with my nightly elixir, hoping for a good night's sleep for a change. All of a sudden, the television sitcom faded away and, in its place, came a silly talk show. It was all about an argument of sorts focusing around America's Constitution. Is it right or wrong? Is it outdated in today's world? Was it divinely given or simply man-made?

I never got to finish the conversation, for then it happened. I had a dream. It was a dream of all dreams. "Why this dream, why me, why now?" came my sudden surface thought.

I was walking all alone on the sea shore. The view was spectacular. The water was ever so calm, no wind at all. Kind of unusual, not a wave in sight, as well. The water had a certain strangeness about it, bearing a deep red color. It was as if this entire scene had been artistically drawn up by divine providence.

Then, all of a sudden, as if by some evil generated action, the scene changed completely. The water instantly changed to a deep dirty blue, as the wind began to roar, lashing the water against the rocky shore. It was as if the Devil himself had taken control of the entire scene.

I found myself suddenly being caught up in total amazement at these unusual happenings and I didn't recognize the lone character that suddenly appeared out of nowhere. His appearance and demeanor were straight from a long-past early American documentary wearing the customary waistcoat, knee-high stockings and buckled shoes.

I would know this particular early American hero anywhere. His well-known bifocal eye glasses on his noise gave him away. I was afraid to call him by name, however, so nodded in respect. Then he spoke, his speech discourse matching his appearance.

"Surprised at this happening, my good man? Being a political science professor, can you relate to the effect of the red and blue water?" he asked. "Can you give an answer to the differences, the calm red sea, and the violent blue sea? It's all about the red and blue of it all."

After a short pause, he continued. "Read any newspapers lately? Watched any TV news, or surfed the Internet as well? And unfortunately listened to any religious apostasy lately. So, my good man, you can probably not only align with the representative red and blue water demonstration, but also perhaps compare the rapidly changing colors to that of today's American Republic. Times are surely changing vastly. If only America's people would adhere to our God-inspired founding documents, and listen to the Supreme Judge of the world to consider His providential care? Then maybe, just maybe, the way America's Republic now operates would have never taken to departing from America's Constitution, as it seems to be doing. And maybe, just maybe, our Republic's Constitution would not have become more limited, and our liberties less secure.

Pulling a Bible from underneath his tunic, and after reading a particular relational Scripture verse, (II Chronicles 7:14) it all disappeared, the scene, the beach, the water and the kind-hearted gentleman, as well. By divine guidance, a well-known and needed statement came to mind.

"This is the beginning of a new day. God has given me this day to use as I will. I can waste it or use it for good. What I do today is very important because I am exchanging a day of my life for it. When tomorrow comes, this day will be gone forever, leaving something in its place I have traded for it. I want it to be gain, not loss — good, not evil. Success, not failure in order that I shall not forget the price I paid for it." (Coach Paul (Bear) Bryant)

"Wouldn't it be wonderful if, if this age-old philosophy were to be found hanging in the office of all politicians, all governments, and all judges? And wouldn't it also be the same if these entities had a firm reliance on such practices today?" I thought.

Then it all ended, as quickly as it started. The beach head, the waters, and the old statesman, had all vanished into thin air, leaving my dream world behind. I was suddenly without a reasonable explanation, back home sitting in front of my television. I hadn't missed a thing, for the same old talk show was still going strong. But it was not for me.

Lying open on my bedroom table was my old worn copy of America's Declaration of Independence and Constitution along with Mom's old family Bible, opened and highlighted to, you guessed it (II Chronicles 7:14).

Yes, I got the message that strange but profitable day. I may be approaching my retirement years, officially leaving my college professorship behind. Nonetheless you see, the Bible makes no mention of retiring from our spiritual duty. I will work on and on, for the sake of the gospel first and for the sake of this great American Republic second. Amen!

EPHILOGUE

I trust you will enjoy this simple patriotic blog, the second of the "Controlled Chaos" series. If so, please pass it around. Thanks!

Now I ask you, what's with these red and blue political labels? Just where did they come from and why? After all, aren't we all distinguished as red-blooded Americans? I surely hope and pray so. Oh well, I realize these labels make for good living color TV watching.

So, are you even registered to vote? And when's the last time you took a stand or stood up for God and country? When's the last time you attended a city council meeting? Presented a written editorial to your local newspaper? Contacted or talked with your local, county and federal law makers? When's the last time you gave witnesses to the Gospel truths of the Holy Scripture, or gave witness for America's freedoms?

The Scripture is certainly very vivid on our individual personal responsibilities towards government, as a Christian (Romans 13:1-7) (Titus 3:1-2) (I Peter 2:13-14) and as a citizen with respect to guarding against any form of uncontrolled chaos. (Jeremiah 14:16) (Psalm 94:3) (Psalm 143:2)

I leave you with this closing thought. What about our blog title "AMERICA'S RED AND BLUE, A CONTROLLED CHAOS?" My opinion, when certain powers of leadership start rumors about other factions of America's citizenship, America's leadership and followers seem to both experience what I label a red or blue uncontrolled chaos.

So, by definition, this colored-coded chaos is a state or situation which appears to be deliberately and intentionally disorganized, and yet where some people of a color-blind nature may just have things under control.

May God continue to bless this great American Republic of ours. Amen!