An Appeal from Allegory - Page 3 of 4 (series: Lessons on Galatians)
by John Lowe
(Woodruff, S.C.)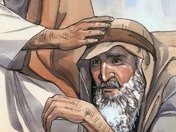 Paul quotes Isaiah 54.1, applying it to Sarah, who was barren before the birth of Isaac; but he also applies it to the church (v. 27). Note the contrasts.


Israel The Church
Earthly Jerusalem Heavenly Jerusalem
Bondage Freedom
Barren legalism Fruitful grace

Sarah had been barren, and she tried to become fruitful by having Hagar marry Abraham. This failed and brought only trouble to the household. The Law cannot give life or fruitfulness; legalism is barren. For the early church to go back into bondage would mean barrenness and disobedience to the Word of God. Because it held fast to grace, the church spread across the world in fruitfulness.

But individual churches can make the same mistake the Galatians were making; they can fail to cast out Hagar and Ishmael. Legalism is one of the main problems among Christians today. We must keep in mind that legalism does not mean the setting of spiritual standards; it means worshiping these standards and thinking we are spiritual because we obey them. It also means judging other believers on the basis of these standards. A person can refrain from smoking, drinking, and attending theaters, for example, and still not be spiritual. The Pharisees had exceptionally high standards, yet they crucified Jesus.
The church of the new covenant was despised as an upstart religion, rejected by those who preferred the old covenant as time-tested and safe, and belittled because it had few members, in comparison with other religions. The Judaizers claimed that Abraham had obeyed the Law of Moses by anticipation, and that God's promise was his reward. Consequently the descendants of Isaac were children of promise only if they followed Abraham's example of obeying the Law. Paul turned it around; the promise must be taken on faith, not as credit for being obedient.

The old nature loves legalism, because it gives the old nature a chance to "look good." It costs very little for Ishmael not to do certain things, or to do certain religious deeds, just so long as he can remain Ishmael. For seventeen years Ishmael did not cause any trouble in the home; and then Isaac came along, and there was conflict. Legalism caters to Ishmael. The Christian who claims to be spiritual simply because he doesn't do something, is only fooling himself. It takes more than negations to make a positive, fruitful spiritual life.

No doubt the Judaizers were attractive people. They carried credentials from religious authorities (2 Cor 3.1 ). They held high standards and were careful of what they ate and drank. They were successful at making converts and liked to advertise their accomplishments (Gal. 4.17, 18 ; 6.12-14 ). They had rules and standards to cover every area of life, making it easy for their followers to tell who was "spiritual" and who was not. But the Judaizers were leading the people into bondage and defeat, not liberty and victory, and the people did not know the difference.
The legalist hates the gospel of the free grace of
God. They will insist that I also have to do something or seek something from another source—from the Holy Spirit, for instance, or go through some ceremony to receive something that I did not get when I accepted Jesus Christ. My friend, to say that, is the same as cursing Christ. If you have to add anything to what He did for you, then His death on the cross was in vain. Christ was made a curse for us; but if you don't accept what He did for you, you are saying that you are not guilty, but that He is guilty.
In the closing chapters of this letter, Paul will point out the greatest tragedy of legalism; it gives opportunity for the flesh to work. The old nature cannot be controlled by Law; eventually it has to break out—and when it does, watch out! This explains why legalistic religious groups often have fights and divisions ("Ye fight and devour one another, Gal. 5.15), and are often plagued with defiling sins of the flesh (Gal. 5.19 ). While every church has its share of these problems, it is especially prominent in those groups where there is an atmosphere of legalism. When you invite Hagar and Ishmael to live with Sarah and Isaac, you are inviting trouble.
Thank God the Christian is set free from the curse of the Law and the control of the Law. "Cast out the bondwoman and her son." It may hurt us deeply, as it did Abraham; but it must be done. To attempt to mix Law and grace is to attempt to do the impossible. It makes for a frustrated, barren Christian life. But to live by grace, through faith, gives one a free and fulfilling Christian life.
What is the secret? The Holy Spirit. And it is this secret Paul will share in the closing "practical" chapters of the letter. Meanwhile, you and I must be on guard in case Ishmael and Hagar should attempt to find the way back into our lives. If that happens—"Cast them out." God commanded the expulsion of Hagar and Ishmael (Ge. 21.10). Today God is saying to you and to me, "Get rid of your legalism. Put all the emphasis on Jesus Christ."
Abraham could not have both the son of Hagar and the son of Sarah. He had to make a choice. Paul is saying you can't be saved by Law and grace. You have to make a choice. If you try to be saved by Christ and also by the Law you are not saved.
Let me ask you, have you really trusted Christ, or are you carrying around with you something extra, that is, do you feel you are doing something, or being something or trying to attain to something which adds to what Jesus Christ did for you on the cross? If you do, forget it and look to Christ alone; receive everything from Him. He is our Savior. He is to receive all praise and glory.