AN APPLE A DAY
by Charles Robey
(Trussville AL)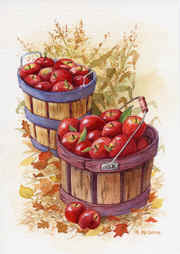 Please try God's Apple A Day
(Although not actually mentioned in the scriptures, the old idiom "an apple a day keeps the doctor away," is translated in this brief fictional story as keeping away the blues. Whether or not an apple can do this miracle is really based on the power of persuasion, or more importantly, the power of the scripture.)

Well, looks like just another dreadful day. As the eternal dark clouds move swiftly through the sky, the rain beats endlessly against our windows to the tune of "Give Up, Give Up". Mom will be in another of her moods, I guess. Mom has not been herself since we lost Dad five years ago.

If only Pastor Joe would make his daily visit or at least call. You see, Pastor Joe seemed to be the only one who could calm Mom down. However, for some unknown reason, Pastor Joe apparently was not going to visit today.

"Mom, the rain seemed to let up. Why don't you get out and stretch your legs," I said.

"I believe I will. Think I'll just go shopping as I do need a few things from the City Food Market. You kids just hang loose and stay dry."

"Seems like Mom is buying out the store, Jim, for she's been out over two hours," Jan said.

"Well, Jan, if she doesn't come back soon, I'll call Pastor Joe to go check up on Mom."

Time passed into what seemed like an eternity but we finally heard Mom's old rattle Junker pull into the driveway. And, the first thing we noticed was Mom's smile followed by her humming her favorite Christian chorus.

I know the Lord will make a way for me.
I know the Lord will make a way for me.
If I live a Holy life, shun the wrong and do the right,
I know the Lord will make a way for me.

"Don't say a word, kids," exclaimed Mom. "You probably won't understand anyway."

"OK, Mom, just tell us what happened to change your mood?" I asked. Mom had not smiled since we lost Dad and the doctors had just about given up on her.

"Well, kids, I was merely piddling in the produce aisle trying to make up my mind on all that delicious fruit when this gentleman suddenly appeared out of nowhere. He just smiled and asked if I had tried the apples. He then said that an apple a day would chase the blues away.

Suddenly, I remembered the old cliché, 'an apple a day keeps the doctor away,' but that old proverb didn't seem to fit our conversation. Sir, I replied, I thank you for the advice, but how did you know I needed a remedy for the blues? The man just kept smiling saying he just had a knack for knowing people's needs. So, why not try me by taking a big bite from one of those apples on the way home.

Yes, I surely needed a change of attitude, so I decided to try the apple by taking that homeward bite. And guess what, the miracle took place. Suddenly, not only did my entire attitude change, but I started quoting scripture, including your Dad's favorite scripture verse, 'And we know that God causes all things to work together for good to those who love God, to those who are called according to His purpose.' (Romans 8:28)

Just one other thing about this stranger, when I turned around to thank him, he had just disappeared, and left on the floor in his tracks was a colorful Gospel Track with the following front page scripture verse glowing in the supermarket light, as if to say 'pick me up and ready me', 'Keep me as the apple of the eye, hide me under the shadow of thy wings.' (Psalm 17:8).

Instantly, I continued to read but the one verse that hit me hard was, 'Do not neglect to show hospitality to strangers, for by this some have entertained angels without knowing it.' (Hebrews 13:2). Did this actually happen to me?"

"Why, Ms. Gracie, what a pleasant surprise!" exclaimed Pastor Joe. You haven't attended a mid-week prayer service since, well, you know what I mean. To what do we owe the pleasure?"

"Well, let's just say, it's the "ole apple a day," I replied.

Pastor Joe just smiled bewilderingly and said, "I certainly hope it's not the "ole garden of Eden syndrome."

"I just returned the smile and showed Pastor Joe the Gospel Track left at the supermarket. All of a sudden Pastor Joe's expression changed from that of bewilderment to understanding, as he was directed to read the following Gospel Track verse, 'Brothers, I do not consider myself yet to have taken hold of it. But one thing I do: Forgetting what is behind and straining toward what is ahead, I press on toward the goal to win the prize for which God has called me heavenward in Christ Jesus'. (Philippians 3:13-14) As Pastor Joe handed back the track, he simply said that the track must have been sent from Heaven, as it just fit my needs."

Yes, praise God. For you see even though He knows us, He still loves us. He accepts our "faith" and gives us the free gift of "Salvation" through His saving Grace, "For by grace you have been saved through faith; and that not of yourselves, it is the gift of God." (Ephesians 2:8).

And, not only does God save us through His Grace, but His grace is sufficient to keep us as He meets our needs, "And He said to me, 'My grace is sufficient for you, for my power is made perfect in weakness.' (2 Corinthians 12:9)

Hallelujah.