Angel Announces Judgement: Part 3 of 3 (Lessons on Judges)
by John Lowe
(Woodruff, S.C.)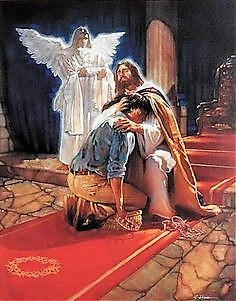 6(Jos. 4.19-20) "And the people came up out of Jordan on the tenth day of the first month, and encamped in Gilgal, in the east border of Jericho. and those twelve stones, which they took out of Jordan, did Joshua pitch in Gilgal." It was at Gilgal that the twelve-stone monument was erected for the children to remember forever the miraculous crossing of the Jordan. But this was not the only reason why the monument was erected. It was placed in Gilgal that the earth might know the hand of the Lord, that it is mighty: that ye might fear the Lord your God for ever. It was the Lord God's intent that this memorial would not only serve to remind the Israelites of His mighty hand, but all peoples of the world as well. It is His desire that all men and women come to the experience of Rahab to claim that, the Lord your God, he is God in heaven above, and in earth beneath (2:11).

7 (Jos. 5.2-9) "And it was told the king of Jericho, saying, Behold, there came men in hither to night of the children of Israel to search out the country. And the king of Jericho sent unto Rahab, saying, Bring forth the men that are come to thee, which are entered into thine house: for they be come to search out all the country. And the woman took the two men, and hid them, and said thus, There came men unto me, but I wist not whence they were: And it came to pass about the time of shutting of the gate, when it was dark, that the men went out: whither the men went I wot not: pursue after them quickly; for ye shall overtake them. But she had brought them up to the roof of the house, and hid them with the stalks of flax, which she had laid in order upon the roof. And the men pursued after them the way to Jordan unto the fords: and as soon as they which pursued after them were gone out, they shut the gate. And before they were laid down, she came up unto them upon the roof; And she said unto the men, I know that the LORD hath given you the land, and that your terror is fallen upon us, and that all the inhabitants of the land faint because of you.

8 (Jos. 5.13-15) "And it came to pass, when Joshua was by Jericho, that he lifted up his eyes and looked, and, behold, there stood a man over against him with his sword drawn in his hand: and Joshua went unto him, and said unto him, Art thou for us, or for our adversaries? 14And he said, Nay; but as captain of the host of the LORD am I now come. And Joshua fell on his face to the earth, and did worship, and said unto him, What saith my lord unto his servant? 15And the captain of the LORD'S host said unto Joshua, Loose thy shoe from off thy foot; for the place whereon thou standest is holy. And Joshua did so." There are times when each of us must get alone with God in a special way. Usually those times come just before a big decision in our lives. Joshua went to a hill overlooking Jericho and began to contemplate the conquest of that great fortress city. As he was there alone communing with God and planning strategy, he lifted up his eyes and looked, and, behold, there stood a man over against him with his sword drawn in his hand. The expression he lifted up his eyes is usually, though not always, indicative of an unexpected or marvelous sight (cf. Gen 18:2; 22:13; Num 24:2; I Sam 6:13; I Chr 21:16). What Joshua saw obviously caught him off guard. He did not immediately recognize the man. Since the man had his sword drawn, Joshua could only surmise that he was prepared for battle and thus asked, Art thou for us, or for our adversaries. The answer this man gave must have been as startling to Joshua as his very presence. And he said, Nay; but as captain of the host of the Lord am I now come. The host of the Lord must refer to the angels of God (Gen 32:2; I Kgs 22:19; Ps 103:20–21; 148:2; Lk 2:13). But who is this stranger, the captain of the Lord's host? Jewish interpretation differs on this point. Maimonides does not regard this appearance as a real one. Most Jewish scholars, however, believe the captain of the Lord's host was an angel of God and go so far as to declare his identity to be that of Michael, the archangel. In proof of this they advance Daniel 12:1 which says that, "… at that time shall Michael stand up, the great prince which standeth for the children of thy people.…" But such an interpretation is unacceptable. A much sounder view is expressed by Origen in his Sixth Homily on the book of Joshua when he states, "Joshua knew not only that he was of God, but that he was God. For he would not have worshiped, had he not recognized him to be God. For who else is the Captain of the Lord's host but our Lord Jesus Christ?" (see also James Borland, Christ in the Old Testament.). It is interesting to see the parallel between this appearance of the Lord to Joshua and an earlier one to Moses. As the Lord appeared to Moses in a special way to prepare him for leadership (Ex 3:2), now the Lord appears to Joshua in the same manner (5:13–15). "Observe how well God suits the revelation of Himself unto His saints according to their circumstances and needs: to Abraham in his tent He appeared as a Traveler (Gen 18:1–3) to Moses at the backside of the desert in a bush (Ex 3:1–2), to Joshua at the beginning of his campaign as 'a Man of war' (cf. Ex 15:3" (Arthur W. Pink, Gleanings in Joshua, p. 141).

Loose thy shoe from off thy foot; for the place whereon thou standest is holy. Another interesting parallel to Moses was the command of God for Joshua to remove his sandals from off his feet. This was identical to the situation of Moses (cf. Ex 3:5) when he encountered the Lord God personally. As the Lord had been with Moses, He promised to be with Joshua. As the Lord had appeared unto Moses, He has now appeared unto Joshua. The preparations for conquest are now complete.

9(Isa. 30.21) "And thine ears shall hear a word behind thee, saying, This is the way, walk ye in it, when ye turn to the right hand, and when ye turn to the left."

10(Rev. 3:2, 3) "Be watchful, and strengthen the things which remain, that are ready to die: for I have not found thy works perfect before God. Remember therefore how thou hast received and heard, and hold fast, and repent. If therefore thou shalt not watch, I will come on thee as a thief, and thou shalt not know what hour I will come upon thee." Sardis believers are alerted to recall how much of recovered truth they had, and to hold fast the good they had received. Also, they needed to repent of the inadequate use they were making of it. If the church did not awake, they were in danger of meeting Christ when they were not ready. Mark this down, the Lord does not come to believers as a thief, but to professors only.

11(Gal 4:14) "And my temptation which was in my flesh ye despised not, nor rejected; but received me as an angel of God, even as Christ Jesus." My temptation. The best Greek texts have "your" temptation. The trial to which you were subjected by my bodily infirmity and which might have caused you to treat me with indifference. Ye despised not. This word (Gr exoutheneō) means despise utterly, set at nought, scorn, treat with contempt. Nor rejected. Literally, "spit out" (Gr ekptuō). Hence to disdain, spurn, loathe. Spitting was a sign of disgust. The ancients expectorated when they saw a person having an epileptic seizure. This may have even been Paul's malady. But. On the contrary. Received me. In spite of Paul's illness and repulsive appearance, they treated him with great kindness. As an angel of God. With veneration (Acts 14:11–18). As Christ Jesus. The highest honor.

12 (2 Cor. 7.8-11) "For though I made you sorry with a letter, I do not repent, though I did repent: for I perceive that the same epistle hath made you sorry, though it were but for a season. Now I rejoice, not that ye were made sorry, but that ye sorrowed to repentance: for ye were made sorry after a godly manner, that ye might receive damage by us in nothing. For godly sorrow worketh repentance to salvation not to be repented of: but the sorrow of the world worketh death. For behold this selfsame thing, that ye sorrowed after a godly sort, what carefulness it wrought in you, yea, what clearing of yourselves, yea, what indignation, yea, what fear, yea, what vehement desire, yea, what zeal, yea, what revenge! In all things ye have approved yourselves to be clear in this matter." For though I made you sorry with a letter, I do not repent. Although for a while Paul was sorry that he had written as he did, he is now thankful. Not that ye were made sorry, but that ye sorrowed to repentance (on "repentance" cf. Mt 3:8; Lk 5:32; Acts 5:31; Heb 12:17). The criminal may feel sorry that he is caught, but that is not sorrow after a godly manner. What happened at Corinth agitated the believers to realignment with the will and purpose of God. This made all of Paul's efforts worthwhile.