Angel Announces Judgment: Part 1 of 3 (series: Lessons on Revelations)
by John Lowe
(Woodruff, S.C.)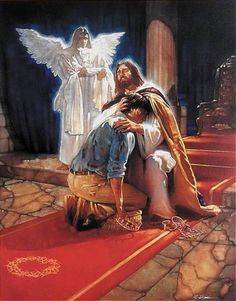 There was an opportunity for rededication but all they did this time was weep
Chapter 8

Angel Announces Judgment Judges 2:1–5


Scripture

1And an angel of the LORD came up from Gilgal to Bochim, and said, I made you to go up out of Egypt, and have brought you unto the land which I sware unto your fathers; and I said, I will never break my covenant with you.
2And ye shall make no league with the inhabitants of this land; ye shall throw down their altars: but ye have not obeyed my voice: why have ye done this?
3Wherefore I also said, I will not drive them out from before you; but they shall be as thorns in your sides, and their gods shall be a snare unto you.
4And it came to pass, when the angel of the LORD spake these words unto all the children of Israel, that the people lifted up their voice, and wept.
5And they called the name of that place Bochim: and they sacrificed there unto the LORD.


Commentary

It was at Gilgal that Israel first camped after crossing the Jordan River and entering the Promised Land. "And the people came up out of Jordan on the tenth day of the first month, and encamped in Gilgal, in the east border of Jericho." (Jos. 4:19) The encampment at Gilgal was located perhaps five miles from the bank of the river and several miles from the city of Jericho itself, and there they "rolled away" the old life (Josh. 5). They were no longer just a nation of homeless wanderers. Now they had a land of their own, where they could put down roots and worship God. There was an opportunity for rededication; but all they did this time was weep, and their weeping was not a sign of true repentance. It was a passing emotional experience that brought no change to their hearts.

1And an angel of the LORD came up from Gilgal to Bochim, and said, I made you to go up out of Egypt, and have brought you unto the land which I sware unto your fathers; and I said, I will never break my covenant with you.

And an angel of the LORD came up from Gilgal to Bochim. The confusion and incomplete victory that ends chapter 1 serves as a general introduction to the events of the second chapter. The great victories of the past under the leadership of Joshua and the elders who served with him were nullified by subsequent periods of compromise, in which the covenant was neglected, idolatry was tolerated, and intermarriage with the Canaanites became commonplace. It is under these circumstances that the angel of the LORD came to deliver God's message to them. Bruce, in the New Bible Commentary (p. 240), notes that: "The angel of Yahweh is the expression widely used in the Old Testament to denote Yahweh Himself in His manifestation to men." Theologically, such appearances of God in human form are called a "theophany." By such a manifestation, God had appeared unto Adam, Abraham, Hagar, Moses, Joshua, etc. On the significance of Theophanies (or "Christophanies," appearances of the preincarnate Christ) see Article 2: Theophanies.

The Angel of the Lord in the Old Testament is generally agreed to be our Lord Jesus Christ who came to earth temporarily on occasion to deliver special messages or to accomplish special tasks. Among others, He ministered to Hagar (Gen. 16), Abraham (Gen. 22), Jacob 1(Gen. 31:11 ), and Moses (Exod. 3), and He appeared to Joshua 2(Jos. 5:13–15 ). Though we do not recognize them, the angels minister to God's people today 3(Heb. 1:14 ), and the Lord Jesus is with us as we walk with Him (4Mt. 28:20; 5Heb. 13:5–6).

The nation of Israel crossed the Jordan close to the town of Gilgal where God had stopped the water and dried up the river bottom, so that the Israelites walked over on dry ground. Gilgal, was where the main military camp had been located during the time of the conquest, the tabernacle was originally located there 6(Jos. 4.19-20 ), and it was there that the men of Israel were circumcised and "rolled away" the reproach of Egypt 7(Jos. 5.2-9 ). It was also there that the Lord appeared to Joshua and assured him of victory as he began his campaign to conquer Canaan 8(Jos. 5.13-15 ). From Gilgal the Israelites went up to Bochim (lit., weepers), whose exact location is unknown; although it is believed by some to have been located somewhere between Beth-el and Shiloh, about twenty miles from the Dead Sea. The Angel of the Lord (the Lord Jesus) rebuked the people at Bochim (weepers) for their disobedience; in response the Israelites allegedly repented of their sins. There Verse 1 says that He came up from Gilgal (the place of blessing) to Bochim (the place of weeping). Israel had gone from the place of victory to the place of mourning. They had failed to drive out the Canaanites and to destroy their idolatrous altars.

and said, I made you to go up out of Egypt, and have brought you unto the land which I sware unto your fathers; and I said, I will never break my covenant with you. As the Angel speaks His message, it is actually the message of God Himself! He
reminded them that He had brought them out of Egypt into the land that He had promised their fathers. Although Israel had experienced the power of God during the period of the Exodus from Egypt and the conquest of Canaan, they soon forgot the covenant they had made with God at Sinai. The Lord went on to remind them that they had not obeyed His voice and asked them why they had done this.
I will never break my covenant—nor did God ever break it. A covenant is never broken except by the one who violates the conditions of it: when any of the contracting parties violates the Covenant, the other party may declare the covenant null-and-void.
Your fathers—head or founder of a household, group, family, or clan. In this case, the reference is probably to the patriarchs; Abraham, Isaac, Jacob, etc.
It was a great privilege for Israel that they not only had The Law of God in His Commandments, written on tablets of stone that were at this time resting in the Arc of the Covenant, to show them God's way to happiness, but that they had received, from time-to-time, particular messages sent to them from heaven, when Israel's circumstances needed God's word, for reproof, for correction, and for instruction in righteousness, when at any time they turned aside out of that way.
Besides the written word which was available for them to read, they often heard a word behind them, saying, This is the way,
9
Isa. 30:21. Here is the beginning of something new; the Lord is changing the way he deals with Israel. They did not hear Moses or Joshua, and in the future God will communicate through prophets, but for the next 350 years the Judges will be God's messengers to His people. In these verses we have a very awakening sermon that was preached to them when they began to cool in their religion.
The preacher was an angel of the Lord, not a prophet, not Phinehas, as the Jews thought; gospel ministers are indeed called angels of the churches, but the Old-Testament prophets are never called angels of the Lord; no doubt this was a messenger from heaven. Such extraordinary messengers we sometimes find in this Bible employed in the raising up the judges that delivered Israel, such as Gideon and Samson; and now, to show how beneficial they are for God's Israel. Here is one messenger sent to preach to them; to prevent them falling into sin and trouble. This extraordinary messenger was sent to command, if necessary, regard for the message itself, and to have an affect on the minds of a people whom nothing seemed to affect but what was sensible. The learned bishop Patrick is clearly of the opinion that this was not a created angel, but the Angel of the covenant, the same that appeared to Joshua as captain of the hosts of the Lord, who was God himself. Christ himself, says Dr. Lightfoot; who but God and Christ could say, I made you to go up out of Egypt? Joshua had recently warned them about entangling themselves with the Canaanites, but they were the words of a dying man. The same warning is here in this passage, imparted to them by the living God himself, the Son of God appearing as an angel. If they refuse to hear his servants, surely they will reverence his Son. This angel of the Lord is said to come up from Gilgal, perhaps not walking on the earth, but flying swiftly, as the angel Gabriel did to Daniel, in the open firmament of heaven; but, whether walking or flying, he seemed to come from Gilgal for a particular reason. Gilgal served as their headquarters for a long time after they came into Canaan. To them it was a place of blessing for there they had been blessed by God many times, and there the covenant of circumcision was renewed with a new generation. The remembrance of what we have received and heard will prepare us for a warning to hold onto all that we receive from our God and Savior; Rev. 3:2, 3 .
The sermon itself is short, but very dear. God tells them plainly:
1. What he had done for them. He had brought them out of Egypt, a land of slavery and hard work, into Canaan, a land of rest, liberty, and plenty. The miseries of the one served as an obstruction to the good being of the other. God had been kind to them, true to the oath sworn to their fathers, and had given them proofs of his power. When they stand before Jesus to be judged or rewarded, which ever the case may be, there is no acceptable excuse that they can offer.
2. What he had promised them: I said, I will never break my covenant with you. When he took them to be his peculiar people, it was not with any intention to cast them off again, or to exchange them for another people at his pleasure. If they are faithful to him, they should find him unchangeably constant to them. He told them plainly that the covenant he entered into with them should never break, unless it broke on their side.