Angel Announces Judgment: Part 2 of 3 (series: Lessons on Judges)
by John Lowe
(Woodruff, S.C.)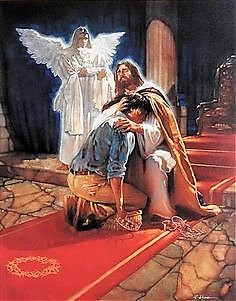 Article 2.1: Theophanies.


The Angel of the Lord (Heb. Yahweh) went up from Gilgal to Bokim. The Angel of the Lord was not merely "an angel"; He was a Theophany—an appearance of the second person of the Trinity in visible and bodily form before the Incarnation. Prominent during the time of Moses (Ex. 3.2-15; Num. 22.22-35) and Joshua (Jos. 5.13-15); this divine manisfication also appeared during the period of the Judges to Gideon (Jg. 6.11-24), and to the parents of Samson (13.3-21). The Angel of the Lord was Deity for He was called Yahweh (Jos. 5.13-15; Jg. 6.11-24; Zech 3) and God (Gen 32.24-32; Ex. 3.4), and had divine attributes and prerogatives (Gen. 16.13; 18.25; 48.16). Yet this Messenger of the Lord was also distinct from Yahweh, thus indicating a plurality of persons within the Godhead (Num. 20.16; Zech. 1.12-13). New Testament allusions suggest that the Angel of the Lord in the Old Testament was Jesus Christ (Jn. 12.41; 1 Cor. 10.4; Jn. 8.56; Heb. 11.26).

The Angel of the Lord obviously spoke as Yahweh Himself for He used the conventional formula to refer to His redemptive mercies in the Exodus and the gracious establishment of the Mosaic Covenant (Ex. 19.4; 20.2; Jos. 24.2-13). He reminded them of the divine prohibition to the Israelites regarding Canaanite alliances (you shall not make a covenant with the people of this land) and idolatry (you shall break down their alters; Ex. 23.32-33; 34.12-16; Num. 33-55; Deut. 7.2,5, 16; 12.3)

2And ye shall make no league with the inhabitants of this land; ye shall throw down their altars: but ye have not obeyed my voice: why have ye done this?

What were the Lord's just and reasonable expectations from the people of God? It was such an easy and simple thing; that being in covenant with God they should make no agreements with the Canaanites, who were both His enemies and theirs,—that having set up his altar they should tear down their altars, to remove a temptation for them to serve their gods. Could any thing He demanded be easier? You would think that they would choose the easy way, but they chose instead to do it their way.

Here, we are to take note of how they had disobeyed the Lord in the very thing, which He had insisted on the most: "But you have not in so small a matter obeyed my voice." They had made a covenant with God, but now they appeared to show only contempt for it by making friends with the idolatrous Canaanites, and conniving with them at their altars. And so God asks the question, "Why have you done this? What excuse can you give for this rebellious attitude of yours? What apology can you make for yourselves, or what excuse can you offer?" Those that discard their communion with God, and exchange it for fellowship with the unfruitful works of darkness, do not know what they are doing, and will have nothing to say for themselves on the great Day of Judgment.

3Wherefore I also said, I will not drive them out from before you; but they shall be as thorns in your sides, and their gods shall be a snare unto you.

The angel said, I will never break my covenant with you . . . but ye have not obeyed my voice. The gist of the angel's warning was that God would undoubtedly keep His promise; but they, by their flagrant and repeated breaches of their covenant with Him, had forfeited all claims to the stipulated benefits. Having disobeyed the will of God by willingly courting the society of idolaters and placing themselves in the sure path of temptation, He left them to suffer the punishment due those who offend Almighty God. And what was the punishment? I will not drive them out from before you—their transgressions, and breach of the covenant, were the reasons why they were not put in entire possession of the Promised Land. These words anticipate the history of the time of the Judges, when a series of oppressors subdued Israel.

You can put a period to their victories: "You will not drive them out," says God, "and therefore I will not;" consequently their sin was made their punishment. As a result of Israel's disobedience, the divine aid by which Israel would have driven out the Canaanites was withheld (2.20-3.6). Intermarriage with the Canaanites led to tolerance of and even participation in their idolatry. Therefore those who indulge their lusts and corruptions, which they should renounce, forfeit the grace of God, and it is rightly withdrawn from them. If we will not resist the devil, we cannot expect that God would trample him under our feet.

He would involve them in continual troubles. "They shall be thorns in your sides to gore you, which way soever you turn, always doing you one mischief or
other." Those deceive themselves if they expect to gain through friendship with those that are enemies to God. They deceive themselves (which was worst of all) if they expose them to constant temptation and are eventually drawn into sin. "Their foreign gods will be a snare to you; you will find yourselves wretchedly entangled in an affection to them, and it will be your ruin," is how some read it. Those that approach sin are justly left to themselves to fall into sin and to perish in it. God often makes men's sin their punishment; and thorns and snares are placed in the way of those that will walk contrary to God.
But they shall be as thorns in your sides. Paul said in 2 Corinthians 12.7 that He was given a thorn in the flesh: "And lest I should be exalted above measure through the abundance of the revelations, there was given to me a thorn in the flesh, the messenger of Satan to buffet me, lest I should be exalted above measure." What follows explains Paul's attitude, lest I should be exalted above measure through the abundance of the revelations (lit., "in order that I might not, by the abundant excess of the revelation, be uplifted"). There was given me a thorn in the flesh
11
(Gal 4:14 ). The next expression the "messenger of Satan" recognizes our opponent. Just what Paul means by this has excited no small amount of conjecture. Among the views suggested are: (a) temptations from the devil; (b) Paul's opposition from his adversaries; (c) some intense bodily pain; and (d) some recurring physical affliction such as eye trouble, epilepsy, or malaria. What is known of it is that it was a tool of Satan, it was painful ("thorn"), and it was accompanied by shame and/or embarrassment to the apostle. A fairly strong argument can be sustained in favor of the view that it was eye trouble (ophthalmia).
4And it came to pass, when the angel of the LORD spake these words unto all the children of Israel, that the people lifted up their voice, and wept.
5And they called the name of that place Bochim: and they sacrificed there unto the LORD.
The message by the angelic messenger was one of such severe judgment that the people of Israel lifted up their voice and wept and accordingly called the name of that place Bochim ("weepers") and sacrificed unto the Lord. The angel's highly critical message made a deep and painful impression. But the reformation was only temporary, and the gratifying promise of a revival which this scene of emotion suggests, was, shortly, blasted by speedy and deeper relapses into the guilt of defection and idolatry. Their sorrow was because of the consequences of their sins and not because the wickedness of their sins had convicted them. It was a shallow and temporary sorrow that never led them to true repentance
12
(2 Cor. 7.8-11 ). Likewise, the sacrifices offered to the Lord at Bochim seem to have been only an external ritual rather than an expression of true faith.
The Bible clearly indicates that significant place names were associated with historical events. The use of place names in the Bible is not merely a matter of tradition, as many critical scholars have assumed. Verses 1–5 thus give the underlying reason for the oppression which followed. No wonder the people ... wept and called the ... place Bochim!
General Notes
1
(Gen. 31.11) "And the angel of God spake unto me in a dream, saying, Jacob: And I said, Here am I
2
(Josh. 5:13–15) "And it came to pass, when Joshua was by Jericho, that he lifted up his eyes and looked, and, behold, there stood a man over against him with his sword drawn in his hand: and Joshua went unto him, and said unto him, Art thou for us, or for our adversaries? And he said, Nay; but as captain of the host of the LORD am I now come. And Joshua fell on his face to the earth, and did worship, and said unto him, What saith my lord unto his servant? And the captain of the LORD'S host said unto Joshua, Loose thy shoe from off thy foot; for the place whereon thou standest is holy. And Joshua did so."
3
(Heb. 1:14) "Are they not all ministering spirits, sent forth to minister for them who shall be heirs of salvation?"
4
(Mt. 28:20) "Teaching them to observe all things whatsoever I have commanded you: and, lo, I am with you alway, even unto the end of the world. Amen.
5
(Heb. 13:5–6) "Let your conversation be without covetousness; and be content with such things as ye have: for he hath said, I will never leave thee, nor forsake thee. 6So that we may boldly say, The Lord is my helper, and I will not fear what man shall do unto me.