Announcement of Jesus' Birth to Joseph (series: Lessons on Harmony of the Gospels)
by John Lowe
(Woodruff, S.C.)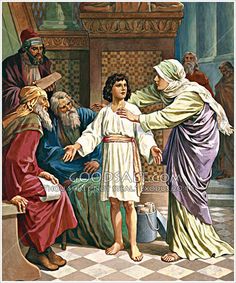 Harmony of the Gospels

-3BC-
Judea

Announcement of Jesus' Birth to Joseph
(Isaiah 9:6-9) Matthew 1:18-25


There is a wonderful prophesy of the coming of the Messiah in Isaiah 7:14, and there are many more. Matthew describes the birth of Jesus as follows;

This is how the birth of Jesus Christ came about: His mother Mary was pledged to be married to Joseph, but before they came together, she was found to be with child through the Holy Spirit. (Matthew 1:18)

When Mary was engaged to Joseph, before they came together, that is, before they had had a sexual relationship, she became pregnant. The Holy Spirit by a supernatural process put the seed of Christ in her womb.Because Joseph her husband was a righteous man and did not want to expose her to public disgrace, he had in mind to divorce her quietly. (Matthew 1:19)

The Law of Moses said that an unfaithful woman could be stoned to death. But Joseph was a remarkable man. He believed that Mary was unfaithful, but he loved her and decided to just divorce her and he would do it quietly so that she was not embarrassed. We give a great deal of attention to Mary and rightly so, but Joseph is a good and gentle man. Remember God chose Joseph and He chose Mary and He doesn't make mistakes.

But after he had considered this, an angel of the Lord appeared to him in a dream and said, "Joseph son of David, do not be afraid to take Mary home as your wife, because what is conceived in her is from the Holy Spirit. (Matthew 1:20)

I believe that the angel appeared to Joseph to prevent a very tragic situation and to make it clear to Joseph what was happening.

"She will give birth to a son, and you are to give Him the name Jesus, because He will save His people from their sins." (Matthew 1:21)

The name Jesus means "Savior". It is the name that is above every name and there is no other name by which man can be saved. By this messenger, Joseph would know that his baby would be the Messiah.

All this took place to fulfill what the Lord had said through the prophets: (Matthew 1:22)

Matthew points out that all this is being done to fulfill prophecy. I have read that there are over 300 prophecies concerning the First Coming of Christ that have been literally fulfilled.

"The virgin will be with child and will give birth to a son, and they will call Him Immanuel-which means 'God with us.'" (Matthew 1:23)

When I read this verse, I am reminded that there are liberal preachers that deny the virgin birth and that the Bible teaches His virgin birth. Well, the Bible does say that He was born of a virgin. It says so in this verse and many other places. You will need to go to another translation, such as the Revised Standard Version, if you want to deny the virgin birth. That version replaces "Virgin" with "young woman", but many young women give birth and there is nothing miraculous about it. I would hate to be those who deny the virgin birth of Jesus Christ when they must come into the presence of the Son of God. I think that they will wish they could take back some of the things they said to malign Him.