Apostles and Wisdom: Part 11 of 13 (series: Lessons on 1 Cor)
by John Lowe
(Woodruff, S.C.)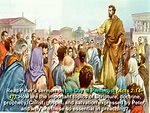 17 If any man defile the temple of God, him shall God destroy; for the temple of God is holy, which temple ye are.


If any man defile the temple of God,
In the original language the same word is used for "defile" and "destroy" and would read like this: "If any man destroyeth the temple of God, Him shall God destroy."

"… Him shall God destroy" does not mean that God will destroy the spirit and soul of the believer who may dishonor the temple of God through flawed stewardship or unfaithful Christian living. The meaning in the Greek for If any man defile the temple of God has to do with marring and scarring a congregation by unbeneficial, impure teaching which leads to a prejudiced spirit which can cause factions to arise in the congregation, and also leads believers away from holiness and into carnality.

Secondly, the word destroy in Him shall God destroy is used to point out the marring of the offender by God through divine retribution.

Hebrews 12.5-11 reveals that God chastens and scourges every son who He receives, and if we are without chastisement we are not God's sons—we are illegitimate and have never been born of the Spirit. "And ye have forgotten the exhortation which speaketh unto you as unto children, My son, despise not thou the chastening of the Lord, nor faint when thou art rebuked of him: For whom the Lord loveth he chasteneth, and scourgeth every son whom he receiveth. If ye endure chastening, God dealeth with you as with sons; for what son is he whom the father chasteneth not? But if ye be without chastisement, whereof all are partakers, then are ye bastards, and not sons. Furthermore we have had fathers of our flesh which corrected us, and we gave them reverence: shall we not much rather be in subjection unto the Father of spirits, and live? For they verily for a few days chastened us after their own pleasure; but he for our profit, that we might be partakers of his holiness. Now no chastening for the present seemeth to be joyous, but grievous: nevertheless afterward it yieldeth the peaceable fruit of righteousness unto them which are exercised thereby" (Heb 12:5-11; KJV).

In 1 Corinthians 11.30-32 Paul tells the Corinthian believers that some of them are sick, and some are weak, and some are dead because they misbehaved at the "Lord's table:" "For this cause many are weak and sickly among you, and many sleep. For if we would judge ourselves, we should not be judged. But when we are judged, we are chastened of the Lord, that we should not be condemned with the world."

God chastens the child of God who will not follow Him in daily living; but His chastening is for a purpose, to correct. But if we repent, we will not need to be corrected or chastened. But if we refuse to repent, we are judged by Him and cut off; the body is destroyed but the soul is saved. This refers to any person who willfully opposes the truth; those who go astray; this mistaken man will barely escape; but the obstinate man who opposes what he knows is truth will be destroyed— will take away his part out of the book of life. The former shall be treated leniently; the latter shall have judgment without mercy.

Paul is not telling us in this verse that God will destroy us and damn us in the Lake of Fire if we do something that is unbecoming to a Christian; something which dishonors God or corrupts His church instead of honoring Him. The same truth is pointed out here as in verse 15, concerning a man's stewardship being burned but his spirit saved.

The conduct of the Corinthians was so appalling that the Spirit of God would be grieved and denied any place in their hearts, consequently destroying God's true temple; and just as any defilement of the ancient tabernacle had been punishable by death, there would be fearful retribution against all who defile the church. In context, this was a terrible warning to the Corinthians, but it applies to all who ever became a part of God's church. As Grosheide declared: "It is clear that the judgment of God is meant; it may refer to suffering loss (1 Corinthians 3:15), but also to eternal life."

him shall God destroy;
God destroys both body and soul in
hell; the fate of all whose wicked principles and sacrilegious notions are harmful to others; they bring upon themselves judgment and damnation. The false prophet, as well as the beast, and the devil, shall be cast into the lake of fire and brimstone. God is not only an avenger of all immoralities committed against his righteous law, but of all false doctrine and false worship, and of everything that is contrary to the Gospel and its ordinances.
Him shall God destroy is a much stronger expression than "suffer loss (v. 15)." Paul may also have in mind unsaved people who may or may not be in the congregation, but who, in fact, are false believers. The prospect for such people is a fearful one. Under the old dispensation, death was the penalty for polluting the temple.
• And they shall be upon Aaron, and upon his sons, when they come in unto the tabernacle of the congregation, or when they come near unto the altar to minister in the holy place; that they bear not iniquity, and die: it shall be a statute for ever unto him and his seed after him. (Ex 28:43; KJV)
• And the LORD said unto Moses, Speak unto Aaron thy brother, that he come not at all times into the holy place within the vail before the mercy seat, which is upon the ark; that he die not: for I will appear in the cloud upon the mercy seat. (Lev 16:2; KJV)
• But they shall not go in to see when the holy things are covered, lest they die. (Num 4:20; KJV)
• And ye shall bear no sin by reason of it, when ye have heaved from it the best of it: neither shall ye pollute the holy things of the children of Israel, lest ye die. (Num 18:32; KJV)
for the temple of God is holy,
The temple of God is to be respected and regarded as sacred. This was undeniably the common opinion among the Jews with regard to the temple at Jerusalem; and it was the common doctrine of the Gentiles regarding their temples. Sacred places were treasured and regarded as hallowed; and Paul applies this general truth to the Christian church in general: "But the LORD is in his holy temple: let all the earth keep silence before him" (Hab 2:20; KJV). God is in His holy temple; indwelling individual believers; therefore you are holy and special. You are important because God loves you and Jesus died for you. How wonderful is that!!
One definition for holy is "dedicated or devoted to the service of God, the church, or religion: a holy man." The general idea is that a Christian is separated—in scripture, in its moral and spiritual significance it means 'separated from sin and therefore consecrated to God, sacred.'"
Those of us who teach and preach the word of God should tremble at the thought that we might unintentionally injure the very structure we are trying to build. It is extremely important that we think, study, pray and rightly interpret the Word of God, so that we, who labor to bring men to Christ, do not drive them away from Him through errors and half-truths.
which temple ye are.
This proves that even though Paul regarded the Corinthian believers as regrettably corrupt in some respects, he still regarded them as a true church—as a part of the holy temple of God. So Christ by his Spirit dwells in all true believers. The temple was devoted and consecrated to God, and set apart from every common use and devoted to a holy use, to the service of God. So all Christians are separated from common uses, and set apart for God and his service. They are sacred to him—this is a very good argument against all fleshly lusts, and all doctrines that tolerate and approve of them. If we are the temples of God, we must do nothing that can alienate ourselves from him, or corrupt and pollute ourselves, and in that way make us unfit for his use; and we must reject any doctrine or promoter of any doctrine that would seduce us to take part in any such practices. Note, Christians are holy by profession, and should be pure and clean both in heart and conversation. We should heartily despise, and carefully avoid, that which will defile God's temple, and bring to fruition everything that ought to be sacred to him.