Apostles and Wisdom: Part 12 of 13 (series: Lessons on 1 Cor)
by John Lowe
(Woodruff, S.C.)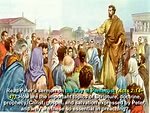 Appendix 2.7.1: Christian Rewards


Five crowns are mentioned in the New Testament.

The first crown that I want to describe is the crown of life.
The crown of life is the subject of James 1:12, "Blessed is the man who endures trial, for when he has stood the test he will receive the crown of life which God has promised to those who love him."

The crown of life is sometimes called "the lover's crown."
We find strength to overcome temptation and endure trials through the love of God.
This crown is for those who love Him.
How do you know if you love Him?
Jesus told us how; He said, "If you love Me, keep My commandments."
If you really love Him, you are obeying Him.
Love is so important.
Jesus said that the greatest commandment was to love God with all your heart and also to love others.
Without His love in our hearts, trials can cause us to become bitter and critical and lose the crown of life.
This is also the crown that is received for being "faithful unto death."
It says in Revelations 2:10, "…Be faithful unto death, and I will give you the crown of life."
All believers have earned life, (The Bible says that when we are saved that we pass from death into life.) but not all believers will be rewarded with the crown of life.
To receive it, we must love the Lord more than our lives because it says in Mark, "For whoever would save his life will lose it; and whoever loses his life for my sake and the gospel's will save it" (Mark 8:35).
We must live for Christ and endure temptations and trials in the power of the love of God, and then we will receive the crown of life.

The second crown is the crown of rejoicing.
The crown of rejoicing is called the soul winners crown.
The greatest work we are privileged to do for the Lord is to bring others to the knowledge of Christ as personal Savior.
But let me ask a question, "Why win souls?
And now, I will give you four answers to that question.
First, it is wise to win the lost.
Proverbs 11:30 says, "The fruit of the righteous is a tree of life, And he who wins souls is wise."
The world may not put much value in the saving of a soul, but God does.
When you tell someone about Jesus you are wise.
Second, it is a work against sin.
James wrote, "let him know that he who turns a sinner from the error of his way will save a soul from death and cover a multitude of sins" (James 5:20).
Those who don't know Christ as Savior are spiritually dead. They can be born again, but they need to hear about Jesus.
Third, it is a cause for joy in heaven.
Luke 15:10 says, "…there will be rejoicing among the angels of God over one sinner who repents."
What a picture this is!
Can you imagine the kind of celebration this is?
As far as I know I have never been the cause of a celebration here on earth, but one day in November 1951 I received Jesus as my Savior and the angels in heaven celebrated.
Praise God!
Forth, every soul-winner will shine as the stars for ever.
Daniel expressed that thought when he wrote, "Those who are wise shall shine Like the brightness of the firmament, And those who turn many to righteousness Like the stars forever and ever" (Dan. 12:3).
Allow me to ask another question, "Since we know why we must win souls, how do we go about it?"
I can think of three ways in which we can be soul-winners.
First, we can win souls by the life that we lead.
Others see Christ in us as we respond in the right way when we are up against difficult life situations.
Second Corinthians 3:2 declares, "You are our letter, written on our hearts, known and read by all."
And have you ever heard it said, "You are the only Bible that some people ever read?"
You can talk about Jesus all you want, but others are watching to see if your life backs up what you say.
Second, we can lead others to Christ with our mouths.
We need to witness verbally for Christ, trusting the Holy Spirit to give us power.
That was the mission given by Christ to His disciples, just prior to His ascension; and it is for us also.
He said, "But you will receive power when the holy Spirit comes upon you, and you will be my witnesses in Jerusalem, throughout Judea and Samaria, and to the ends of the earth."
Third, we can win souls through our giving.
We should give tithes and offerings to support others who are preaching Christ and then the Bible says we will have fruit abound to our account.
When Paul wrote to the Philippians he said "…It is not that I am eager for the gift; rather, I am eager for the profit that accrues to your account" (Phil. 4:15-17).
Paul wanted them to know the blessings that come from supporting God's ministers.
Because of our giving and support, preachers and missionaries can take the gospel to the lost in
this country and "to the ends of the earth."
There is much rejoicing when the lost person is saved.
Heaven rejoices (Luke 15:10); the new believer rejoices (Acts 8:39); the sower and reaper rejoice together (John 4:36); and the whole family of God rejoices.
I hope that you will receive the soul winner's crown.
The third crown is the crown of righteousness.
The crown of righteousness is found in 2 Timothy 4:8, "Finally, there is laid up for me the crown of righteousness, which the Lord, the righteous Judge, will give to me on that Day, and not to me only but also to all who have loved His appearing."
The crown of righteousness is the crown earned by believers who eagerly anticipate the second coming of Christ.
It is sad, but today there are a lot of Christians who believe in the Second Coming, but they are not looking forward to it.
Life is too good-they have so much of what the world can give that they don't want it to end.
But Paul was anxious for Christ to return, and in light of that Paul could say, "I have fought the good fight" (2 Tim. 4:7).
In the realm of spiritual warfare, Paul won the battle.
He could also say, "I have finished my course" (v. 7).
In the course of the life that he traveled, there was no detour around hard places.
There was no looking back (Luke 9:61-62).
Instead, Paul kept his eyes on Christ (Phil. 1:6).
Finally, he could say, "I have kept the faith" (2 Tim. 4:7).
He faithfully preached all the Word of God (Acts 20:24-31).
Are you looking forward to seeing Jesus?
You could live to see Him return or you will see Him in Heaven and I hope He personally hands you the crown of righteousness.
The forth crown is the crown of glory (1 Peter 5:4).
The crown of glory is a special reward for the faithful, obedient, God-called pastor.
Christ, The Chief Shepherd Himself gives it.
It says in 1 Peter 5:4, "And when the Chief Shepherd is revealed, you will receive the unfading crown of glory." It is eternal; it "fadeth not away."
Yet every believer may share in the pastor's "crown of glory."
According to Matthew 10:41, it's a crown that we can also receive: "He who receives a prophet (This is another word for pastor.) because he is a prophet shall receive a prophet's reward, and he who receives a righteous man because he is a righteous man shall receive a righteous man's reward."
God will reward those who support His chosen servants through prayer and encouragement, and by giving freely of their selves and their possessions.
The pastor earns this crown by doing one of three things:
First, by feeding the church, that is, by preaching the Word of God.
It says in 1 Peter, "Shepherd God's flock, for whom you are responsible." (1 Peter 5:2).
Pastors feed their flock with God's Word, by rightly dividing God's Word and preaching all of it.
Second, by taking the spiritual oversight of the church.
The verse which we just read says that the pastor is responsible for shepherding his flock of believers.
What does a shepherd do?
He cares and protects his flock.
Third, by being an example to the church.
Pastors are to walk with God by faith.
They are to be spiritual leaders.
Peter wrote, "Do not be like a ruler over people you are responsible for, but be good examples to them" (1 Peter 5:3).
A pastor leads by example.
If you are not able to give to support a preacher or missionary, you can support them by praying for them and encouraging them, and then perhaps you will receive the crown of glory.
The fifth crown is the incorruptible crown (1 Cor 9:24-25).
This is the crown for victorious living-for living the Christian life.
It is mentioned in 1 Corinthians 9:24-25, "You know that in a race all the runners run, but only one gets the prize. So run to win! All those who compete in the games use self-control so they can win a crown. That crown is an earthly thing that lasts only a short time, but our crown will never be destroyed."
In the Greek games, the competitors ran for a corruptible crown.
In our modern day Olympics, the competitors run for a gold medal.
In the Christian race, we run for an incorruptible crown.
The key to victory is a disciplined life, whether in the Olympic Games or in the Christian life.
Athletes deny themselves many things that their bodies crave.
Likewise, Christians must subdue their bodies or else be disqualified for the prize.
The New Testament contains guidelines for us to follow to win the crown of victory.
First, we must deny ourselves of anything that would weigh us down and hinder us.
It says in Hebrews, "We have around us many people whose lives tell us what faith means. So let us run the race that is before us and never give up. We should remove from our lives anything that would get in the way and the sin that so easily holds us back" (Heb. 12:1).
We need to resist the appeal of sin; call upon the help of the Holy Spirit and do our best not to sin.