Apostles and Wisdom: Part 13 of 13 (series: Lessons on 1 Cor)
by John Lowe
(Woodruff, S.C.)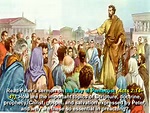 It's difficult and we will fail; but when we sin we have His promise that if we will confess our sin that He will forgive us.
Second, we must keep our eyes fixed on Christ.
God's word tells us in Hebrews 12:2, "Let us look only to Jesus, the One who began our faith and who makes it perfect."
He has told us through His Word how we are to live, and He will help us to live holy lives if we just follow His directions.
So we must read our Bibles, and when we do He will speak to us from its pages.
Trust Him and do what He said.
Third, we must find our strength in the Lord.
That's what Paul wrote in his letter to the Ephesians, "Finally, be strong in the Lord and in his great power. Put on the full armor of God so that you can fight against the devil's evil tricks." (Eph. 6:10-18).
It's the Holy Spirit that gives us the power to live the Christian life.
You and I don't have the power within ourselves to do it.
Even Paul had to say that he needed help.
He said he wanted to do what was right, but as hard as he tried he couldn't.
He could only do it with God's help.
Forth, we must place our all on the altar of the Lord.
It says in Romans 12:1-2, "So brothers and sisters, since God has shown us great mercy, I beg you to offer your lives as a living sacrifice to him. Your offering must be only for God and pleasing to him, which is the spiritual way for you to worship. Do not change yourselves to be like the people of this world, but be changed within by a new way of thinking. Then you will be able to decide what God wants for you; you will know what is good and pleasing to him and what is perfect."
We must yield our lives to Christ daily.
We must recognize that we have a sinful nature, and through prayer seek God's forgiveness and help.
We must realize that without God we are nothing and we can do nothing.
Let's do everything for His honor and glory.
Fifth, we must, by faith, refuse anything that would impede spiritual progress.
We must have the type of faith that Moses had.
It says in Hebrews, "It was by faith that Moses, when he grew up, refused to be called the son of the king of Egypt's daughter. He chose to suffer with God's people instead of enjoying sin for a short time. He thought it was better to suffer for the Christ than to have all the treasures of Egypt, because he was looking for God's reward. (Heb. 11:24-29).
There is no way to win the incorruptible crown and be a spectator in the Christian life.
We must enter the race and run to win!
In an old legend, an angel was talking with an aged Christian.
Going into a great vault, he brought out a beautiful crown with shinning jewels of rare value.
He said, "This is the crown I designed for you when you were a youth, but you refused to surrender yourself completely to the Lord; now it is gone."
From the vault he brought another crown.
It was beautiful, but not nearly as beautiful as the first one.
He said, "This is the crown I designed for your middle age, but you gave those years to sluggish discipleship; now it is gone."
The angel brought a third crown from the vault.
It was just a plain gold crown with no jewels in it.
He said, "Here is the crown of your old age. This is yours for all eternity."
Every one of us will receive a crown according to our labor.
What will be your reward?
Remember, every child of God will get one.

ISN'T GOD WONDERFUL?