Apostles and Wisdom: Part 3 of 13 (series: Lessons on 1 Cor)
by John Lowe
(Woodruff, S.C.)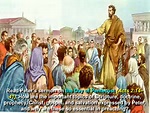 8 Now he that planteth and he that watereth are one: and every man shall receive his own reward according to his own labour.


Now he that planteth and he that watereth are one:
Paul does not mean that he that planteth and he that watereth are the same in every respect; they were different in the same vein that all men are individuals and unique. Paul was an apostle, Apollos only a preacher of the Gospel, Peter a simple fisherman who became an apostle and preached the first great sermon of the New Testament; but they did not have the same gifts or the same quantity of gifts. Furthermore, they did not do their work in the same way, and they did not attain the same level of usefulness. But they had one and the same commission, which was to preach the Gospel; and the Gospel they preached was the same; and so were their views, and their reliance upon the Lord, their aims, and their goals, which were to labor to promote the glory of God by the salvation of souls; and they had the same affection for one another, and that carries with it a good argument for why the members of this church should not compete against each other and align themselves behind their favorite preacher. Paul and Apollos were one in the following respects:
1. They were united in that they did the same work. Although they were engaged in different things—because planting and watering are different kinds of work—yet they are one in regard to the end result. The work they did was not alike, but both tended to accomplish the same end. It is not as if one planted, and the other was engaged in pulling up.
2. Their work was one, because each of them was as necessary as the other. If the grain was not planted, there would be no use in pouring water there; if it is not watered, there would be no use in planting. The work of one is as necessary as the work of another; and the one should not undervalue the labor of the other.
3. They are one in regard to God. They are both engaged in performing one work; God is performing another. There are not three parties or portions of the work, but two. They perform one part of the work; God alone performs the other. Theirs would be useless without him; he would not ordinarily perform his, without their performing their part. They could not do his part, if they wanted to—just like they cannot make a plant grow; he could perform their part; he could plant and water without the farmer; but it is not in accordance with his planning and methods to do it.

Keep in mind that Paul and Apollos were not rivals and they were not founders of separate sects; but they were not mere theologians either. God's preachers are one in Christ and one in ministry; they are one in their interests, aims, and methods; and for the believers in Corinth to consider these men as rivals was unscriptural and shows their ignorance of the Word and work of the Lord.

Note: There is no reference to baptism in "watered."

and every man shall receive his own reward
Jesus expressed the same idea as recorded in John 4.34-38: " Jesus saith unto them, My meat is to do the will of him that sent me, and to finish his work. Say not ye, There are yet four months, and then cometh harvest? behold, I say unto you, Lift up your eyes, and look on the fields; for they are white already to harvest. And he that reapeth receiveth wages, and gathereth fruit unto life eternal: that both he that soweth and he that reapeth may rejoice together. And herein is that saying true, One soweth, and another reapeth. I sent you to reap that whereon ye bestowed no labour: other men laboured, and ye are entered into their labours." The sower and reaper not only work together, but one day they shall rejoice together and receive their own rewards. There can be no such thing as an isolated ministry, because each worker enters into the labors of others. I have had the privilege of leading some to the Lord who were strangers to me, but others had sown the seed and watered it with their love and prayers.

And every man. The argument of the apostle here has reference only to ministers; but it is equally true of all men, that they shall receive their proper reward.

Shall receive. The Christian will receive his rewards on the Day of Judgment, when God decides the eternal destiny of men. The decisions He makes on that day will be simply determining what every moral agent ought to receive.

His own reward. Every person will receive his fit or proper reward; it will be that which pertains to only him and it will be a proper expression of the character and value of his labor. The word reward (misyon) means something given or received in return or recompense for service, merit, hardship, etc. In the Scriptures it denotes pay, wages, recompense
given to day-laborers, to soldiers, etc. It is applied often, as here, to the reckoning or justice which God will appoint to men on the Day of Judgment; and it is applied to the favors which he will bestow on them, or to the punishment which he will inflict as the reward for their deeds. Instances of the former sense occur in Matthew 5:12, "Rejoice, and be exceeding glad: for great is your reward in heaven …"; of the latter in 2 Peter 2:13,15, "And shall receive the reward of unrighteousness, as they that count it pleasure to riot in the day time. Spots they are and blemishes, sporting themselves with their own deceivings while they feast with you … Which have forsaken the right way, and are gone astray, following the way of Balaam the son of Bosor, who loved the wages of unrighteousness" (2 Peter 2:13-15; KJV). In regard to the righteous, it does not imply merit, or that they deserve heaven; but it means that God will give to them that which he has promised, according to the terms of his new covenant, and it will be a fitting expression of his acceptance of their services. It is appropriate, according to these preparations, that they should be blessed in heaven. It would not be appropriate for them to be cast down to hell. Their sole title to eternal life is the grace of God through Jesus Christ; the nature and amount of the rewards bestowed on them will be according to the services which they render on earth. A parent may decide to divide his estate among his sons by some arbitrary means; but he may decide that it should be divided according to their expressions of love, and their obedience to him.
according to his own labour.
There is only one true Church. And Jesus is the head and foundation of that Church; every born again, blood-washed believer is a member of it, and each member of the Church will receive his or her own reward. The scripture does not teach that all believers will share and share alike in eternity—far from it! Each believer will receive a reward for "… the things done in his body, according to that he hath done, whether it be good or bad" (2 Cor 5:10; KJV).
Salvation is entirely of the Lord, but rewards are earned by and through faithful service. If we are faithful servants we will receive a full reward; if we are unfaithful we will lose our rewards. In 2 John 8, we are warned, "Look to yourselves, that we lose not those things which we have wrought, but that we receive a full reward" (2 John 1:8; KJV). John is not speaking of losing our salvation, but of losing "those things which we have wrought"—that is our stewardship and faithful labor.
The gospel preacher's reward will be measured according to his work, and not according to his success. The injunction of God is not that men shall go and "convert" all nations, but that they shall "preach the gospel to the whole creation."
What men may think of our ministry is not important; what God may think is of supreme importance. Our reward must not be the praise of men; but the "well done" of the Lord of the harvest.
9 For we are labourers together with God: ye are God's husbandry
tillage
, ye are God's building.
For we are labourers together with God:
Ministers are laborers in the Lord's vineyard; their work is often difficult and taxing, both to body and mind, because they must devote themselves to Bible study, meditation, constant prayer, and preaching; and administer the ordinances of baptism and communion; they must be able to dispense discipline, reprimands, and encouragement, and they are often called upon to council members of their flock. Of course ministers are expected to preside over weddings and funerals, and visit the sick and potential members. It is a work, which no man is adequately prepared to do; a work requiring diligence, patience, and faithfulness. It is an honorable profession, and, when rightly performed, it deserves respect. However, they do not labor alone, since they work with God; not as co-workers, but as subordinate workers, because even though they may plant and water, they have no part in giving the increase. The Lord is the husbandman, the chief master builder, and they are laborers under him; however, he works with them; therefore their labors are not in vain, and they receive great encouragement to go on in their work; and they are God's laborers with one another, which is a sense of the phrase we must not overlook. A similar expression occurs in 2 Corinthians 6:1, "We then, as workers together with him …" The apostle often, in his epistles, speaks of his fellow workmen, and fellow laborers, who worked together with him under God. We do nothing by ourselves; we labor together in that work which God has given us to do, expect all our success from him, and give Him all the glory. The ASV gives the true meaning: "For we are God's fellow-workers." They, he and Apollos, were God's laborers, and fellow laborers with each other.