Apostles and Wisdom: Part 5 of 13 (series: Lessons on 1 Cor)
by John Lowe
(Woodruff, S.C.)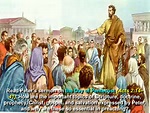 and another buildeth thereon.
Now he speaks to those teachers who succeeded him in the church of Corinth, and in this regard to all the pastors of congregations, since they followed the planters and chief builders. I have laid the foundation, and another buildeth thereon. As he said before, I have planted, Apollos watered. It was Paul that laid the foundation of a church there in Corinth. He had led them to faith in Jesus (begotten them) through preaching the gospel to them: "For though ye have ten thousand instructors in Christ, yet have ye not many fathers: for in Christ Jesus I have begotten you through the gospel" (1 Cor 4:15;KJV). Whatever teachers they had besides him, they did not have many fathers. He was their father in that they were born again under his preaching. He would not demean any that had served among them, and he would not be robbed of his own honor and respect. Note, Faithful ministers may have, and ought to have a concern for their own reputation. Their usefulness depends to a great extent upon it. That is why he issues this warning in the next phrase But let every man take heed how he buildeth thereon. This is a suitable caution, since there may be a very unresponsive building on a good foundation. It is easy to err here; and great care should be used, not only to lay a sure and right foundation, but to erect a regular building upon it. Nothing must be laid upon it that the foundation cannot bear.

The apostle's remarks do not apply to private Christians, who were directed by the apostle's ministry to build his soul upon the rock of ages, Christ the sure foundation; though it can be said that the apostle laid Christ as a foundation, and encouraged others to build their faith and hope upon him for the accomplishment of their eternal salvation; and many were enabled to do so, which was the happy fruit of his ministry, and what gave him pleasure; and in this sense he also built upon this foundation, for this cannot be said of another, to the exclusion of himself. But he would never lay a foundation, and direct others to build on it, and not build upon it himself. But here he refers to Apollos when he says another buildeth thereon; Apollos being another minister of the Gospel. Apollos, or any other who might follow him, should build upon the foundation he had laid; and on it there should be the birthing and edifying of souls; and the rearing up of a superstructure of Gospel truths.

But let every man take heed how he buildeth thereupon.
Every person must give an account of the nature of his instructions; and he should take care to expound the true doctrine—"Take heed unto thyself, and unto the doctrine; continue in them: for in doing this thou shalt both save thyself, and them that hear thee" (1 Tim 4:16; KJV). Here is the two essentials of a good pastor: His teaching will be of no avail unless his own life is in accord with it; and his own purity of life is not enough unless he is diligent in teaching doctrine that will bear the test of the great Day. And from this we learn, that it is important that the church should be built on the true foundation; and that it is no less important that it should be built up in the knowledge of the truth. Great evils are constantly occurring in the church because young converts lack proper instruction. Many seem to feel that if the foundation is properly laid, that is all that is needed. But the essential thing which is needed at the present time, is, that those who are converted should, as soon as possible, be instructed fully in the nature of the religion which they have embraced. What would you think of a farmer who planted a tree, and never watered or trimmed it; who would plant his seed, and never cultivate the grain as it springs up; who would sow his fields, and then think that was all he needed to do, and leave it to be overrun with weeds and thorns? Faithfulness is often stunted, its early shoots blighted, and its rapid growth checked, because of the lack of early education in the church. And perhaps there is nothing in which ministers fail more frequently than that which relates to the culture which ought to be imparted to those who are converted - especially in early life. Our Savior's views on this were expressed in the admonition to Peter, "Feed my lambs," John 21:15. Note, Ministers of Christ should take great care that they do not build their own daydreams or false way of thinking on the foundation of divine revelation. What they preach should be the plain doctrine of their Master, or what is perfectly agreeable with it. In other words, they should not advocate and set forth anything in the Church, either in what is taught, or in how it is taught that is different from the apostles who were the chief builders.
People should pay attention to the instruction they or others give to a church:
1. Because of the fact that the church belongs to God, and they should be cautious what directions they give to it.
2. Because it is important that Christians should not only be on the true foundation, but that they should be fully instructed in the nature of their religion, and the church should be permitted to rise in its true beauty and loveliness.
3. Because of the evils which result from false instruction. Even when the foundation is firm, countless evils will result from the lack of honest and discriminating instruction. Error sanctifies no one. The effect of it even on the minds of true Christians may be to mar their piety; to dim its luster; and to darken their minds. No Christian can enjoy religion except under the full-orbed shining of the word of truth; and therefore, every man, who gives false instruction, is responsible for all the darkness he causes, and for all the lack of comfort which true Christians under his teaching may experience.

11 For other foundation can no man lay than that is laid, which is Jesus Christ.

For other foundation can no man lay
The emphasis in this verse is on "foundation," as it has to do with Paul's work in Corinth. "I marvel that ye are so soon removed from him that called you into the grace of Christ unto another gospel: Which is not another; but there be some that trouble you, and would pervert the gospel of Christ" (Gal 1:6-7; KJV). There is only one Gospel, there is only one salvation—One way, one Name, one Door, one Church, one Foundation, one Head, one body. The one foundation of the New Testament Church, who just happens to be the only salvation of men, is Jesus Christ; there is no other true foundation. A foundation is that upon which a building is constructed; the foundation of a church is the doctrine on which it is established; that is, the doctrines which its members hold—those truths which are the basis of their hopes, and by embracing them they have been converted to God. This foundation was laid by God: "Therefore thus saith the Lord GOD, Behold, I lay in Zion for a foundation a stone, a tried stone, a precious corner stone, a sure foundation: he that believeth shall not make haste" (Isaiah 28:16; KJV). Paul's work under God was to point to this foundation, to induce them to believe, and thus to build them upon it. His preaching laid it in their hearts. To preach Christ is to preach the fundamental or foundational truth of the church.

Men may attempt to lay other foundations than Christ, and build upon them, but they will be of no avail; all other foundations besides him are sandy foundations; such as sexual obsession, a worldly perspective, a religious education, an external profession of religion, a man's own righteousness, and the unconstrained mercy of God; but men ought to lay no other, nor can they, that will be of any advantage to themselves or others. These inferior foundations will not support a proper ministry, even though it is built according to the plans of other successful ministries. There is another reason why Churches and ministries fail and it may happen more often than the former; it occurs when an improper use is made of this heavenly doctrine that results in a bad superstructure being built on the foundation.

than that which is laid,
God the Father has already laid the foundation through his eternal counsels and covenant, when he appointed Christ to be the Savior and Redeemer of his people; and in the fullness of time, when he sent him into the world in human flesh; and when by the Spirit of God, he revealed Christ to them, and formed him in them; and by the ministers of the Gospel, who by the Gospel ministry have laid him, as the foundation for their souls to build their hope upon: hence he is called the "foundation of the apostles and prophets", as he is here, and the foundation of our faith, salvation, and future hope. A man cannot lay any other, since the only one recognized by God has already been laid.

which is Jesus Christ.
As God-man and Mediator, He is the foundation on which the church, and every believer is built; he is the foundation of the covenant of grace, and of eternal salvation; of the faith and hope, peace, joy, and comfort of all the saints; and of the building of God, that house not made with hands, that city which has foundations, eternal glory in the other world; and he is the foundation of all true doctrine; that is, the doctrines of his deity, of his divine and eternal sonship, of his incarnation, of his Messiahship, of his obedience, sufferings, death, and resurrection from the dead, of justification by his righteousness, pardon by his blood, and atonement by his sacrifice. These doctrines are fundamental; but the doctrines relating to the person, offices, and grace of Christ, are the only foundation of the Gospel.