Are There any Sinners in Your Church? Part 2 of 2 (series: General Sermons)
by John Lowe
(Woodruff, S.C.)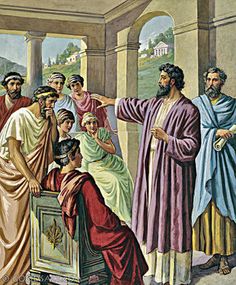 Then he said, "Thank God I am not an adulterer." He started to look around him and judge his fellow man, and to think he was better than the other person. God forbid that we should do any of that! Let God be the judge. Whenever you compare yourself to other men you'll always measure up. But compare yourself to Christ and see how you really are. You will say like Isaiah, "Woe is me." And you will cry out to God like the other man, "Have mercy on me a sinner." Then you can sing "Amazing Grace how sweet the sound that saved a wretch like me. I once was lost but now am found, was blind but now I see."

Galatians 6: says, "Brethren, if a man be overtaken in a fault, ye who are spiritual, restore such an one in the spirit of meekness; considering yourself, lest you also be tempted." The Pharisees thought there were spiritual. Look at Luke 18:12 of our text. "I fast twice a week, and I give tithes of all things I own." Does that sound familiar? I go to church every Sunday. I'm spiritual. This is just a meaningless ceremony if your heart is not right with God and you don't worship Him and love Him with all your heart and soul, mind and strength. Many go to church because of tradition.

Illustration: During a revival, the evangelist was so excited that just about everyone there was Baptist. So he asked that all those who were Baptist would raise their hands. Everyone raised their hands except for one little old lady in the front row. The preacher asked what church she was from and she said Presbyterian. He asked her why she was Presbyterian. She said, "My grandma and grandpa, my parents and my brothers are all Presbyterian, so I'm Presbyterian." Then the preacher said, "Well, what if your Grandma, and Grandpa, and your parents, and your brothers were all crazy, what would that make you?" And she said, "Baptist." See to some it's just a family tradition. Christianity isn't a religion, it's a relationship.

Now lets look at the Publican at Church. He came humbly. "God resists the proud but gives grace to the humble." He came to God penitently confessing his sin.

1 John 1:9 says, "If we confess our sins, he is faithful and just to forgive us our sins and to cleanse us from all unrighteousness."
Psalm 24:3-4 says, "Who may ascend into the hill of the Lord? Or who may stand in His holy place? He who has clean hands and a pure heart."

We need to say like the Psalmist David in Psalm 51, "Have mercy upon me, O God, according to your loving kindness; according to the multitude of your tender mercies. Blot out my transgressions, Wash me thoroughly from my iniquity, and cleanse me from my sin. Purge with hysop, and I shall be clean; wash me, and I will be whiter than snow. Create in me a clean heart, O God, and renew a steadfast spirit within me."

Now let us look at the Pharisee leaving church. He went away just as he had come - lost, he was not justified. Why? Because he trusted in himself. He added up all the good that he had done and trusted in that. There is only one man in whom we can trust. His name is JESUS. Look away from self, look to the cross, and trust Him. Being good is not enough. You must have Jesus in your heart. He didn't acknowledge himself as a sinner. A man never gets to God unless he acknowledges his sin and feels a need for Him. Proverbs 28:13 says, "He that covereth his sins shall not prosper; but whosoever confesseth and forsaketh them shall have mercy." He didn't cry out for mercy. He just told God how good he was instead of how sinful he was.

Finally, let us look at the Publican leaving church.

He left a saved man. Jesus said that he went away justified. Any man who comes humbly, who repents of his sin, and confesses to God and cries for mercy, can and will be saved. Romans 10:13 says, "For whosoever shall call upon the name of the Lord shall be saved." But if you trust in your own righteousness, you are lost. John 3:36 says, "He who believes in the Son has everlasting life; and he who does not believe in the Son shall not see life, but the wrath of God abides on him."

He set an example for all sinners. Can a sinner pray? You bet. "Lord, be merciful on me a sinner." This is called the Sinner's Prayer. God invites you to come to Him. Look at what He says in Isaiah 1:18: "Come now, let us reason together, says the Lord: though your sins are like scarlet, they shall be as white as snow; though they are red like crimson, they shall become like wool."

Look at what God says in Isaiah 55:1,6-7: "Ho, every one who thirsts, come to the waters; and he who has no money, come, buy and eat! Come, buy wine and milk without money and without price…"Seek the Lord while he may be found, call upon him while he is near; let the wicked forsake his way, and the unrighteous man his thoughts; let him return to the Lord, that he may have mercy on him, and to our God, for he will abundantly pardon."

Look at what God says in Revelations 22:17: "And the Spirit and the bride say, "Come!" And let him who hears say, "Come!" And let him who thirsts come. Whoever desires, let him take the water of life freely."

You better get your business right with God now.