Are You A Radical Christian!
by Richard Allen Kent
(Sullivan, Indiana, USA)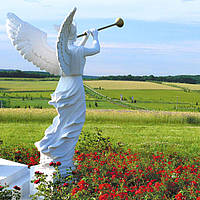 Are we radical Christians? Do we stand up for what we believe, perhaps even at the cost of our social status or financial status? Would we stand alone against an army of devils? Would we stand as Jesus did, and turn over a few tables? Or is the fire within us easily extinguished by the threats or pursuit of the enemy? Are we shaken by intimidation or fear of any kind, when face to face with those that deny the fact that Jesus Christ is the Son of God and the only way to Heaven?

Let us take a moment, and truly seek our own personal answers to these questions. As Christians we know, or at least should know what we believe and stand on. If we, as soldiers in God's army are not fully ready to stand when called upon, then the enemy already has an upper hand. Meaning if we hesitate to defend what we claim is real, then that weakness will shine like a beckon to all that oppose the God of the Holy Bible.

If we can not stand for what we teach is the only truth, then what can we truly stand on? Are we an army of firm minded Christians that know, and proclaim what we hold as truth or simply a social click of people seeking a political edge of sorts, using God and his church to promote self gain, and riches?

If God were to stand before us today, what do we think he would say? Is the Church what it should be? Is it the pure and spotless bride as spoken in the Word of God? If it takes more than a second to answer that, then our answer is no. We know as Christians that God says he will spew out the lukewarm, meaning he will not accept those that are cold (apathetic) or even a little warm, but only those that are on fire for Jesus and stand as he did will stand by God in the end.

To be on fire for God means to be radical. Have you ever heard someone call someone a radical, and meant it as an insult? To insult a radical Christian to me is to deny the Word of God. We either are, or we are not a true person of God and a disciple of Jesus Christ. If we are, then we will stand against anything that attempts to lessen its truth. God does not need pretty people in suits; he needs warriors ready to defend with a spiritual sword. He needs a people that are true in prayer, and will boldly press on, ready to defend truth in a world full of lies.

May we all take some time today and seek God. Asking him to reveal to us how he sees things. Is there something we should be working on, whether it is in ourselves or in the Church? If the Church is not ready: how do we get it ready? If we need boldness, then let the elders pray for us. If we need strength, then let us exercise our faith and God shall make us strong.

If we have been playing church, and are now ready to get serious? Then may God bless us with his anointing and power to deliver the Word of God in boldness and truth. Let the Holy Spirit touch each one of us, with the fiery finger of his holiness. Burning out any wrong within us, and creating vessels that God can truly be of use. Jesus is indeed coming soon will we be ready?