Are You in Good Hands?
by Kenneth Reginald Jenkins
(Savannah,GA)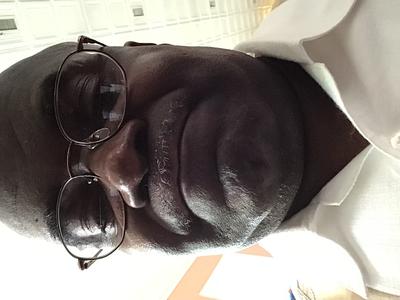 Psalm 91 King James Version (KJV)
He that dwelleth in the secret place of the most High shall abide under the shadow of the Almighty.
2 I will say of the LORD, He is my refuge and my fortress: my God; in him will I trust.
3 Surely he shall deliver thee from the snare of the fowler, and from the noisome pestilence.
4 He shall cover thee with his feathers, and under his wings shalt thou trust: his truth shall be thy shield and buckler.
5 Thou shalt not be afraid for the terror by night; nor for the arrow that flieth by day;
6 Nor for the pestilence that walketh in darkness; nor for the destruction that wasteth at noonday.
7 A thousand shall fall at thy side, and ten thousand at thy right hand; but it shall not come nigh thee.
8 Only with thine eyes shalt thou behold and see the reward of the wicked.
9 Because thou hast made the LORD, which is my refuge, even the most High, thy habitation;
10 There shall no evil befall thee, neither shall any plague come nigh thy dwelling.
11 For he shall give his angels charge over thee, to keep thee in all thy ways.
12 They shall bear thee up in their hands, lest thou dash thy foot against a stone.
13 Thou shalt tread upon the lion and adder: the young lion and the dragon shalt thou trample under feet.
14 Because he hath set his love upon me, therefore will I deliver him: I will set him on high, because he hath known my name.
15 He shall call upon me, and I will answer him: I will be with him in trouble; I will deliver him, and honour him.
16 With long life will I satisfy him, and shew him my salvation.


"Are You in Good Hands?"
Psalm 91

I wish to preach from the Scripture in your hearing with this thought. A question I want to propose to you the Christian and those who have not made up their minds in order to meet the Savior not half-way but with every being of your mind, body and spirit asking "Are You in Good Hands?"
Psalm 91 is for modern-day Christians and the psalm of comfort and protection.
According to Judaism, Psalm 91 is recited during the Pesukei Dezimra in the Shabbat, Yom Tov, and Hoshana Rabbah morning services.4 It is also recited after the evening prayer on Motza'ei Shabbat and during the nightly Bedtime Shema. In each of these prayers, verse 16 is said twice.
During a study and research, here are the findings of how we are in "good hands" with God.


I.YOU ARE ASSURED SHELTER AND REST. Even in times where the hustle and bustle of life seems to wear you down, you can be sure that you will have shelter and rest. You can be sure that God is there to give you shelter and rest from those storms in our lives. In Matthew 11:28-30, Jesus said, "Come to me, all you who are weary and burdened, and I will give you rest. Take my yoke upon you and learn from me, for I am gentle and humble in heart, and you will find rest for your souls. For my yoke is easy and my burden is light." One day, the psalmist picks up his ecclesiastic pen and beautifully wrote the following words, "Oh, that I had the wings of a dove! I would fly away and be at rest." Psalm 55:6.

II.YOU ARE ASSURED PROOF POSITIVE PROTECTION. According to Wikipedia, from 1965 to 1996, former presidents were entitled to lifetime Secret Service protection, for themselves, spouses, and children under 16. A 1994 statute, (Pub.L. 103–329), limited post-presidential protection to ten years for presidents inaugurated after January 1, 1997.7 Under this statute, Bill Clinton would still be entitled to lifetime protection, and all subsequent
presidents would have been entitled to ten years of protection.8 On January 10, 2013, President Barack Obama signed the Former Presidents Protection Act of 2012, reinstating lifetime Secret Service protection for his predecessor George W. Bush, himself, and all subsequent presidents. Now, just like the Secret Service protects the President of the United States, God is a protector of His people day in and day God is our refuge and strength, an ever-present help in trouble." 2 Thessalonians 3:3 tells us that, "But the Lord is faithful, and he will strengthen you and protect you from the evil one." Remember, God is our protector and protection so this ought to let you know that you are in good hands.

III.YOU ARE ASSURED DELIVERANCE FROM THOSE BAD THINGS. Think about this, you see a man drowning out in the ocean somewhere. What would you do? Throw out a lifeline for them or let them drown? In 1888, Edwin Ufford sat down and wrote these words: Someone is drifting away;" throw out the lifeline! Throw out the lifeline! Someone is sinking today". This is a song of the missionary and exhortation. Deliverance for the Christian should be very important to them. It's a walk that leads to you to salvation from enemies and from of all who hates according to Luke 1:71.


Matthew 14:29-31 tells us" and he said, Come. And when Peter was come down out of the ship, he walked on the water, to go to Jesus. But when he saw the wind boisterous, he was afraid; and beginning to sink, he cried, saying, Lord, save me. And immediately Jesus stretched forth his hand, and caught him, and said unto him, O thou of little faith, wherefore didst thou doubt?" This was not a walk of fame or walk of shame but a walk of faith.

As I close, let me ask the question? Are you in good hands? No, not with Allstate which I am sure is a good insurance company and I love their commercials, but are you are in God's hands?
Today is the expectable time the Bible says. Tomorrow is not promised to you so except Him today while you have the blood running warm in your veins.
Accept Him.
Believe in Him
Confess your sins to Him.
How you, will you turn your life to Christ. AMEN.