AUNT MAY'S JELLY
by Charles Robey
(Trussville AL)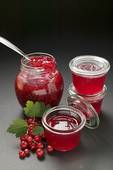 "But you will receive power when the Holy Spirit comes on you; and you will be my witnesses in Jerusalem, and in all Judea and Samaria, and to the ends of the earth." (Acts 1:8)


The famous Bible scholar, Dr. Charles Stanley once said that the Christian should never retire from God's work. Aunt May was one such character. She believed that the name of Christ Jesus should be lifted up in all things and that the message of the "Great Commission, as given in Acts:1:8, should be accepted and obeyed.)

Given this word from God, I'm sure we can all relate to Aunt May. For we probably all have an Aunt May somewhere in our family.

It was a cool crisp morning in our little community and Aunt May was out and about doing what she did best, passing out her homemade jellies in the neighborhood. She would always walk rather briskly, singing her favorite church chorus. Today, I happened to overhear her as she sang,

• "I know the Lord will make a way for me, if I live a holy life, shun the wrong and do the right, I know the Lord will make a way for me!"

Aunt May was a colorful character, well known for her homemade jellies. We never knew how old she was, as no one dared ask her age. As she often put it, "I'm older than dirt and twice as gritty." We also never knew how she became to be known as "Aunt May'. I guess it's all because she was surely an Aunt to us all. In fact, no one actually knew where Aunt May came from, as she never talked of her family.

There wasn't a more active little old lady around than Aunt May. Wherever you saw her, she would always be wearing her famous starched red polka dot apron, draped with all her jelly samples. I once told her she needed to will her apron to the "Smithsonian Institute". She just smiled, replying the jelly spills was the reason why she kept her apron in the refrigerator.
Aunt May just seemed to have a sixth sense about her, of knowing just when someone was in need or hurting. She was always, "Johnny On The Spot", with her basket full of jellies. And, she would never forget to tuck in one of her favorite Bible verses, which always seemed to fit the occasion. Like,

• "My soul, wait silently for God alone, for my expectation (hope) is from Him." (Psalm 62:5)

Once, as a small child, I passed her house on the way to school. Boy, those jars of jelly really smelled good, cooling on the open window ledge. It was all I could do not to grab one and run. But, I knew better, for Aunt May's reputation was too much. You see, she had a talent for knowing all and seeing all. After all, how could I have faced her in church? She would have pointed me out by quoting a Bible verse fit for the occasion, something like,

• "Treasures gained by wickedness do not profit, but righteousness delivers from death." (Proverbs 10:2)

We will never forget when the Mayor
honored Aunt May by giving her the key to the City. It took the whole town to get her to the platform. Her only remark was, "Gee, it's too big to unlock my heart." This certainly was not true, as the key just fit that big heart of hers. There again, as always, Aunt May closed her brief speech with another of her favorite Bible verses,
• "In all thy ways acknowledge him, And he will direct thy paths." (Psalm 3:6)
As one might expect, word travels fast. The whole community was busting with excitement. For that nice lady from the "Gentle Living" cooking magazine was coming to town. But how might we persuade Aunt May to show up. After all, she was quite modest in distributing her wares, much less being interviewed. Well, to make a long story short, Aunt May was nowhere to be found that colorful day. I'm not sure who was angrier, the high school band or the Mayor. But the folly was short lived. It only took one of Aunt May's famous scripture verses for the whole town to return to normal.
• "Better it is to be of an humble spirit with the lowly, than to divide the spoil with the proud." (Proverbs 16:19)
Many a lady tried to get Aunt May's famous jelly recipes. The only explanation Aunt May would say was that they were made with a heavenly touch. And again, she would quota a favorite scripture verse,
• "You (God) satisfy me more than the richest of foods." (Psalm 63:5)
Let me stop here and say, I just don't know how Aunt May did it. You see, she just had a knack, as if by divine guidance, to always quote the right scripture or sing the right hymn. There was no use asking her about her gift of remembering scriptures, for she would just rebut by quoting another scripture. Her famous saying was always, "why scripture interprets scripture."
Well, time has a way of moving on. Weeks turned into months and months into years. Then, the strangest thing happened. Aunt May just suddenly disappeared. It was the talk of the town. The next Sunday, after her disappearance, our pastor gave his account of what he called, a miracle. "When I arrived at Aunt May's home, I found her old tattered King James Bible open to the book of Hebrews, with the following verse highlighted in red," exclaimed the pastor. "Not only was the scripture marked, but it had a certain glow about it, as if Aunt May was directing me straight to that scripture passage. You know, like she always did in her Sunday school class",
• "Let brotherly love continue. Be not forgetful to entertain strangers: for thereby some have entertained angels unaware." (Hebrews 13:1-2)
Was Aunt May really an angel or was she just a dedicated lady set out to do good. The talk of the town is pretty much divided on this issue, but as for me and my house, there's no doubt.
• "No eye hath seen, nor ear heard, and no one's heart has imagined, all of the things the Lord has prepared for those who Love Him." (I Corinthians 2:9)
AMEN