"Because of their Return to Bondage" Page 2 of 2 (series: Lessons on Galatians)
by John Lowe
(Woodruff, S.C.)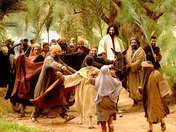 10 Ye observe days, and months, and times, and years.

Paul probably anticipated that the Galatians would want to know why he says they are leaving grace for Law, so he explains here that by adopting the Old Testament system of religion with its special observances of "days, and months, and times, and years," they were withdrawing from Christ and placing themselves under Law.

Does this mean it is wrong for Christians to set aside one day a year to remember the birth of Christ? Or that a special observance of the coming of the Spirit at Pentecost, or the blessing of the harvest in autumn, is a sin? Not necessarily. If we observe special days like slaves, hoping to gain some spiritual merit from it, then we are sinning. But if in the observance, we express our liberty in Christ and let the Spirit enrich us with his grace, then the observance can be a spiritual blessing.

The New Testament makes it clear that Christians are not to legislate religious observances for each other (Rom 14.4-13). We are not to praise the man who celebrates the day, nor are we to condemn the man who does not celebrate the day. But if a man thinks he is saving his soul, or automatically growing in grace, because of a religious observance, then he is guilty of legalism, and that is sinful. Our evangelical churches have many different kinds of observances and it is wrong for us to go beyond the Word of God in comparing, criticizing, or condemning. But all of us must beware of that legalistic spirit that caters to the flesh, leads to pride, and makes the outward event a substitute for the inward experience.

Under the influence of the Judaizers the Galatians had at least begun to observe the Mosaic calendar. They kept special days (weekly Sabbaths), and months (new moons), and seasons (seasonal festivals such as Passover, Pentecost, and Tabernacles), and years (sabbatical and jubilee years). They observed these special times thinking that they would gain additional merit before God. But Paul had already made it clear that works could not be added to faith as grounds for either justification or sanctification.

Christian freedom brought the Galatians new and unsuspected hardships, and dangers, and demands. Some of them, like the Israelites in the desert, forgot the slavery and longed for the good old days. They were collecting the weak and beggarly elements of religion to make the equivalent of Aaron's golden calf. Moses, the law giver, and Paul, the preacher of grace faced the same difficulty of keeping men true to God who is to be heard and trusted, but cannot be "seen" (Ex. 33.11, 14, 23 ).
"Ye observe days" refers to the Sabbath days. Paul said to the Colossians, "Therefore do not let anyone judge you by what you eat or drink, or with regard to a religious festival, a New Moon celebration or a Sabbath day" (Col. 2.16).

"Months" probably refers to the observance of the "new moon" practiced by the people of Israel in the time of the kings. The prophets warned them against it.

"Times" should be translated seasons, meaning feasts. God had given Israel seven feasts, but they all pointed to the Lord Jesus Christ.

"Years" would, of course, refer to the sabbatic years. The observance of all these things would put these Gentile believers completely back under the Mosaic Law.


11 I am afraid of you, lest I have bestowed upon you labour in vain.

Paul is saying in a nice way that he is afraid he may have wasted his time among them. Since they have been saved by grace, their returning to the Law is the same as returning to their former idolatry. He reminded them that they had not come to know Christ by means of the Mosaic Law, but through faith in Jesus Christ. The apostle's words disclosed his strong opposition towards legalistic religion.

Though our religion forbids idolatry many practice spiritual idolatry in their hearts. Because what a man loves most, and cares the most for, that is his god. Many foolishly worship a god of their own making; a god that is all mercy and no justice. They convince themselves that there is mercy for them with God, though they do not repent, but go on in their sins.

____________________________
i For the wages of sin is death, but the gift of God is eternal life in Christ Jesus our Lord.
ii . . . From everyone who has been given much, much will be demanded; and from the one who has been entrusted with much, much more will be asked.
iii Be perfect, therefore, as your heavenly Father is perfect.
iv When the crowd saw what Paul had done, they shouted in the Lycaonian language, "The gods have come down to us in human form!" Barnabas they called Zeus, and Paul they called Hermes because he was the chief speaker. The priest of Zeus, whose temple was just outside the city, brought bulls and wreaths to the city gates because he and the crowd wanted to offer sacrifices to them.
v Ye know that ye were Gentiles, carried away unto these dumb idols, even as ye were led.
vi No one can come to me unless the Father who sent me draws him, and I will raise him up at the last day.
vii We love because he first loved us.
viii What has happened to all your joy? I can testify that, if you could have done so, you would have torn out your eyes and given them to me.
ix The LORD would speak to Moses face to face, as a man speaks with his friend . . . Then Moses would return to the camp, but his young aide Joshua son of Nun did not leave the tent. The LORD replied, "My Presence will go with you, and I will give you rest." . . . "Then I will remove my hand and you will see my back; but my face must not be seen."