"Benefits of Salvation" Page 2 of 4 (series: Lessons on Romans)
by John Lowe
(Woodruff, S.C.)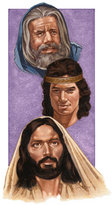 Access means that you and I have access to God in prayer. Due to our standing as children of God, we have access to a heavenly Father who will listen to us here and who does answer our prayer. He will answer according to His wisdom, not according to our will.

Into this grace in which we stand. An age-old problem is this, "How can a sinner stand in the presence of a holy God?" The psalmist wrestled with this question—"If You, Lord, should mark iniquities, O Lord, who could stand?" (Ps 130:3). We do not have a leg to stand on when it comes to a defense of our sinful actions. How is it possible for a sinner to stand before God? The Swiss reformer Robert Haldane said, "And it is by Him (Jesus Christ) they enter into the state of grace, so by Him they stand in it, accepted before God; secured, according to His everlasting covenant, that they shall not be cast down" (Robert Haldane, Romans, p. 186). The only possible way we can stand before God is by His grace.

And rejoice in hope of the glory of God. The word "hope" confuses many new Christians. Hope is not vague, it is concrete. We have joy in hope. The glory of God, of which we have fallen short, is the perfect standard of Christ's righteousness—"And the Word became flesh and dwelt among us, and we beheld His glory, the glory as of the only begotten of the Father, full of grace and truth" (Jn. 1:14). We can rejoice in the fact that whatever we are like today, one of the benefits of having been justified is the hope that one day we shall be like Him—"Beloved, now we are children of God; and it has not yet been revealed what we shall be, but we know that when He is revealed, we shall be like Him, for we shall see Him as He is. And everyone who has this hope in Him purifies himself, just as He is pure" (1 Jn 3:2–3). We joyfully look forward to the time when we will not only gaze on the splendor of God, but will ourselves be enveloped in glory—"And the glory which You gave Me I have given them, that they may be one just as We are one" (John 17:22). We cannot comprehend the full significance of that hope here on earth, nor will we get over the wonder of it through all eternity.

The Hope that is mentioned here is the hope that the scriptures hold out. Paul said to a young preacher by the name of Titus,"Looking for the blessed hope and the glorious appearing of the great God and our Savior Jesus Christ" (Titus 2:13). To look for the Lord to come and take His church out of this world, that's a glorious hope, and it will take place at His appearing at the Rapture.

3 And not only that, but we also glory in tribulations, knowing that tribulation produces perseverance.

And not only that, but we also glory in tribulations, knowing that tribulation produces perseverance. The person who has been justified rejoices, not in spite of his tribulations, but because of his tribulations. In explaining the progress from tribulation to hope, Paul shows that there is a natural, logical connection between these four: tribulations—patience—experience—hope. The tribulations that Paul has in mind result in patience—"I know how to be abased, and I know how to abound. Everywhere and in all things I have learned both to be full and to be hungry, both to abound and to suffer need" (Phil 4:12). Patience is the ability to remain strong while bearing the burden of tribulation. Patience in the midst of tribulation results in experience that is proof of the presence of the Spirit of God, which makes patience possible. The end result of this proof proceeds to hope, the certain knowledge that we will one day be glorified like the Son of God and be "heirs of God, and joint-heirs with Christ"—"And if children, then heirs; heirs of God, and joint-heirs with Christ; if so be that we suffer with him, that we may be also glorified together" (Rom. 8:17). Here is a perfect circle: we began with hope for the glory of God, then we passed through tribulation which caused us to be patient; this experience proved that we are indeed a child of God, and this proof encourages us in the hope for the glory of God. In Acts 5:41, we are told this about the apostles: "They rejoiced that they were counted worthy to suffer." (Acts 5:41). It is a trait that is found only in Christians, that they can be happy while they are going through some type of hardship. Jesus said, "These things I have spoken to you, that in Me you may have peace. In the world you will have tribulation; but be of good cheer, I have overcome the world" (Jn. 16:33).Paul tells us, "No temptation has overtaken you except such as is common to man; but God is faithful, who will not allow you to be tempted beyond what you are able, but with the temptation will also make the way of escape, that you may be able to bear it" (1 Cor. 10:13). Paul also tells us, "Yet in all these things we are more than conquerors through Him who loved us" (Rom 8:37). With promises such as these, we who are truly born again do not shudder or quit when we have troubles. The true believer rejoices in tribulation and trials.

4 And perseverance, character; and character, hope.

Paul now goes on to explain that perseverance produces character. When God sees us bearing up under our trials, and looking to Him to work out His purposes through them, He awards us His Good Endurance Seal of Approval. We have been tested and approved. And the sense of His approval fills us with hope and joy. We know He is working in our lives and developing our character. This gives us confidence that, "having begun a good work in us, He will see it through to completion" (Phil. 1:6). Like every other Christian grace, hope grows stronger only if we use it.

5 Now hope does not disappoint, because the love of God has been poured out in our hearts by the Holy Spirit who was given to us.

Now hope does not disappoint. If we were to hope for something but then later find that we were never going to get it, we would be disappointed. But the hope of our salvation will never lead to disappointment. We will never be disappointed or find that we have believed in error. How can we be so sure? Because the love of God has been poured out in our hearts. Our hearts are flooded with God's love for us because we have been justified.

Because the love of God has been poured out in our hearts. It is the gracious work of the blessed Spirit to pour out the love of God in the hearts of all the saints. The love of God, that is, the sense of God's love for us, draws out of us our love for Him. In that way, we are we drawn and held by the bonds of love. The sense of God's love for us will make us unashamed, either of our hope in him or our sufferings for him.

By the Holy Spirit who was given to us. The Holy Spirit who was given to us the moment we believe, floods our hearts with these expressions of God's eternal love, and by these we are assured that He will see us safely home to heaven. After you receive the Spirit, you will sense that God loves you. This is not a vague, mystical feeling that "Somebody up there" cares about you, but the deep-seated conviction that a personal God really loves you as an individual.

Given means to grant, impart, or put into the heart. The clear implication is that at the moment of salvation we received the gift of the Holy Spirit Himself. A justified (saved) man doesn't need to anxiously look to a future time when he will be baptized with the Holy Spirit. The Holy Spirit is God's gift to us at the moment of justification. Then Christ's righteousness is ours, God's love is ours, and the Holy Spirit's presence is ours. They are eternally bound together in a package we call salvation.
6 For when we were still without strength, in due time Christ died for the ungodly.

In verses 6–20, Paul makes the case for the security of the believer. His logic is that if God's love went out to us when we were His ungodly enemies, will He not much more preserve us now that we belong to Him? This brings us to another benefit of our justification; we are eternally secure in Christ. In developing this theme, the apostle introduces five "much mores."
1. The "much more" of deliverance from wrath—"Much more then, having now been justified by His blood, we shall be saved from wrath through Him" (5:9).
2. The "much more" of preservation by His resurrection life—"For if when we were enemies we were reconciled to God through the death of His Son, much more, having been reconciled, we shall be saved by His life" (5:10).
3. The "much more" of the gift of grace— "But the free gift is not like the offense. For if by the one man's offense many died, much more the grace of God and the gift by the grace of the one Man, Jesus Christ, abounded to many" (5:15).
4. The "much more" of the believer's reign in life—"…much more those who receive abundance of grace and of the gift of righteousness will reign in life through the One, Jesus Christ." (5:17b)
5. The righteousness of the believer is "much more" of pure grace—"For by grace you are saved …" (Eph 2:8).