"Benefits of Salvation" Page 3 of 4 (series: Lessons on Romans)
by John Lowe
(Woodruff, S.C.)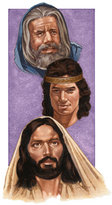 For when we were still without strength. Paul uses this expression to show man's utter helplessness in the face of his sin. Lost sinners are spiritually dead and are incapable of doing anything to help themselves—"No one can come to Me unless the Father who sent Me draws him; and I will raise him up at the last day" (Jn 6:44). Our problem was sin and we were utterly incapable of coping with it. In our world, those who can't help themselves, and who can't find a helper, are certain to be ungodly: darkened in their mind and degraded in their life.

In due time Christ died for the ungodly. This means that circumstances did not bring Christ to the cross, the divine plan of God did. At the time of man's greatest need, nothing but the blood of Jesus would satisfy that need—"But when the fullness of the time had come, God sent forth His Son, born of a woman, born under the law, to redeem those who were under the law, that we might receive the adoption as sons (Gal 4:4–5). At the time of man's greatest need, nothing but the blood of Jesus would satisfy that need. It was by the death of His Son, Jesus Christ, that God showed His great love for us. Christ died for the ungodly—not the good boys and girls, rather he died for those who were His enemies, and who hated Him; to whom He said when they were crucifying Him—"Father, forgive them; for they know not what they do…" (Lk 23:24). And, you and I were numbered with the ungodly. Our best efforts are what the prophets called them; they are like "filthy rags." For men like that—for men like us, Christ died.

Ungodly. The ungodly here are not just the flagrant and disreputable; they are all those who are not in harmony with God, the potential as well as the actual doers of sin. For them, Christ died. Clearly, Christ's death was a substitutionary death, a death in place of others.

7 For scarcely for a righteous man will one die; yet perhaps for a good man someone would even dare to die.

For scarcely for a righteous man will one die. Every Christian should know someone who lives a life marked by a high standard of godly generosity and who truly cares for others. They are determined to do all they can to help other people. They command respect; however, they are not loved. They are upstanding people, but for some reason, they are not lovable. There have always been people with this distasteful, inflexible type of personality, and Paul knew some. He, evidentally felt the same way we do about them; that even though they are approved of by God, it is very improbable that someone would lay down their life for them, although some may be tempted.

Yet perhaps for a good man someone would even dare to die. It may be that someone might be persuaded to die for a good man, that is, a man, who is good to others. Many righteous men are good to themselves, however, they do very little to help others. These good men are loved by those they help, and some of them may be willing to make the ultimate sacrifice by giving some part of their body or even their life for that good man. Paul was a very good man, and he met some people who were willing to lay down their lives for him—"Greet Priscilla and Aquila, my fellow workers in Christ Jesus, who risked their own necks for my life, to whom not only I give thanks, but also all the churches of the Gentiles. That for his life laid down their own necks" (Rom 16:3-40). The point is not so much that perhaps for a good man someone would even dare to die, as it is that we must feel that the person is worthy of the sacrifice that we make. Before we would do it, respect for their admirable qualities must turn into love. God's great love for us is apparent only when we compare it with the best that we are willing to do for one another.

Do you know anyone who would die for you? Could you count on one finger of one hand those who would be willing to die for you? By the way, could you put upon one finger those who love you enough to die for you? Well you certainly could put it upon one finger, because God loved you enough to send His Son to die for you. And if it were necessary, He would appear today to die for you again, if it would take that to save you. He loves you that much.

8 But God demonstrates His own love toward us, in that while we were still sinners, Christ died for us.

But God demonstrates His own love toward us. Jesus' unique love (Gk. agape) focuses on the nature of the one loving rather than on the merit of the one being loved. God's nature is self-giving love, which always acts in the best interest of His creation, and even of His enemies. God demonstrated His love for us at Calvary, but He didn't do it just to prove that He loved us, because He could have done that without it costing Him so very much. There is nothing else like Calvary through-out human history. There on the Cross, He not only showed us His love; there the blood that Jesus shed was sufficient to cover all our sins, and reconcile man to God. Before Calvary, Jesus demonstrated His love in other ways. For instance, the things that Jesus taught, he also put into practice. While they were still sinners, men and women learned that they could come to Him for forgiveness and a new life. The Publicans and prostitutes learned that they had a better chance of entering God's kingdom than some of those who were respectable.

In that while we were still sinners, Christ died for us—but not because we earned it or deserved it. God demonstrated His love by sending Christ Jesus to die for us while we were yet sinners, something no one else would even consider doing. While we were still sinners implies that we were not meant to always be sinners, there should be a change in us; because he died to save us, not in our sins, but from our sins; but we were nevertheless sinners when he died for us. The sacrifice of Christ on the cross of Calvary arose out of the heart of God filled with the love of God. All these blessings are ours because at some point in the past, without our help, we have been justified by God and are now being treated as if we are righteous.

Christ died for us. He died for the ungodly; helpless, guilty, mean, worthless, vile, obnoxious, unworthy people who deserve to die—"For the wages of sin is death, but the gift of God is eternal life in Christ Jesus our Lord" (Rom 6:23). God did us a great favor by dying for us, because we couldn't save ourselves. Christ died for us, and that was an unparalleled instance of love; "Greater love has no one than this, than to lay down one's life for his friends" (Jn 15:13-14). As he held his daughter for the last time, a dying French saint said, "I love you because of what you are; my heavenly Father, to whom I go, has loved me in spite of myself." That Jesus would die for someone like me is more than amazing, it is incredible.

9 Much more then, having now been justified by His blood, we shall be saved from wrath through Him.

Much more then, having now been justified by His blood. Justification and reconciliation are benefits that every believer receives from the death of Christ: We are justified by his blood and reconciled by his death. Sin is pardoned, and the sinner accepted as righteous by receiving the righteousness of Christ. Jesus has done everything that's required on His part to be done, and immediately upon our believing we are actually put into a state of justification and reconciliation.

Justified by his blood. Our justification is attributed to the blood of Christ, because "…without shedding of blood there is no remission" (Heb. 9:22). The blood is the life, and it must be spilled to make atonement for sin. In all the Old Testament sacrifices, the sprinkling of the blood was the essential part of the sacrifice—"For the life of the flesh is in the blood, and I have given it to you upon the altar to make atonement for your souls; for it is the blood that makes atonement for the soul" ( Lev. 17:11).

We shall be saved from wrath through Him. In addition to the blessings we presently enjoy because we are justified (saved), there is another blessing; the promise that we shall be saved from wrath through him. All men are by nature the children of wrath—"He who believes in the Son has everlasting life; and he who does not believe the Son shall not see life, but the wrath of God abides on him" (Jn 3:36). The prophet Nahum warns that the Lord has reserved wrath for His enemies—"…The Lord will take vengeance on His adversaries, And He reserves wrath for His enemies" (Nah 1:2). It is comforting for the believer to know that "God did not appoint us to wrath, but to obtain salvation through our Lord Jesus Christ" (I Thess 5:9). One of our future benefits is the fact that we will not face God's wrath on the Judgment Day, not because we are worthy, but because we have been saved by the grace of God. We have been saved by grace; we live by the grace of God; and ten billion years from today we will still be in heaven by the grace of God. We are saved from wrath through Him—through Christ.