Book of Jude Part 10 (series: Lessons on Jude)
by John Lowe
(Woodruff, S.C.)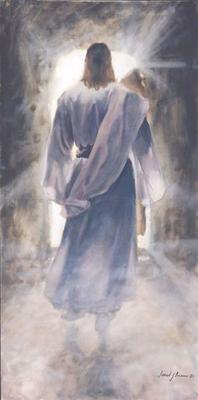 When contending.

This word (διακρινομενος) refers here to an argument or fighting with words—a disagreement. Nothing farther is necessarily implied, for it is used in this sense in the New Testament: (Acts 11:2, 12) "2And when Peter was come up to Jerusalem, they that were of the circumcision contended with him. 12And the Spirit bade me go with them, nothing doubting. Moreover these six brethren accompanied me, and we entered into the man's house:"

Disputed about the body of Moses.
I cannot tell what this means; or from what source St. Jude obtained the information, unless it came from some tradition among his countrymen or was supplied by the Holy Spirit.

The contention mentioned by Jude is not about the sacrifice of Isaac, nor the dispute over the soul of Moses, but about the BODY of Moses (his literal body.); but why was that so important that the two argued about it. Some think the devil wished to show the Israelites where Moses was buried, knowing that they would then worship his bones; and that Michael was sent to resist this discovery.

Dr. Macknight says: "In Daniel 10:13, 21; 12:1, Michael is spoken of as one of the chief angels who took care of the Israelites as a nation; he may, therefore, have been the angel of the Lord before whom Joshua the high priest is said, Zechariah 3:1, to have stood, Satan being at his right hand to resist him, namely, in his design of restoring the Jewish Church and state, called by Jude the body of Moses, just as the Christian Church is called by Paul the body of Christ. Zechariah adds, And the Lord, that is, the angel of the Lord, as is plain from Zechariah 3:1, 2, said unto Satan, The Lord rebuke thee, O Satan! even the Lord that hath chosen Jerusalem, rebuke thee! "This is the most likely interpretation which I have seen; and it will appear to be more plausible when it is considered that, among the Hebrews, ‏BODY is often used for a thing itself. So, in Romans 7:24, the body of sin, signifies sin itself; so the body of Moses, ‏may signify Moses himself; or that in which he was mainly concerned, that is, his institutes, religion, etc.

It may be added, that the Jews consider Michael and Samael, one as the friend, the other as the enemy, of Israel. Samael is their accuser, Michael their advocate. "Michael and Samael stand before the Lord; Satan accuses, but Michael shows the merits of Israel. Satan endeavors to speak, but Michael silences him: Hold thy tongue, says he, and let us hear what the Judge determines; for it is written, "He will speak peace to his people, and to his saints" (Psalm 85:8).

He disputed. διελεγετο.
This word may denote merely an argument (Mark 9:34, Acts 17:2,17, 18:4,19; Acts 24:12); or it could mean a judicial contest (debate) over something controversial.

durst not.
"Did not dare." It is not said that he did not dare to do it because he feared Satan; but that he did not dare to do it because he feared the Lord, or because in any circumstances it would be wrong due to Satan's former dignity (Jude 1:8).
*Railing. (or blasphemy)
1) slander, detraction, speech injurious, to another's good name
2) impious and reproachful speech injurious to divine majesty

A railing accusation.
The Greek word is blasphemy (evil-speaking). The meaning is, he did not indulge in the language of simple rebuke; and it is implied here that such language would be wrong anywhere. If it would be right to bring a railing accusation against anyone, it would be against the devil. Peter said, Angels do not, in order to avenge themselves, rail at dignities, even those who are ungodly, when they will eventually have to contend with them: Jude says that the archangel Michael himself did not rail even at the time when he fought with the devil, the prince of evil spirits -- not from fear of him, but from reverence for God, whose delegated power in this world Satan once had, and even in some degree still has. but said, The Lord rebuke thee.

The word 'rebuke' originally meant to put honor upon; and then it came to mean 'to adjudge or confirm.' It is also used in the sense of commanding or restraining; *Matthew 8: 26,**Mark 4:39. Then it is used in the sense of admonishing strongly (commanding or ordering); with the idea of censure, ***Matthew 18: 18,****Mark 1:25. This is the idea here-the expression of a wish that the Lord would take the matter of the dispute upon himself, and that he would properly restrain and control Satan, with the implied idea that his conduct was wrong. The language is the same as that recorded in *****Zech 3: 2, as used by "the angel" respecting Satan. But, as before observed, there is no reason to suppose that the apostle referred to that. The fact, however, that the angel is said to have used the language on that occasion may give confirmation to what is said here, since it shows that it is the language which angelic beings naturally employ.

*(Matthew 8.26) "And he
saith unto them, Why are ye fearful, O ye of little faith? Then he arose, and rebuked the winds and the sea; and there was a great calm."
**(Mark 4.39) "And he arose, and rebuked the wind, and said unto the sea, Peace, be still. And the wind ceased, and there was a great calm.
***(Matthew 18.18) "Verily I say unto you, Whatsoever ye shall bind on earth shall be bound in heaven: and whatsoever ye shall loose on earth shall be loosed in heaven."
****(Mark 1:25) "And Jesus rebuked him, saying, Hold thy peace, and come out of him."
*****(Zech 3.2) "And the LORD said unto Satan, The LORD rebuke thee, O Satan; even the LORD that hath chosen Jerusalem rebuke thee: is not this a brand plucked out of the fire?"
A Lesson for Today's believers
The apostasy of these ungodly people was abundantly evident, but Jude urges caution in pronouncing judgment on such ungodliness. Michael, the great archangel, was entrusted with great authority by the Lord Jehovah. According to Jewish tradition found in the book, The Assumption of Moses, Michael was sent to bury Moses' body, but the devil argued with the angel about the body, claiming the right to dispose of it. Nevertheless, Jude reminds his readers that even Michael, as great as he was, would not rebuke Satan. Instead, Michael said, "May the Lord reprimand you!" This was not Michael's authority, so he did not presume to exercise judgment on a matter that clearly belonged to the Lord God. Other Scriptures also support the exercise of caution when judging the actions of others. "O Lord, God of vengeance, O God of vengeance, appear!" (Psalm 94:1). "Don't take revenge, dear friends. Instead, let God's anger take care of it. After all, Scripture says, 'I alone have the right to take revenge. I will pay back, says the Lord'" (Romans 12:19). "Angels, who have more strength and power than these teachers, don't bring an insulting judgment against them from the Lord" (2 Peter 2:11). If even the archangel will not exceed his authority, how much more careful should believers be?
10 But these speak evil of those things which they know not: but what they know naturally, as brute beasts, in those things they corrupt themselves.
But these speak evil of those things which they know not: Contrary to Jude's admonition (v. 9), this precept is not followed by those degenerate sinners. It is natural for unbelievers to speak evil of others, but it is distressing that they speak evil about those things of which they know nothing about. "These false teachers insult what they don't understand. They are like animals, which are creatures of instinct that are born to be caught and killed. So they will be destroyed like animals and lose what their wrongdoing earned them. These false teachers are stains and blemishes. They take pleasure in holding wild parties in broad daylight. They especially enjoy deceiving you while they eat with you" (2 Peter 2:12-13). These people insult things of which they know nothing because they have not been redeemed and do not enjoy the indwelling Spirit of God. These people know nothing about God, His Son Jesus Christ, or the Holy Spirit. They do not know God's Holy Word, the Bible, but only know what comes naturally born of their sin nature. Consequently, they themselves will perish in the evil they have pronounced on the children of God. "For the preaching of the cross is to them that perish foolishness; but unto us which are saved it is the power of God. For it is written, I will destroy the wisdom of the wise, and will bring to nothing the understanding of the prudent. Where is the wise? where is the scribe? where is the disputer of this world? hath not God made foolish the wisdom of this world? For after that in the wisdom of God the world by wisdom knew not God, it pleased God by the foolishness of preaching to save them that believe. For the Jews require a sign, and the Greeks seek after wisdom: But we preach Christ crucified, unto the Jews a stumblingblock, and unto the Greeks foolishness; But unto them which are called, both Jews and Greeks, Christ the power of God, and the wisdom of God. Because the foolishness of God is wiser than men; and the weakness of God is stronger than men. For ye see your calling, brethren, how that not many wise men after the flesh, not many mighty, not many noble, are called: But God hath chosen the foolish things of the world to confound the wise; and God hath chosen the weak things of the world to confound the things which are mighty; And base things of the world, and things which are despised, hath God chosen, yea, and things which are not, to bring to nought things that are: That no flesh should glory in his presence. But of him are ye in Christ Jesus, who of God is made unto us wisdom, and righteousness, and sanctification, and redemption: That, according as it is written, He that glorieth, let him glory in the Lord. (1 Corinthians 1:18-31).